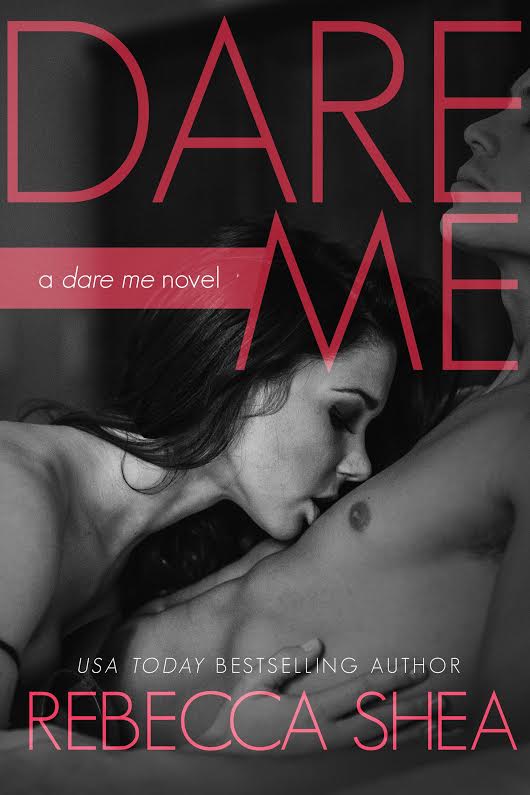 Dare Me

by Rebecca Shea
on March 28, 2016
Buy on iTunes
Goodreads

Five coworkers.
Four drinks.
Three glances.
Two fleeting smiles.
One dare.

A dare that will change my life.

That's all it takes to send me plummeting into the arms of the mysterious Holt Hamilton. Behind his crystal blue eyes is a secret, one that screams danger but calls to me anyway.

My name is Saige Phillips.

I never walk away from a dare.
We are very excited to share with you the cover for Dare Me, Rebecca Shea's new contemporary romance releasing on March 28, 2016. Enjoy a sneak peek into the book below! Cover created by Regina at Mae I Design.

"I was watching you, Saige. I enjoy watching you." Maybe that was bold of me, but I don't care.
She audibly gasps, her chest rising and falling with each quick breath she takes.
I fix my eyes on hers and continue. "And I saw you watching me."
Her upper lip twitches as she thinks of a sarcastic comeback. I can see the vein in her neck throbbing, along with the beat of her pulse before she finally whispers, "We shouldn't do this." She pulls a green olive off the toothpick floating in her martini, then she pops it into her mouth. The green olive matches her eyes perfectly.
I watch her shift uncomfortably in her chair for a few seconds before I respond. "Why not?"
"Because you're my boss." So naïve, sweet little Saige is.
"I'm actually not," I tell her.
She frowns. "You own the company I work for, same thing."
I clarify, "I'm part owner of the company you work for."
She sighs. "Holt, this is just drinks. That's all." But her eyes tell me she wants more.
I lean closer to her. "It's never just drinks, Saige."