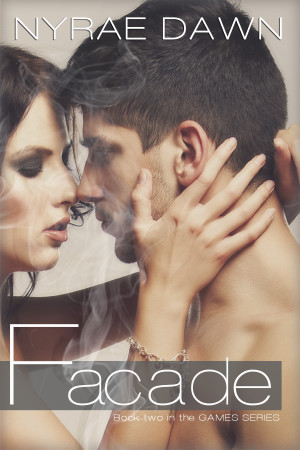 We are SO excited to be participating in this cover reveal for Facade, book 2 in the Games Series by Nyrae Dawn scheduled for release in March 2013!
 
 
Summary
No one knows who twenty-one year-old Adrian Westfall is behind his façade. After what he's done, he deserves to live alone with his pain, even if he'd do anything to forget. Anything for a moment of quiet without his past haunting him.
Eighteen year-old Delaney Cross wants nothing more than to absolve her family from her father's sins. To keep her suicidal mom off that ledge, and help her brother Maddox get the light back in his eyes. She thinks their road to freedom is through Adrian.
Adrian and Delaney are bound together by tragedy… Only Adrian doesn't know it.
As their lives intertwine, they find a solace in each other they never knew existed. Laney knows she needs to tell him—to come out from behind her smoke screen, but to say the words could mean losing him.
Two people. Two disguises. True love.
Will it be enough to save them when all secrets are bared?
FACADE is a New Adult book and intended for mature audiences. 
About the Author
I am a compulsive reader and writer who loves YA fiction.
I love nothing more than writing about young adults. There is something so fresh and fun about it. You can pretty much always find me with a book in my hand or open document in front of me.
I live in Southern California with my husband and two children.
Website http://www.nyraedawn.blogspot.com
Facebook http://www.facebook.com/#!/nyraedawnwrites?fref=ts
Goodreads http://www.goodreads.com/author/show/5784345.Nyrae_Dawn