OMG!  Isn't this cover just gorgeous!  We can't wait to read  this 2nd novel in the With Me In Seattle Series by Kristen Proby!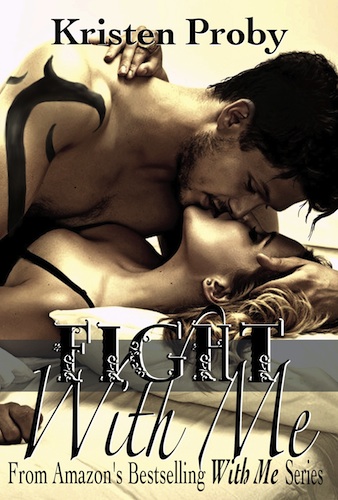 Summary:
Jules Montgomery is too busy and content with her life to worry about a man, especially one Nate McKenna. If growing up with four brothers has taught her anything, she knows to stay away from sexy men with tattoos and motorcycles. That goes double if he's your boss. During the one incredible night they shared, he violated the no fraternization policy…among other things, and it won't happen again. Jules won't risk her career for mind-blowing sex, no matter how much her body and her damn heart keep arguing with her.
Nate McKenna could give a shit about the no fraternizing policy. He wants Jules and he'll have her. The rules could bend around them, or be damned. He's not a man to be taken lightly, and Jules Montgomery is about to find out just how he responds to being pushed aside after the best night of sex he's ever had. She can fight all she wants, but he'll have her in his bed in the end.
FIGHT WITH ME is the second novel in the With Me In Seattle Series.
About the Author
Kristen Proby has made a living as a massage therapist, a medical biller, a registrar in an Emergency Room, and a professional photographer. But what feeds her soul is writing romantic, erotic love stories about strong women who don't necessarily need saving, and gorgeous, alpha-type men who want to save them anyway.
She is the author of the upcoming Come Away With Me, Book One in the With Me In Seattle series. Book two, Fight With Me, is scheduled for release in February, 2013.
Kristen lives in the amazing Pacific Northwest where, conveniently, her muse lives too.
Kristen loves hearing from readers! You can contact her on her Facebook page, www.facebook.com/BooksByKristenProby. Happy Reading!
Twitter Handbagjunkie
Website http://www.goodreads.com/kristenproby
Facebook http://www.facebook.com/?ref=tn_tnmn#!/BooksByKristenProby?fref=ts