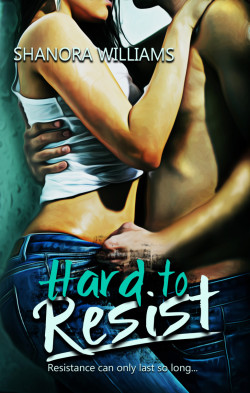 We are very excited to participate in the cover reveal for Hard to Resist by Shanora Williams, scheduled to release on March 16, 2013.
Summary
Natalie Carmichael thought that Bryson Daniels would be her world. She planned a bright future with him, cherished four years with him, and couldn't have been any happier, but during graduation night, all of that changes.
Natalie walks in on Bryson cheating on her. One month after catching him in the act, she finally decides to make an escape by leaving for Florida. 
She wants to start over, have fun, and be free while also finding a way to mend her broken heart but when she meets Nolan Young, her single-life escapade doesn't last for very long. She tries to stay clear of Nolan and his desires but it's impossible for her. Nolan will do everything that he can to have her as his own, but will Natalie accept Nolan along with the problems of his past? Will she let someone else into her heart that may be even worse than Bryson?
For Natalie, Nolan will be something completely new to her. And for them both, their desires will be completely hard to resist.
About the Author
I was born and raised in Matthews, North Carolina. I am a young, happy writer and I love what I do! I'm the author of The Story of Jackson Haddock, the New Adult series, OBTAINED, and the New Adult novel, Hard to Resist.
When I'm not writing, I'm reading or watching cartoons like a big kid. I live in Matthews, North Carolina and I have a wonderful family that you will hear me brag and talk about all of the time. Whenever I just want to get away from words, I'll spend some time with my loved ones, eat gummy bears, or go get a drink from Starbucks– depending on the weather. My favorite hot drink during winter is a White Chocolate Mocha with whipped cream and my favorite cold drink is a Strawberry and Cream Frappuccino! I know, it's a bit much but it doesn't hurt to get to know the person behind the cover and the words. I can be really fun when I'm not writing. 🙂 Welcome to the page everyone!
Twitter twitter.com/shanorawilliams
Website http://www.facebook.com/shanorasbooks
Facebook http://www.facebook.com/ShanoraWilliamsAuthor?fref=ts
Goodreads http://www.goodreads.com/author/show/6476392.Shanora_Williams