Check out the HOT cover for Perception, the 6th book in the Club Destiny Series by Nicole Edwards! We can't wait for this one!!!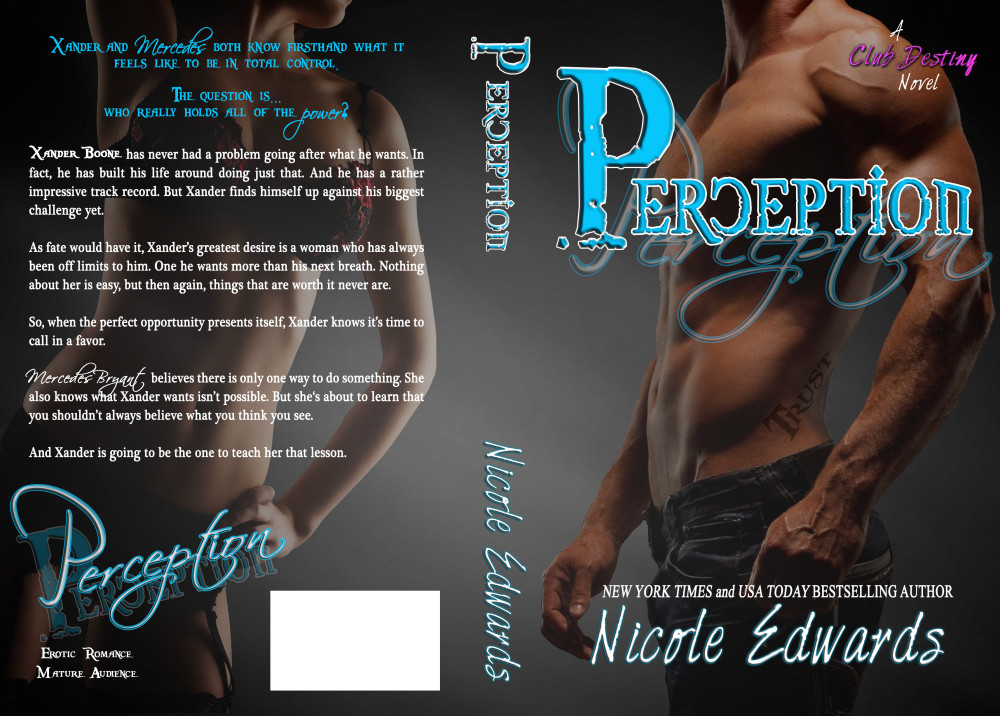 Xander and Mercedes both know firsthand what it feels like to be in total control. The question is… who really holds all of the power?
Xander Boone has never had a problem going after what he wants. In fact, he has built his life around doing just that. And he has a rather impressive track record. But Xander finds himself up against his biggest challenge yet.
As fate would have it, Xander's greatest desire is a woman who has always been off limits to him. One he wants more than his next breath. Nothing about her is easy, but then again, things that are worth it never are.
So, when the perfect opportunity presents itself, Xander knows it's time to call in a favor.
Mercedes Bryant believes there is only one way to do something. She also knows what Xander wants isn't possible. But she's about to learn that you shouldn't always believe what you think you see.
And Xander is going to be the one to teach her that lesson.
Release Date: April 1, 2014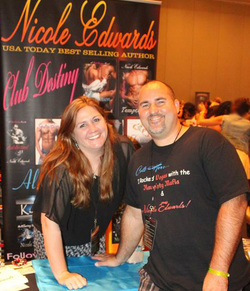 Nicole lives in Texas with her husband, Colt, three kids and four dogs. It's quite the household and most of the time you'll find her locked away in her office… writing. When she's not, you'll likely find her reading, swimming, or hanging out in the yard with the dogs, doing her best to keep them in line. (And no, it doesn't usually work)
Ever want to let that other part of you loose? The part that has secret desires and taboo fantasies? Well, that's what brought about Nicole Edwards. She's an alter ego. In truth, she's a full-fledged part of me. The secret part made up of sinfully hot desires and erotic thoughts. Get to know how Nicole's naughty mind works by checking out her books!
About me… hmmm…
Ok, I've been asked to provide a little bit of "real" information about myself. That's harder to do than you think it is, especially for someone who has difficulty talking about themselves. 😉 But, here goes…
I've been writing for as long as I can remember. Ever since I was a kid, I loved creative writing and as I got older, I got acquainted with those voices in my head and that led to putting my stories on paper. And now, here I am all these years later, spending my days doing what I love most. I decided to give myself over to writing full time in 2012 and I haven't looked back. I spent nearly 13 years in the corporate world and I have to say, this is a bit of a change (just a little) and I am loving every second of it.
I live in Texas with my husband and three amazing kids and our four beloved dogs. If I'm not writing, I'm usually reading. I devour everything I can get my hands on. I love romance of any type and being an Indie author myself, I'm always looking for new Indies to support. I haven't always been into reading, but about eleven years ago, I picked up a book – I'm pretty sure it was by Nora Roberts – and from there, I haven't stopped. Before I began writing full time, and my characters started taking up so much of my time, I was reading about 200 books a year. That has dwindled somewhat, but there isn't a day that goes by that I don't read.
An interesting fact… I don't watch television – aside from the occasional news anyway. I will go see a movie or two rarely, but for the most part, I get all of my entertainment from a book. Some of my favorite authors include J.R. Ward, Suzanne Brockmann, Lora Leigh, Jane Rylon, Lori Foster, and Jaci Burton just to name a few.
---
Club Destiny Series Reading Order
Book 1 – Conviction (paperback)

Book 2 – Temptation (paperback)

Book 2.5 – Addicted

Book 3 – Seduction

Book 4 – Infatuation

Book 4.5 – Captivated

Book 5 – Devotion

Pre-Order Book 6 – Perception