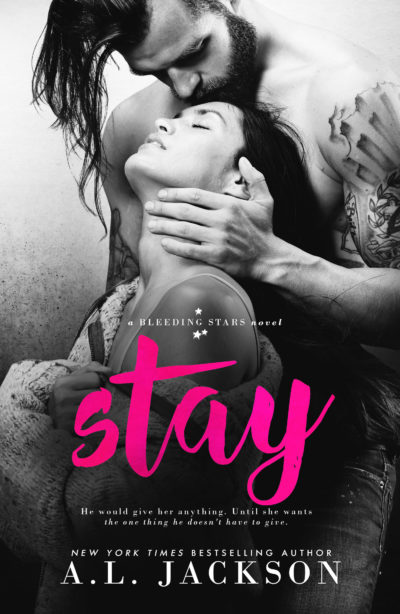 Stay

on January 23, 2017
Goodreads

I'm Ash Evans.
The life of the party.
Hot. Rich. Charismatic.
A tattooed rock star with the world at my feet.
I burn through women faster than the strike of a match.

I've embraced my lifestyle and live it to the fullest.
Until the day my lifestyle caught up to me.

Willow Langston found me at my lowest.
Literally.
Facedown in a puddle of my own blood.

I owe her my life and I have three months to repay that debt.
What I never should have done was touch her. Kiss her. Take her to my bed.

Love wasn't supposed to be a part of the equation.
I gave up that nasty complication a long damned time ago.
Now I want her more than my next breath.
But she doesn't know what I know.

Do I leave to protect her? Or can I face my demons and ask her to Stay?
STAY
From NYT & USA Today Bestselling Author A.L. Jackson comes the next sexy, gripping Bleeding Stars Stand-Alone Novel…
A Bleeding Stars Stand-Alone Novel coming January 23rd
PRE-ORDER NOW
iBooks: http://apple.co/2iJQTVP
Barnes & Noble: http://smarturl.it/StayNook
Kobo: http://smarturl.it/StayKobo
Signed Paperbacks: http://www.aljacksonauthor.com/shop
Be notified of LIVE release on Amazon: http://smarturl.it/liveonamzn
Stay Trailer: https://www.youtube.com/watch?v=fl3T7Y67AOU

A Note from Amy: I'm so excited to bring you the story of Ash Evans, Sunder's most notorious bad boy and the girl who brings him to his knees! This is one of my favorite stories I've written, and I can't wait to get him into your into your hands! He's coming to January 23 – so in the meantime, enjoy a little Ash!
Her lips parted, and her expression churned in confusion.
Lust. Need. Want. Fear.
All of them played out across her delicate features.
I shouldn't have. I knew I shouldn't. But there was nothing I could do to stop myself.
Always, always in the moment.
That was me.
I pressed her harder against the wall, my straining cock eager against her jean-clad pussy.
Desperate for friction.
Anxious for relief.
Everything sparked, and I could have sworn the room spun, the ground shifting below our feet.
She gasped out in surprise, eyes so damned wide. Her nails pricked where they dug into the flesh of my shoulders.
Hanging on.
What was this girl doing to me?
I leaned down, my mouth close to her ear. My voice came on a rough murmur. "Do you want me?"