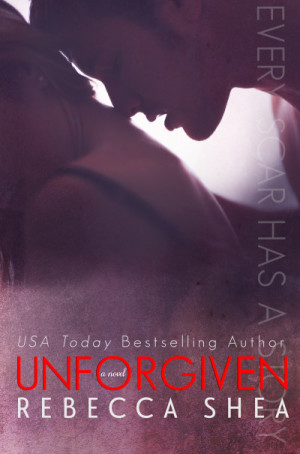 Unforgiven

by Rebecca Shea
on September 22, 2014
Goodreads

A companion novel to "Unbreakable" & "Undone" and is the final book in the Unbreakable series -- This is Lindsay and Matt's story.

Lindsay Christianson seemingly has it all—the perfect career, the perfect boyfriend, and the best-laid plans for a perfect life—until one phone call changes everything.

With a moments notice, Lindsay must choose between her perfect life and her professional dreams. The choice momentarily seems clear when the opportunity to propel her career abruptly sends her across the country, leaving everything she loves behind in North Carolina.

Navigating a new city with a broken heart and a job where her colleagues will do anything to sabotage her success, the pressure quickly becomes too great. When old habits resurface, Lindsay finds herself chasing demons she thought were long since buried.

With pain and destruction left in her wake, will Lindsay find a way to erase the damage she's done, or will her sins remain unforgiven?

**This book is a Contemporary Romance and contains mature subject matter. It is not intended for those under 17 years of age.**
We're excited to share the cover for author Rebecca Shea's upcoming release, Unforgiven, which releases on September 22, 2014!

Unforgiven by Rebecca Shea from Becca the Bibliophle on Vimeo.

"All right, everyone." Lindsay stands up and pushes back her chair slightly. She wobbles a bit on her heels and rests her hand on my shoulder to steady herself. "Apparently, tonight is as good as any night to let you all in on a little secret." She wipes the palms of her hands down the sides of her black dress.

"So, for a little over a year now, Matt and I have been seeing each other." There are a few chuckles, but mostly everyone sits silently listening to Lindsay. "We've kept it quiet for a while simply because it's what worked for us." She shrugs. "It started off casual and just turned into more, and we didn't really make a big deal out of it." She looks down at me and smiles the most beautiful, genuine smile I've ever seen. Her blue eyes sparkle in the lights from the crystal chandelier and her long, blonde hair hangs in waves. She looks almost angelic in the dimly lit room. "So, cat's out of the bag." She laughs and raises her glass. I stand up and raise my glass next to hers. "To Matt and me," she says with a smile on her beautiful face. I lean in and press a long kiss to her lips while everyone hoots and hollers around us.

"I love you, sweet girl," I say between kisses.
Book 1: Unbreakable
Book 2: Undone