HOT!!!! We can't wait for this one by M. Leighton! Check out the teaser she posted on her website below!!! This is a MUST ADD to your TBR lists!!!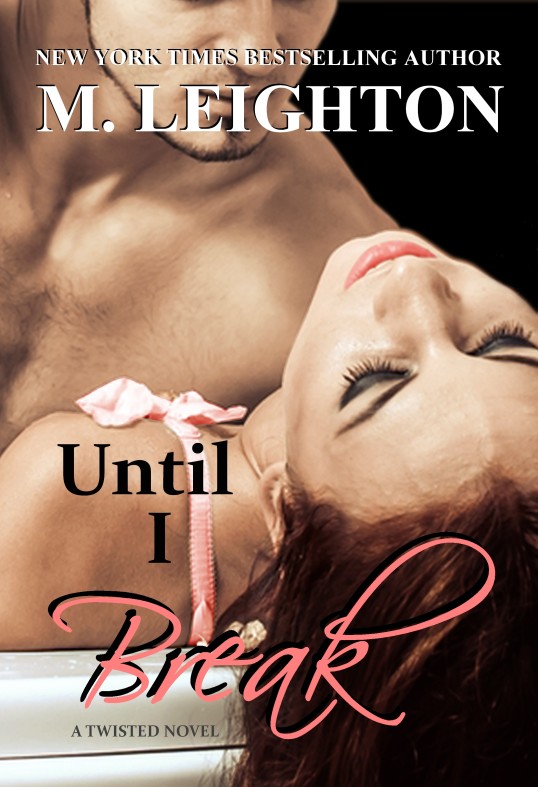 Synopsis
In love, sometimes what you fear most is exactly what you need.
Laura Drake is an author. She writes bestselling paranormal romances that continue to top the charts. She is sharp. She is confident. She is in control.
And she doesn't exist.
Samantha Jansen is the woman behind the wig, the woman most of the world doesn't know exists. She is shy. She is insecure. She is nothing like her main character or her alter ego. She is scarred—deeply scarred—by a past she can't let go of and a present she can't make peace with.
Samantha's dreams are consumed by one man, the broken hero from her books. Mason Strait is both her wildest fantasy and her most terrifying nightmare.
When Samantha meets Alec Brand, a corporate consultant, it is as though Mason has come to life. Alec is handsome to a fault, as elegant as he is arrogant, and more intense than any man has a right to be.
Samantha is soon sucked into a world that mirrors the fiction she writes. Just like her main character, Daire Kirby, Samantha finds herself unable to resist the forbidden lure of Alec. And just like Daire, she also finds that she is faced with taking a chance on a man who could either set her free or destroy her.
The scale tilts toward destruction when Samantha finds out that Alec is as much a work of fiction as Mason. And he has scars of his own, scars that could ruin them both.
Expected Release: May 14th
Teaser (posted on M. Leighton's website)
"I'm not the warm and fuzzy type, Samantha.  It's not my intention to make you feel love.  I don't have that kind of emotion in me.  But there are other things I can give you, things I can make you feel.  Really feel."  His eyes are hooded as he looks down at me and takes one more step forward.  This time, I don't back up.  "Excitement," he says, reaching up to wind one long, red curl around his finger.  When his eyes meet mine, I feel like he's doing the same thing to me—winding me around his finger.  "Anticipation.  Desire.  Warmth.  I can make you feel very, very warm."

As though his words alone can evoke the sensation, I feel hot blood rush to the surface of my skin and pool in the lowest part of my belly.

"You might even feel a little fear," he continues softly.  "But even that can be intoxicating in its own way."
About the Author
I was born and raised in the United States, and I've lived in several of the fabulous fifty.  Though I currently live in the deep South, I spent much of my childhood up North and hope to return there one day.  A few other things about me:  I believe that sometimes you have to look really, REALLY hard to find the good in people, but it's there.  I believe that I'm shrinking (I swear five years ago I was two inches taller).  I believe my husband is quite possibly one of the most amazing men in the entire world (I can't be sure because I haven't met all of them).  I believe coffee and chocolate, when combined, could be the basis for world peace.  I believe that Jesus rocks and communism doesn't.  I believe that white makes me look fat and black collects lint.  I believe summer's too hot, winter's too cold and fall was made for football.  I like dogs better than cats and the first movie in a trilogy is invariably the best.   But most of all, I believe that love conquers all.