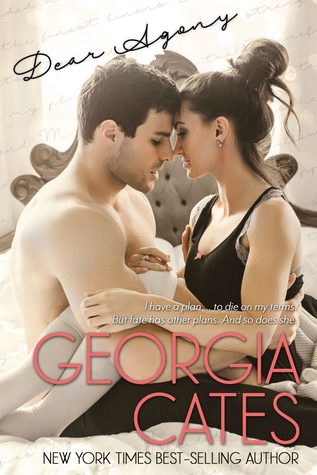 Dear Agony

by Georgia Cates
on March 1, 2017
Buy on Amazon
Goodreads

Dear Agony,

You've been my shadow, following me through childhood—filling my days and nights with terror and uncertainty. You cleverly disguised yourself as some form of pain or suffering as I grew into a young woman. We were unwavering companions … until I severed our ties.

I traded homelessness on the streets of New Orleans for a luxurious bed covered by the finest linens.
I traded dumpster diving for dinner in the finest restaurants.
I traded myself to a stranger—Bastien Pascal.

I have a good life within my platonic and mutually beneficial companionship with Bash.
He's my friend. My mentor. My roommate.
Until everything changes.

I'm not supposed to get goosebumps when his hand brushes my skin.
I'm not supposed to be eager for his soothing touch following one of my nightmares.
I'm not supposed to think about what might happen if I reached out to him in the darkness.

Falling in love with him? Preposterous . . . unavoidable.

Agony, why are you back with a vengeance to rob me of this life I've come to love so dearly?

I'm finally happy. Don't ruin this for me.

Always yours,
Rose

In this epic love story, Dear Agony forges a connection between an unlikely pair—a beautiful rose entwined in barbed wire and a shipwreck sinking into the darkest depths of the ocean. This agonizing romantic novel poses some gut-wrenching questions: What does a woman do when the man she loves is planning his own demise? And how far will she go to give him something to live for?
DEAR AGONY by Georgia Cates is LIVE!!!
Enjoy a sneak peek into the book below!

Chapter 9
Rose's POV
I wake to Bastien's soft, soothing voice slowly seeping into my sleeping mind while his hand gently shakes my shoulder. "Rose. Rose. Wake up."
"Bash?" My eyes are heavy and I struggle to wake. My tongue hasn't quite caught up so only a portion of his name slips through my lips.
"You're okay. It was just a nightmare."
It wasn't just a nightmare. It was a memory reliving itself through my subconscious. Just like it so often does.
There are always shadows in my dreams. A blurry monster I'm unable to remember. Yet incapable of forgetting. A foul fiend who touches me in darkness. A vile creature who causes me pain. A vicious assailant who brings me unimaginable shame.
Strands of wet hair are stuck to my face and neck. I'm a sweaty mess despite coolness in the room and the flimsy fabric of the cami and short sleepwear set I'm wearing.
I hoped so badly that my nightmares wouldn't manifest this early in our relationship. I'm mortified. I've only been living with Bastien for a couple days, and I'm not ready to tell him about my past. I need more time.
"I'm so sorry I disturbed you."
"It's fine. Don't worry about waking me." He sits on the side of my bed and his body makes contact with my leg. "Are you all right?"
"I'm fine." Lie. I'm completely shaken. I always am after the mysterious monster forces his way into my dreams.
"You didn't seem fine just now. What was that all about?"
Oh, God. I must have been screaming if I was loud enough to wake him from a deep sleep in his bedroom across the hall.
I can't deny this. It's going to happen again. And again. It always does. I have to tell him so he'll know what to expect.
"I have nightmares. Not every night but they happen a few times a week. I've been prescribed medication, but it only makes it harder for me to wake from the nightmare. It doesn't stop the terror while I'm asleep. I feel really hungover the next day after taking it. It's so bad that sometimes I can't function—and I have to go to class—so I don't take it."
"You were thrashing around violently and screaming. If I'm being honest, it sort of scared the shit out of me."
This is bad. Will he think this is going to be a problem and he needs to send me back to Vale? "I'm so sorry. I'll take the medication so I don't disturb you."
"I'm not worried about being woken up. I'm concerned about your safety."
"The thrashing and screaming is the worst of it. I've never hurt myself—or anyone else—during an episode."
"What do you dream about that elicits that kind of reaction?"
I want to trust Bastien. I want to open up and feel the comfort that I think he can give me.
But I can't. Not yet.
"I had a really bad childhood." My words are barely more than a whisper. And all I can bring myself to say.
"More things I'd very much like you to share with me one day."
"I want to. And I really hope I get to a place where I can." But the storms in my head have driven me from the reach of everyone. I've built an ironclad protective shield around myself. I built it to never be penetrated and so far, it's been successful. But what comes with my solitude is bittersweet. It gives me the ability to hold everyone in my life at a distance.
"I'm not leaving you by yourself after witnessing that episode." Bastien gets up and walks around to the other side of the bed. He pulls the covers back and climbs in beside me. "I guess Vale was right about the clause thing. But don't tell her. I can't stand it when she gloats."
I've never had a man in my bed.
"I won't touch you, Rose. You have my word."
He must sense the panic in me, and I despise that. There's been no wrongdoing on his part. He's been nothing but kind to me, and I don't want him to believe I think otherwise. "I'm not afraid of you."
"I just crawled into your bed without warning and without your permission. It was thoughtless, but I didn't comprehend how much until I saw your expression. I'm the one who owes you the apology."
He wants to stay with me tonight because he's worried about my safety. I appreciate that in a way he can't possibly imagine. No one, besides Vale, has ever looked out for me before.
"I can go if you prefer."
No. Please. Please don't leave me. "I want you to stay."
"Then I will."
"Can you sleep if I leave the lamp on?"
"I can sleep anywhere under any circumstances. Can you sleep if I snore? I gotta warn you. I've been told I'm pretty loud."
I have no idea. I've never slept with a snorer. "I think so. Maybe. I guess we'll see."