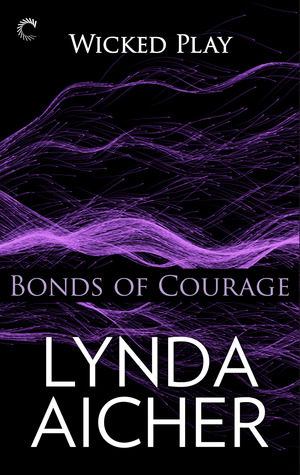 Bonds of Courage

by Lynda Aicher
on June 16, 2014
Pages: 263
Buy on Amazon
Goodreads


Book Six of Wicked Play

Pro hockey player Holden Hauke has kept his sexual needs buried for years. After a near miss over a picture of him bound to a spanking bench resulted in a mid-season trade, he's kept his image clean. But with the season over, he's ready to surrender control. And he's found just the woman to help him—if only he can convince her to give him a chance.

Bending men to her will is nothing new for Vanessa Delcour, aka Mistress V—she's a full-time rep for pro athletes, a part-time owner of exclusive sex club The Den, and an experienced Domme. But when Holden Hauke comes looking for a discreet partner, Vanessa's concerned about his motives. Touching his training-toned body during a scene wouldn't exactly be a hardship, but taking him on crosses barriers between work and play that she's had in place for years.

From their first intense encounter in Mistress V's playroom, Hauke knows he can't let this chance slip away; he's found the woman he's always needed. Submissive or not, he's willing to push her every limit to prove how good they can be together.
Please note I have only read book 5 in this series.  I did not read any of the other prior books in the series so do not worry about reading this as a stand alone, it worked for me. The books common theme is that all the characters have some affiliation with The Den, an exclusive BDSM club.
Bonds of Courage tells the story of Pro hockey player Holden Hauke and Vanessa Delcour aka Mistress V, a PR professional who he works with.
The reader's introduction to these two and their introduction to each other was well done and I enjoyed them seeing through the illusions and learning to trust each other.
The first encounter in Vanessa's private playroom was intense and had me hoping these two would find a way to make their private lives, intertwine with their public lives in a way that allowed them to be themselves behind closed doors and with each other in public.
You see, both fear what will happen if it gets out that Vanessa is a Domme and owns part of a club and Holden fears him being a sub would ruin what is left of his professional hockey career.
Ms. Aicher did a very good job at explaining to the reader what Holden Hauke gets from his role as a submissive.
I adored how Holden was a sub.
The reader is able to feel the pull these two have for each other and how they each fill a place in the other's life.
The resolution at the end of this book felt real for these two and I loved the place they came to as a couple.
Vanessa's younger sister Livvie truly added to this story; she pushes her big sister and the genuine friendship she forms with Holden was a wonderful tool to help the reader and V seen him as more than an athlete.
I am very much looking forward to book 7 in this series as well as the spin-off about Holden's teammates (yes, hockey boys).
Series Reading Order
Book 1 – Bonds of Trust

Book 2 – Bonds of Need  (not available)
Book 3 – Bonds of Desire

Book 4 – Bonds of Hope

Book 5 – Bonds of Denial

Book 6 – Bonds of Courage