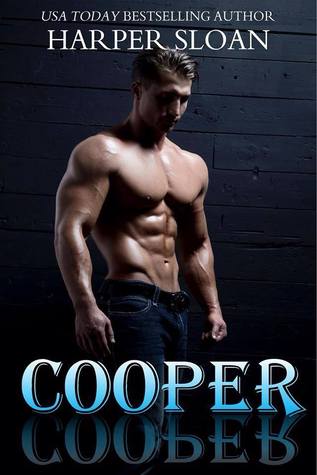 Cooper

by Harper Sloan
on June 19, 2014
Pages: 224
Buy on Amazon
Goodreads


Do you take me seriously? Because I don't. I use my jokes and easygoing personality to hide the pain I've felt since he took his last breath. I'm adrift without my partner in crime, my best friend…my brother. I can taste the vengeance just within my grasp.

Until she barges into my life. Promising me happiness and a peace I've been craving for years. She is the sun to my darkness, the happy to my despair.

But she holds secrets. Just like I do. She holds hers close, where I just pray mine don't rock the walls we're trying to build.

Now I'm stuck at a crossroads between my desire for revenge and my craving for her and the life we could have together—and I have no idea which road I should travel.

All I know with crystal clear certainty is that the past has the power to destroy it all.
Please do not attempt to read this book if you have not read the prior books in the series; Cooper, book 4, deals heavily with the events of book 3  Beck and although the book may make sense, I think it will seriously impact the emotional connection, so if you have not read the Corps Security series dive right into book 1 – Axel.
Also please do not read this review if you have not read book 3 Beck as I will spoil the book for you. The events from Beck plays so much into this story  that I can not get out what I want to say without giving away some of Beck.
Here goes, your last warning…. do not read if you have not read book 3 Beck.
Warning I am starting backwards; Full Circle, that is how the book ends and it is so well done, it is almost haunting, haunting in way that left a tear in my eye and a smile on my face.
Ok the book "Cooper" tells the story of Asher Cooper, and Chelcie; the reader meets both in book 3. Asher is Coop's older brother and Chelcie is a woman he has had a one-night stand with. The reader knows Chelcie has a secret, one that could rock Ash to his core.
Asher is reeling from the loss of his younger brother "Coop" as everyone addresses him.  Ash does not know Chelcie is pregnant by Coop; carrying the child he never knew about prior to his death.
Asher's pain over losing his brother is tangible in this book; his pain, his raw emotion moved me and I write this as someone who has lost their only sibling.
The connection Asher and Chelcie share is apparent to the reader.  Watching Asher push that away, watching Asher burying his pain in the bottom of bottle and with random women was hard but true to his character in the moment.  Ash being pulled from that spiral was so well done, I don't want to ruin it for you but it was a great use of secondary characters and also emphasized  that in the end, Asher had to want to move forward for himself.
Asher's healing and moving forward allows himself to embrace the connection he has with Chelcie. I want to pause and say I love how the aspect of fatherhood was addressed in this book and Ash's love of the unborn baby made me love him even more! Speaking of unborn baby; perfect name (nope not telling)!
Oh when these two connect it is hot, but I think we have all come to expect that from Ms. Sloan.
There was some drama in this book; likely not what the reader expects but it was well done.  It added to the book and allows the reader to see you don't know what life will bring and that you need to grab onto the happy that is in front of you.
I really enjoyed the book as the rest of the cast from this series makes an appearance, watching them grow as a family, loving each other and moving forward warmed my heart.
I loved the use of Emmy in this book and Maddox.  Hearing from Maddox throughout the book as he helps Asher was so well done and the small snippet in Maddox's POV toward the end reaffirmed my wanting Locke!
I truly hoping we get to see what's beneath his pain and I am very much looking forward to this complex man taking his own advice and embracing the light in front of him.
So, Yes I am very much looking forward to Locke book 5 in the Corps Security series.
This had become a cast of characters that sits close to my heart and watching them continue to develop warms my soul and it is a true example that family is not always about blood but about those who care, those who understand and those who respect you for you.
Thank you, Ms. Sloan for a wonderful series!
Series Reading Order
Book 1 – AXEL

Book 2 – CAGE

Book 3 – BECK

Book 3.5 – UNCAGED

Book 4 – Cooper