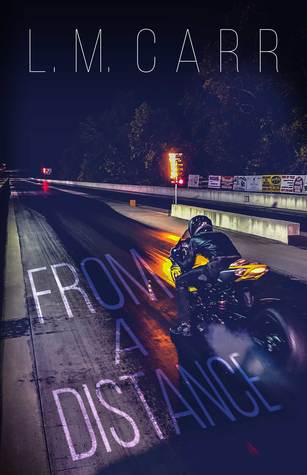 From a Distance

by LM Carr
on February 27, 2017
Goodreads

After an intense whirlwind romance, Karrie Parker thought she had it all: a sexy husband, a loving family, a great career and a beautiful home.

Together they lived a life fit for royalty.

But when tragedy strikes, Karrie is devastated and left to face the consequences of her husband's deepest, darkest secrets. Discovering the strength to carry on while making important, life-changing decisions, she finds herself desperate for answers. And holding the key to the puzzle is the one man she loathes immensely.

For up and coming motorcycle drag racer Tyler Strong, keeping painful secrets was never part of the plan. Racing motorcycles and winning was all he ever wanted to do, but when his best friend's lies begin to unravel, Tyler is sent into a tailspin when he's forced to come face to face with the one woman he vowed to stay away from. The woman he refuses to speak to, the woman he avoids, the woman he watches…from a distance.

As the truth becomes clear, will destiny bring these two unlikely souls together or tear them apart forever?
Happy Release Day LM Carr and FROM A DISTANCE! Enjoy a sneak peek into the book below and make sure to enter the giveaway for a chance to win a signed copy of this book – good luck! xo

Eventually my eyelids grew weary, falling heavily as I drifted off to sleep next to a man who I was convinced would never hurt me.
From the living room, I hear the door swing open as Tyler complains, grumbling about the lock and the cold weather. The bedroom door is wide open so I pull the blanket up to cover my nakedness, fearing he might not be alone. I glance at the clock. Nine o'clock. I never sleep in this late, but then again, my sleep schedule has been off for years since I started working nights. It's like having jet lag without having traveled.
"Good morning." Tyler walks into the room, carrying two coffees in a cardboard tray and a small white box.
Pushing myself up to a sitting position, I smile and lean over to meet his kiss.
"Good morning yourself," I mumble against his cold lips. "What's all this?" I ask, accepting the cup of coffee.
"Breakfast in bed."
He opens the box, pulls out a pastry and holds it out for me to take a bite. Keeping my eyes laser focused on his, I open my mouth, letting the sweet cream drip on my tongue.
"Thank you," I chew, moaning dramatically as my eyes close before dragging them upward to reopen.
Tyler shoves the rest into his mouth. "This is the best éclair I've ever had."
My eyes widen with disappointment while a frown turns my mouth.
"What?" he asks only to realize the reason for the expression on my face. "Don't worry. I got half a dozen."
We thoroughly enjoy our breakfast in bed together, leaving only crumbs in the box.
I finally drum up the courage to bring up the topic I've been thinking about all morning.
"So about last night…" My statement wafts, lingering in the air as a question.
Tyler's countenance stills, apprehension is clearly defined all over his handsome face.
"Do you regret it?"
I rise to my knees, the blanket falling to the side as I remove his coffee cup from his hands.
"Actually," I grin wickedly. "I was wondering when we could do that again."
My body flies backwards as Tyler pounces on me, attacking my mouth desperately.
We remain locked behind closed doors, choosing not to leave his apartment for two whole days.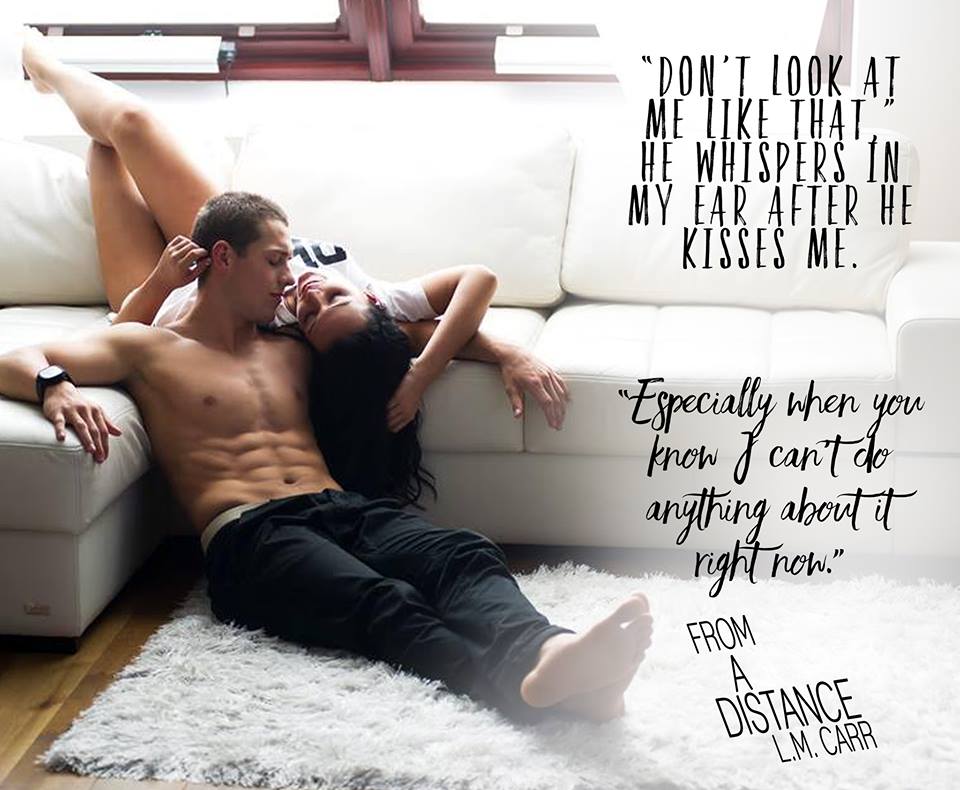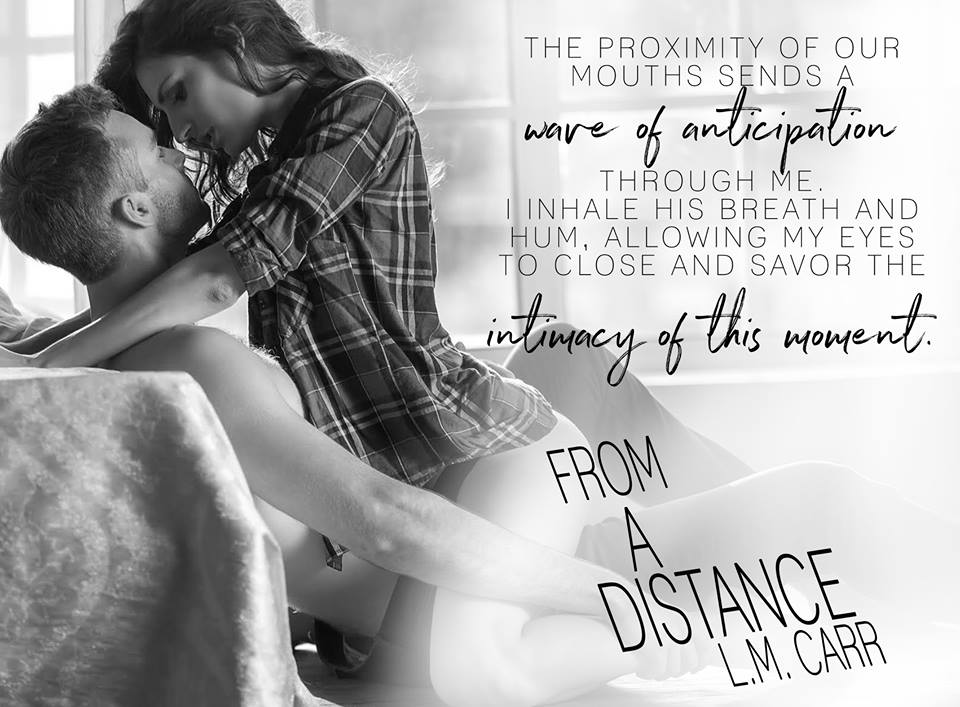 *Giveaway now over – Congrats to Jen Z*
Enter to win a signed copy of FROM A DISTANCE (open U.S. ONLY)
All you have to do is share this post on your social media account(s) (Facebook, Twitter, Instagram, etc). Sample message below:
 #FromADistance is LIVE!!! Excerpt and Giveaway #tylerstrong #fueledbyromance @shhmomsreading @LM_Carr
 Please make sure to post a link to your shares below. ONE winner will be chosen Saturday, March 4th. Thank you for sharing!