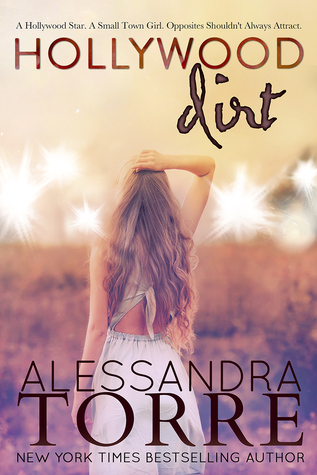 Hollywood Dirt

by Alessandra Torre
on September 7, 2015
Pages: 414
Buy on Amazon
Goodreads


Cole Masten. Abandoned by his superstar wife, Hollywood's Perfect Husband is now Hollywood's Sexiest Bachelor: partying hard and screwing even harder. Watch out Los Angeles, there's a new bad boy in town.

Summer Jenkins. That's me, a small town girl stuck in Quincy, Georgia. I cook some mean chicken and dumplins, can bluff a grown man out of his savings in poker, and was voted Most Friendly my senior year.

We were from different worlds. Our lives shouldn't have collided. But then Cole Masten read a book about my small town. And six months later, his jet landed on our dusty airstrip, and he brought Hollywood with him.

From the start, I knew he was trouble. For our town. And for me.

Sometimes, opposites just aren't meant to attract.
The opening of this book in the author's words shares a bit about the history of the town of Quincy, Georgia and worked as a nice setup for the story.
Hollywood Dirt is the story of what happens when mega movie super star Cole Masten comes to a small town with a deep history, a town that is filled with Coke millionaires (those whose family invested in the early days).  Cole is planning to turn the town's story into a movie, Fortune Bottle.
Denise: The plan to get this small town to open up, has Cole's colleague enlisting the help of town outcast Summer Jenkins.. I will pause and say the unraveling of Summer's backstory was really well done.
Christine: I loved Summer. Sassy, confident, strong, blunt and such a hard worker, I really admired her as a person. Especially her complete honesty, temper and almost hate for Cole which had me smiling and laughing with their every encounter. Summer is the town outcast for reasons the reader will learn as Summer opens up to Cole throughout the book and I have to say that I was 100% behind her reaction to the scandal that had the towns people no longer talking to her.
Denise: It was also too funny witnessing Summer's impressions of Cole verse the public persona he portrays:
"Don't do that."
"What?" He straightened off the porch railing.
"That smile thing. It's creepy."
He stopped smiling.
"Ten million Americans would disagree with you."
"Then ten million Americans are idiots."
This book had some laugh out loud moments as these two battled through their love/hate relationship:
"Can you put on some pants?" she snapped, looking back at him, her eyebrows raised accusingly. "It's rude to waltz around with your junk out."
Christine: I enjoyed reading the dual POV in this story – seeing the difference between the glitz of Cole's life in Hollywood to Summer's low key life in this small southern town. It really put things into perspective for Cole who was so used to getting what he wants at the snap of a finger. It really put his ego in check and I loved it!!!
Denise: Witnessing Cole try to fit into country life also made for some hysterical scenes… I loved this one and a few others that featured "Cocky."
"I just got a baby rooster," Cole started.
"I can see that," the man drawled. ……
"Why'd you bring it with you?"
"I don't know. I thought it might need to be checked out, or you might have questions, or it might not be able to be left alone…" 
Cole's voice trailed off, and he realized exactly how stupid he sounded.
"It's. A. Chicken." 
The toothpick in the man's mouth fell out as he spat out the words. 
"It's not a pet. You don't name the thing and give it a bedazzled collar."
"What does it eat?" Cole snarled, taking Cocky's tub down off the counter and setting it on the floor, his boot pushing it to a safer location, a little to the side.
"Corn."
Cole waited for more. And waited.
"Just corn? Nothing else?"
The man raised his eyebrows. 
"It's. A. Chicken."
Christine: OMG I was dying laughing at this scene! Despite Cole being a cocky, entitled movie star, I felt his pain in losing the woman who he believed to be the love of his life yet I was so captivated by his attraction to Summer, the push/pull and chemistry between them. Watching them act and the story of this town unfold in front of the cameras, really showcased their palpable connection and heat. I couldn't pull myself away from this book because I just wanted more and more of them.
Denise: Summer and Cole's love/hate relationship continues for sometime but they do develop easy banter which kept me engaged in this book.
Denise: When Summer and Cole finally do connect physically, it is off the charts and yes Cole becomes the kind of man you wish was in your bedroom:
He shuddered out my name, pressed himself fully inside, and waited for one long breath.
"Are you okay?" His words were painful and tight, gritted out between his teeth, and I nodded, unable to form words, unable to do anything but worship at the altar of Cole Masten from that moment forth.
"Good," he moaned. 
"Because I'm about to unleash hell."
Christine: omg yes!!! I could literally taste the angsty, angry sexual tension – it just blew me away!
Denise: The point in the book when Cole's love for Summer is put to the test, truly to a financial test spoke volumes to me, proving to me that Summer was his soulmate (which for me wasn't easy given that Cole thought his first wife was his everything).
Christine: Watching Cole realize his love for Summer was simply beautiful. This strong man who had the world in his hands finally seeing what true love is, how much this woman meant to him and how scared he was to feel this love pulled at my heart strings. And vice versa, Summer really seeing who this man is underneath the Hollywood heartthrob had me smiling from ear to ear.
"I see you," I whispered….."This is you. And you are perfect. I love this you."
Denise: These two find a happy that started with the love of a story they were determined to see on the big screen and became their own story of triumph.
This line says so much about this story and weaves right into the title:
"I'm so glad that Hollywood and dirt roads met in the uniqueness of Quincy."
Christine: Despite their differences, these two people found their perfect match in each other and it took my breath away! This is my first book to read by Alessandra Torre and I look forward to reading more from her. Sexy and fun, these characters kept me engaged from page 1 to the very end!