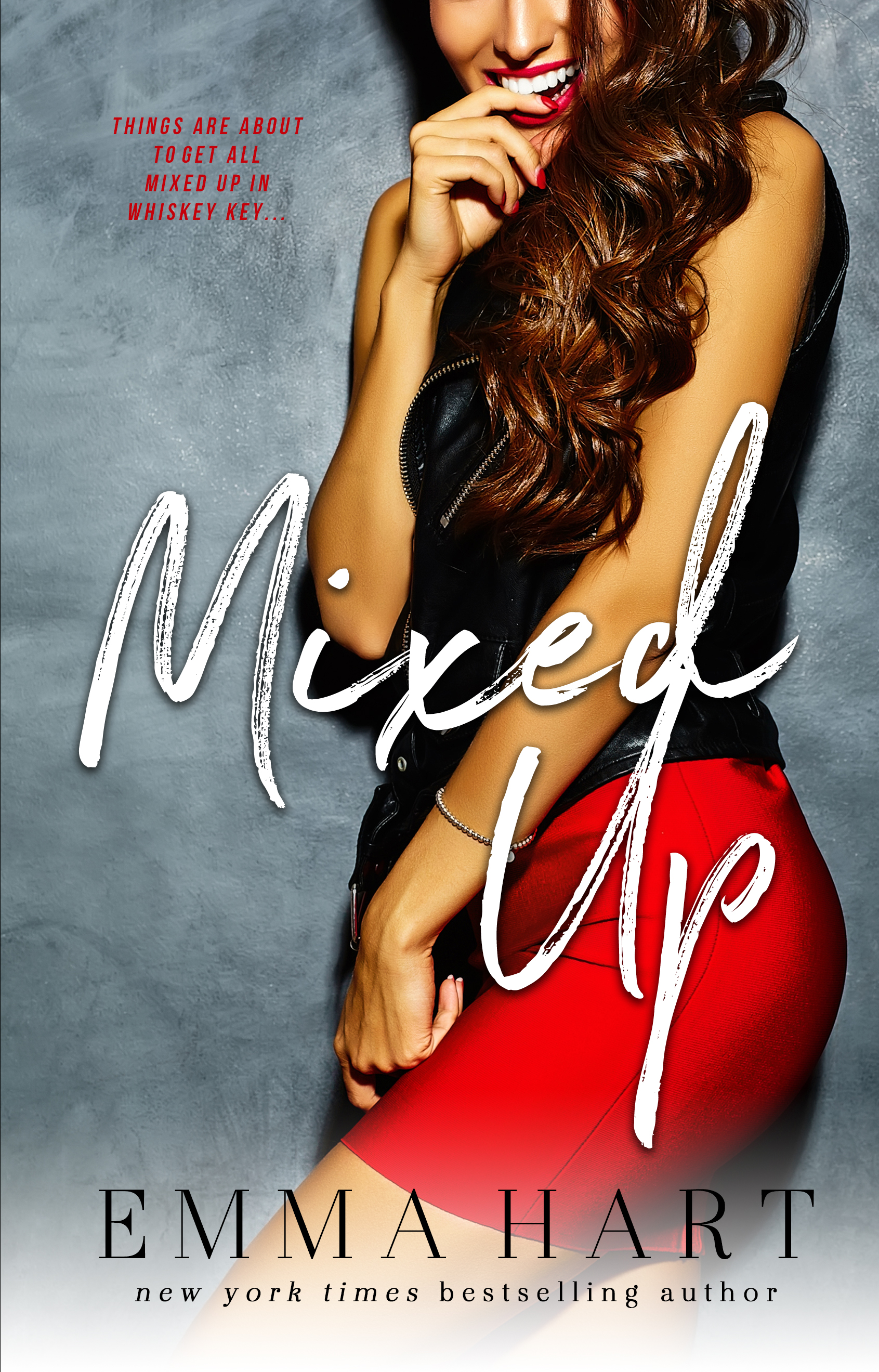 Mixed Up

by Emma Hart
on April 18, 2017
Buy on Amazon, Buy on B&N, Buy on iTunes
Goodreads

Hiring my brother's best friend was not on my to-do list.
Neither was he.

Expanding my dirty cocktail bar into food was supposed to be easy, except finding a chef in my little town of Whiskey Key is anything but.
Until Parker Hamilton comes home—bringing his Michelin starred chef's hat with him.
He has no work. I need someone like him in my new kitchen.
There's just one problem: I hate his cocky, filthy-mouthed, sexy-as-hell guts.
Even if I might want him. Just a little…

Working for my best friend's sister? Not on my to-do list.
She's another story.

Whiskey Key was supposed to be a relaxing vacation, except I haven't reached the heights I have by lying in a hammock drinking cocktails. So when Raven Archer is desperate for a chef, I offer up my skills.
I'm bored. She needs what I can give her.
Except there's a problem: I've always hated her.
Her and her big, blue eyes, sassy mouth, and killer curves.
If only I didn't want her.
Emma Hart has a brother's best friend to more book coming out on April 18th and we can't wait to get our hands on MIXED UP! Check out a HOT, HOT, HOT sneak peek into the book below as well as a Signature Cocktail created by Emma for the book – it sounds DELICIOUS. Make sure to enter the giveaway below for a chance to win a signed copy of Mixed Up (open international)! Good luck!!!

Raven.
She was Ryan's sister.
Off-limits.
Out of bounds.
So fucking tempting.
I couldn't do it to my best friend. One kiss from her could be brushed off as under the influence of alcohol and moved on from. The way I wanted to kiss her couldn't be brushed off as anything but selfish need from me. Selfish, greedy, inconsiderate need.
I didn't care.
I did. I did care. It was a lie. I'd never be able to look Ryan in the eye if I knew what it felt like to kiss her properly.
My respect for him outweighed my want for her.
The words rang like a lie even in the loudness of my mind.
Usually, yes. Yes, my respect for him outweighed anything else I could feel. But right now, it didn't.
Nothing did.
I had to get the fuck out of here before I did something I'd regret tomorrow. Before I did the one fucking thing that would destroy my friendship with him.
I left the tray on the side. I'd regret it tomorrow, but getting the hell out of Dirty was my priority. I'd forgive myself, I was sure.
I didn't even glance Raven's way as I headed for the door. I'd thrown my shit in my car before I'd gone to find her on the beach, and now I was glad for my hindsight. If I'd had better hindsight, I'd have made Sienna call her like she'd offered to.
"Parker?" Raven's voice was softer than usual, and she said my name at the exact moment I touched the door handle.
That was the only explanation for why I stopped and turned around. She was standing in front of the bar, almost directly across the room of me. She played with the damp cloth in her hands, winding it nervously around her fingers.
The apprehensive glimmer in her eyes hit me straight in the gut. It was so unlike her—a part of her rarely-seen softer side, the one she kept under wraps for everyone but a select few people.
She glanced away for a brief moment before saying, "Can we just…ignore that a moment ago?"
"Sure." I kept my gaze trained on her eyes. "It was the alcohol, right? Forget it."
She tugged the corner of her lower lip into her mouth with her teeth as she nodded. I took a deep breath when she looked down at the cloth in her hands. The only bright thing in her expression—her eyes—had gone, and I could almost feel the awkwardness rolling off of her.
Her eyelashes fanned long, spider-leg like shadows across her cheeks as she kept her attention downward. A deep breath made her shoulders rise and fall, and her lips pursed with the long, shaky exhale.
It wasn't awkwardness.
It was embarrassment.
It tinged her cheeks pink, shook her hands, and made each breath sharper.
She was embarrassed, and I fucking hated it, because she had absolutely no reason to feel that way.
I let go of the door handle and, in a few short strides, I closed the distance between us. Her lips parted just enough that I could see she'd scraped a fleck of lipstick off the bottom one where she'd bitten it moments ago. I lingered on that for a moment before hooking my finger under her chin, forcing her head up.
Raven swallowed, her tongue just teasing the inside of her lip. I expected her to say something, to push me away, but she didn't. She stood there, still not looking at me, but close enough that every short, sharp breath she took, no matter how quiet they actually were, seemed to scream at me.
"Raven." Her name was nothing more than a low hum on my tongue.
She snapped her gaze up to mine. The apprehensive tone she'd spoken with peered back at me, mixing into a hurricane of emotions with her embarrassment and some frustration. Her cheeks got pinker the longer I looked at her, and when she opened her mouth to speak, I leaned in.
Placing my hands either side of her face, I took her mouth with mine.
Firmly.
Deliberately.
I wanted her to have no doubt that I absolutely meant to kiss her.
I slid my hands down her cheeks so I was cupping her jaw and my fingers curled around the sides of her neck. She shuddered when I pulled away only to go back and kiss her again, this time even harder. This time, she leaned into me, the cloth falling to the ground as she pressed her hands against my stomach. Her fingers curled with the dip in my abs, but all I could think about was the way her lips felt against mine.
Her lips were the softest I'd ever kissed. And I didn't want to stop.
She tasted like the fruitiness of the cocktail we'd both drunk. Like pineapple and coconut, like orange and…freshness.
Like everything I shouldn't be tasting, because I shouldn't have been kissing her.
As if she could read my mind, Raven pulled away with a gasp that sent a shiver down the back of my neck.
In the silence that followed, a phone rang from somewhere in the bar.
Of fucking course.
She pushed away from me and ran to the back without another word to me.
The phone stopped ringing.
Five minutes later, it was obvious she wasn't coming back.
I rubbed my hand across my face and did what I should have done when she asked if we could forget the fact she'd kissed me.
Left.
The Lipido Licker Cocktail – YUMMMMM!!!!!!!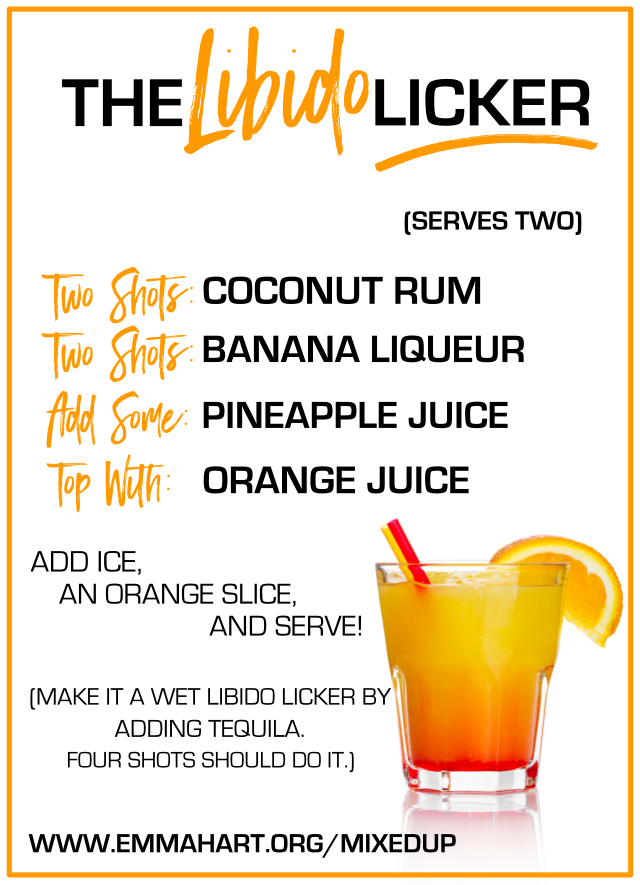 For more  excerpt, cocktails and recipes from the book stop over at:
Angie and Jessica's Dreamy Reads – will post on FRIDAY!
★¸¸.•*¨*•★ Preorder the Book ★¸¸.•*¨*•★
Amazon US | Amazon UK | Amazon CA | Amazon AU | iTunes | B&N

*Giveaway now over – congrats to Jessica Shaw*
Enter to win a signed copy of MIXED UP (open international)
All you have to do is any of the following:
➡ share this post and giveaway on your social media account(s) (Facebook, Twitter, Instagram, etc). Sample message below:
Mixed Up is #ComingApril18th #ExcerptAndGiveaway #LipidoLicker @shhmomsreading @EmmaHartAuthor
➡ Add MIXED UP onto your GR TBR https://www.goodreads.com/book/show/33826176-mixed-up
➡ Stop by Emma Hart's FB page, give her a like and let her know Shh Moms Reading sent you and how much you are looking forward to reading MIXED UP https://www.facebook.com/EmmaHartBooks
 Please make sure to post a link to your shares below (the more you do the more chances to win!). One winner will be chosen Monday April 17th. Thank you for sharing!