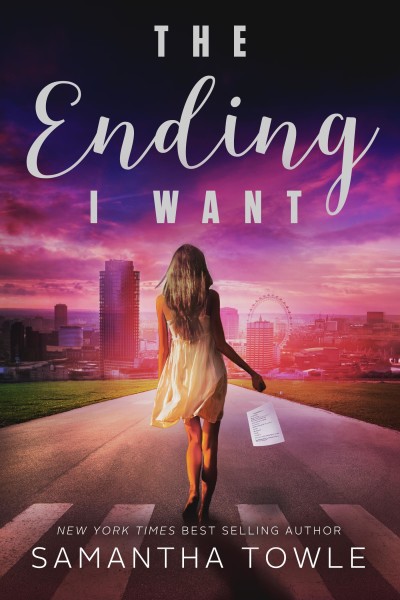 The Ending I Want

by Samantha Towle
on May 10, 2016
Goodreads

Taylor Shaw had the perfect life—until she was sixteen. That was when everything changed. From that moment on, life went from bad to worse…to the worst.
After recovering from a brain tumor, months later, she suffers the tragic loss of her whole family.
Since that fateful day, she's been coasting through life.

Now, the brain tumor has returned, and Taylor decides she's had enough. She's going to take her fate into her own hands.
No more hospitals. No more surgeries. No more anything.
She's going to join her family.
It's her decision.
What she longs for.
The ending she wants.

She just has a list of things to do before she goes.
First, go to England.
Second, kiss a stranger…

Only, Taylor didn't expect Liam Hunter, the stranger—with his handsome face, his six-foot-three of gorgeousness, and his oh-so-hot English accent—to change things.
To change her.
To change the ending she wanted.

What is a girl, who is standing on the edge of nothing, to do when offered the chance of everything?
Christine is reading this now and LOVING IT! Oh the FEELS with this book!!! Enjoy a sneak peek into The Ending I Want releasing next week on the 10th and make sure to enter the giveaway for a chance to win an ARC copy of this book!!!! #WeLoveLiam #LiamIsMine
♥ PREORDER THE BOOK ♥
B&N | iTunes US | iTunes UK |Kobo
*will be available on Amazon on Release Day

"Hi." My word comes out strangled.
He smiles again—God, he has a beautiful smile—and then he glances past me to the window.
I take advantage of the moment to eye-grope him. I mean, who wouldn't? You don't see many men like this every day.
He's built and tall. His long legs barely fit in the space in front of him.
God, I want to climb him like a tree.
When I bring my eyes back to his face, he's staring at me, and he's smiling—an amused kind of smile because he knows I was totally checking him out.
I should be embarrassed, but I'm not. Because I don't care. It was totally worth getting caught just to be able to stare at him.
How the hell am I going to cope with sitting next to him for the next six hours?
My sex hormones are off the charts just from being in close proximity to him. I might need to go to the restroom and put my hand to good use just for some relief.
Or…he could be my stranger.
Now, wouldn't that be something?
"You have to have the window shutter open on takeoff," he tells me, nodding in the direction of the window, pulling me from my reverie.
I think I'm supposed to move to open the shutter, but I can't seem to function like a normal human being right now because I've had the normal knocked out of me by this English Hottie here.
And then he goes and shows me that beautiful smile again, sending my body into overdrive.
He moves forward, leaning over me—I'm guessing to open the window shutter—and I don't know what comes over me.
Maybe it's because he smells like heaven with his rich cologne and something totally masculine. Or because I haven't stopped thinking about sex since he sat next to me—well, actually, I was thinking about sex a fair bit before that also. Or maybe it's because his delicious, kissable lips are so close to mine. Or because he's just that hot.
But I kiss him.
I totally plant my lips on his, and I kiss him.

*Giveaway now over – congrats BookNerd Carmen*
Enter to win an ARC COPY OF THE ENDING I WANT!
All you have to do is share this exclusive on your social media account(s) (Facebook, Twitter, Instagram, etc). Sample message below:
 The Ending I Want is Coming May 10th #ExclusiveAndGiveaway #EpicLove @samtowlewrites @shhmomsreading
 Please make sure to post a link to your shares below. One winner will be chosen Sunday May 8th. Thank you for sharing!