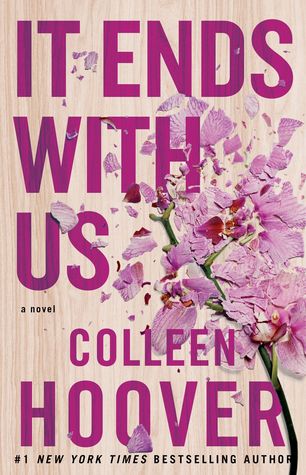 It Ends with Us

by Colleen Hoover
Buy on Amazon, Buy on B&N, Buy on iTunes, Buy on Kobo
Goodreads


Lily hasn't always had it easy, but that's never stopped her from working hard for the life she wants. She's come a long way from the small town in Maine where she grew up—she graduated from college, moved to Boston, and started her own business. So when she feels a spark with a gorgeous neurosurgeon named Ryle Kincaid, everything in Lily's life suddenly seems almost too good to be true.

Ryle is assertive, stubborn, maybe even a little arrogant. He's also sensitive, brilliant, and has a total soft spot for Lily. And the way he looks in scrubs certainly doesn't hurt. Lily can't get him out of her head. But Ryle's complete aversion to relationships is disturbing. Even as Lily finds herself becoming the exception to his "no dating" rule, she can't help but wonder what made him that way in the first place.

As questions about her new relationship overwhelm her, so do thoughts of Atlas Corrigan—her first love and a link to the past she left behind. He was her kindred spirit, her protector. When Atlas suddenly reappears, everything Lily has built with Ryle is threatened.

With this bold and deeply personal novel, Colleen Hoover delivers a heart-wrenching story that breaks exciting new ground for her as a writer. Combining a captivating romance with a cast of all-too-human characters, It Ends With Us is an unforgettable tale of love that comes at the ultimate price.
Happy Release Day to Colleen Hoover and her new book IT ENDS WITH US! Win 1 of 3 prize bundles of one signed copy of IT ENDS WITH US and a limited Everything's Better in Boston magnet (trust me, you'll get it after you read the book)! Contest is open until August 26th.
Visit www.ItEndsWithUsBook.com for teasers, tour dates and more.
So Colleen Hoover can do no wrong in my eyes. I have loved all of her books since Slammed, but to be honest It Ends with Us has taken that love to a whole other level. I already knew that Colleen was a gifted writer but with It Ends with Us, she has taken something so personal, so gut wrenchingly emotional, and so heartfelt and created a story that will sit with me for a long time. This book was so meaningful and deeply affected me – heart and soul.
Readers will be taken on a powerful yet meaningful journey of strength, love, sadness, fear and forgiveness. You will feel the emotions as the characters experience their journey – you will feel the naked truths both the ugly and the beautiful. It's not an easy journey but It Ends with Us is a #MustRead for all Colleen Hoover fans. What was really amazing about this book was that despite being a reader on the outside of this story, I felt every word, I felt every emotion because I was in this book with these characters. Every scene and every word said was so completely believable, relatable and just so perfectly done.
To be honest, I don't want to tell you much about this book because I feel that this is a journey that everyone should read and experience for themselves. There were so many moments – funny moments that made me smile, heartbreaking moments that crushed me, moments that I wasn't sure what I was thinking because I was torn and just gutted because I didn't know what to believe. But then the moments of hope…omg the hope…le sigh
Inspiring, complex, and completely unforgettable – It Ends with Us is my absolute FAVORITE book of Colleen Hoover yet and trust me, you will have complete book hangover. And naked truth…I love this book HARD! Read it, just buy it – this book is exceptional….magnificent…complete and utterly perfect  <3