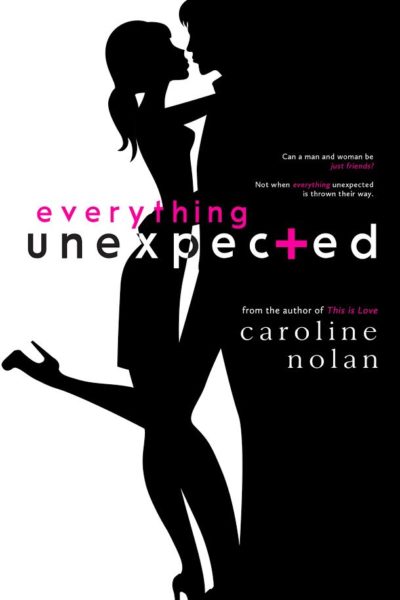 Everything Unexpected

by Caroline Nolan
on September 20, 2016
Pages: 350
Buy on Amazon, Buy on Kobo
Goodreads


Can a man and woman be JUST friends?

Shane Carlisle and Leah Kessel think so. They've been the best of friends for years—and quite content being just that; it's their friends who don't believe it. None of them can understand how two gorgeous, non-committed adults have never thought about crossing that line. Until a night of celebration, too much tequila and new found curiosity makes it impossible for Shane and Leah not to think about it. So together, they cross it—promising themselves and each other that nothing will change and that yes, a man and woman can STILL remain just friends.

That is, until everything around them begins to spiral out of control.

Plans they had once formed, vanish. Promises they once made, are broken. And their once easy and effortless friendship turns into…the complete opposite. Coming face to face with the consequences of their actions, Shane and Leah are once again challenged by the same question.

Can a man and woman be just FRIENDS?

Not when everything unexpected is thrown their way.
Guys! I LOVE friends to lovers stories and I fell in love with Caroline Nolan with her debut novel and now have fallen in love EVEN MORE with her new book EVERYTHING UNEXPECTED. Make sure to check out an excerpt from the book below and I have TWO AMAZING giveaways too!
So this book will touch on the question – Can a man and a woman ever really be JUST friends? I, for one, think that you can – I grew up on Long Island and really had many more guy friends than girl friends and I loved hanging out with guys and being drama free 🙂 That being said, I really do think it depends on the circumstances and if there is attraction behind that friendship and just how far you are willing to go.
Everything Unexpected is the story of Shane Carlisle and Leah Kessel who met in college at a party. It's the classic case of boy meets girl except while he is instantly interested and attracted to her, Leah has a boyfriend. Five years later, he is a photographer who travels the world and she is a lawyer and they are the best of friends. They know each other like the back of their hands, they are crazy close and they have never kissed or even thought of anything more….well, until his birthday when one of their friends brings it up and then a night of partying and tequila leads to that something more. (HOT ALERT!!!) And here comes the promise of – well things won't change right?? We will still be the same after this??
But really in truth, things can never be the same for them again! Because when something so intimate happens, when feelings are brought into the mix, awkwardness ensues, and what was once only comfort and ease between them no longer exists.
I can't really get too in detail with the story because I don't want to ruin it for you. But SO MUCH happens…and its crazy good!!! 🙂 I know that's so vague lol but I LOVED this story. It is such a cute read, no crazy drama but truly a light hearted, fun, and realistic to life read. I found myself smiling (a lot!), and laughing, and crossing my fingers that the way that I hoped this story would go would happen for these characters because I just wanted everyone to be happy. I just wanted fate to happen <3
If you are a reader who loves friends to lovers stories, who has "faith in all things unexpected" and you love sweet, genuine men who love their women with their heart and soul and would do anything for them, then give this book a try. This is Caroline Nolan's second book and I see many great things for her in her future. She has found a devoted fan in me and I look forward to what she has in store for us next! 4 LOBSTER STARS!!!

"In the cab, I wondered what color your panties were," I tell her, looking back up to her face.  If my words shocked her, she's hiding it well.  "Are they black to match?  White?  A color I'd be surprised by?"
With every question, I take a step closer and closer.  I'm excited when she doesn't back away, thrilled when I see a hint of pink blush on her chest and turned on I've managed to get that reaction from her again so quickly.  "Are you going to show me, Comb?"
It takes everything she has to stay standing the way she is, unyielding.  I'm sure of it.  Her eyes glare, her posture straightening.  She takes one small step before her arms move back behind her back.  I hear the sound of a zipper coming down.  I exhale, not wanting her to see just how much that little sound affected me.  Confidently and without hesitation, her hands move to the waistline of her skirt and she slowly pulls it down, letting it fall around her heeled feet.  She stands in front of me now, clad only in that black lace bra and a pair of silk panties.
"Pink," is all I can think to say.
"Pink," she repeats.
One foot in front of the other, I come at her, one arm sneaking around her waist, the other to the side of her face.  This time when I kiss her, I use all the pent up attraction I've had for her for the last five years.  I kiss her for all the years I didn't.  I kiss her so she knows that for the last five years, I've yearned for this, even if I didn't realize it.  I kiss her for five years of neglected lust and ignored attraction.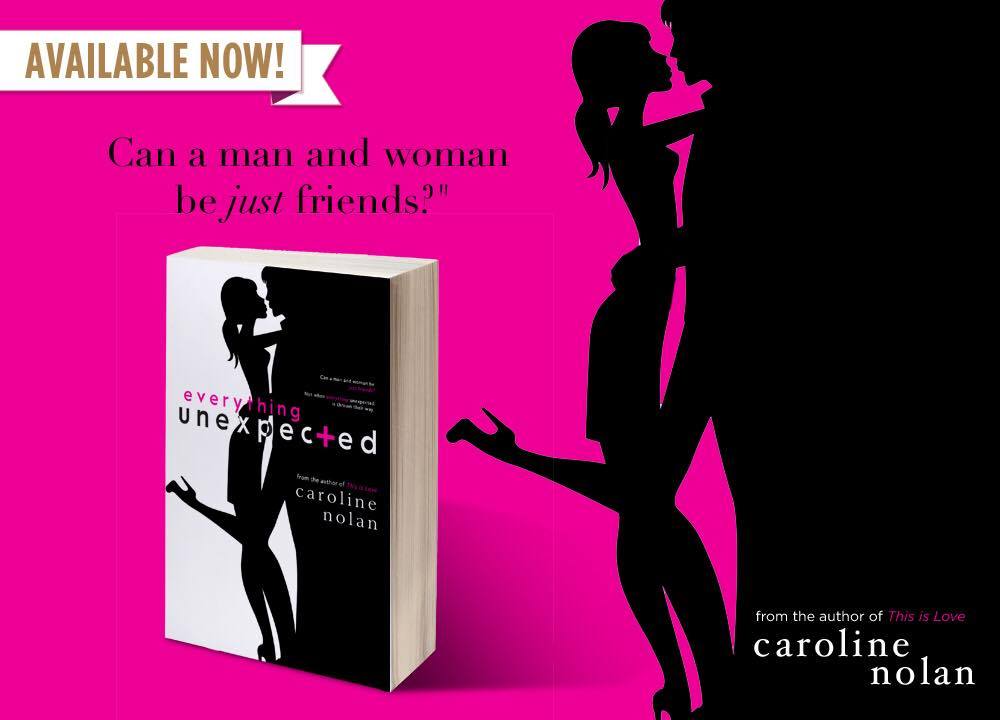 Amazon US – http://amzn.to/2cClIr9
Amazon CA – http://amzn.to/2b8GGO1
Amazon UK – http://amzn.to/2bFMWw9

*Giveaway now over – congrats to Jenny Dauksa Schaber the winner of the $10 Amazon Gift Card and Dee Swan for the winner of the signed paperback of Everything Unexpected!*

Enter to win: One winner will receive a $10 Amazon Gift Card and One winner will win a signed paperback of Everything Unexpected 
All you have to do is share this excerpt and giveaway on your social media account(s) (Facebook, Twitter, Instagram, etc). Sample message below:
Everything Unexpected is LIVE http://amzn.to/2cClIr9 #FriendsToLovers  @shhmomsreading @carolinewrites1
 Please make sure to post a link to your shares below. TWO winners will be chosen Sunday September 25th. Thank you for sharing!