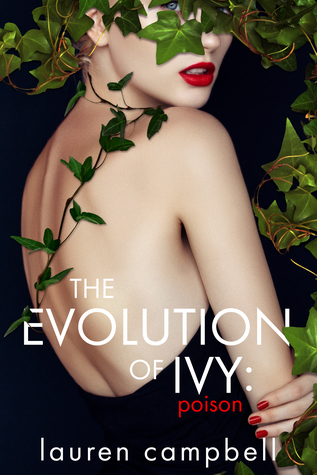 The Evolution of Ivy: Poison

by Lauren Campbell
Series: ,
on January 30, 2017
Buy on Amazon, Buy on B&N, Buy on iTunes
Goodreads

They won't recognize the new me.

But they know the old me well—the me she harmed, and the me he loved.

She thinks she has him. But I'm going to take him back.

He thinks she's the one. But I'm going to show him he's wrong.

I thought it was over. But now I have a chance.
So after reading The Evolution of Ivy: Poison by Lauren Campbell, I stalked the heck out of the author like a crazy person because that's how the book made me feel – CRAZY! This book was filled with evil and hate and so many unexpected surprises but I kinda understood where the heroine was coming from… Insane, I know! After reading, I was left wanting more because there is  still SO MUCH STORY left to tell so I am waiting anxiously yet trying to be patient too LOL (no pressure Lauren!!)
So while we wait, I want to shout out from the rooftops for everyone to READ THIS BOOK. It was so much fun in a crazy stalker, did she just do that, unbalanced kind of way o.O
On the blog today, we have an excerpt from the book to share with you AND a giveaway of 3 ebooks – This is a #MustRead guys. Lauren Campbell is a new author and one to definitely have your eye on – trust me – YOU WILL LOVE THIS BOOK (yes, I am shouting!!!)
Read Christine's 4.5 STAR review HERE

Brooks is in my kitchen. Brooks is in my kitchen. Oh my GOD, Brooks is in my kitchen! I almost jumped out of my skin when the elevator doors opened. I expected to see Eliza, too, but to my delight, she wasn't there. I have no idea why he would come alone. Unless she knows I was in her apartment, and she sent him to confront me. Fuck.
My eyes stay closed as I wipe the rag over my skin. I wish I could open them, but they feel like I burned them with a lighter. Apparently, I'm allergic to my sunscreen. Fuck sunscreen and sweating. My hand feels for the faucet, and I wet the rag again, then pat it gently over my eyelids one last time. I finally open my eyes, thanking God the burning is now at a minimum. I stare straight ahead, but peripherally I see him staring at me, like he's waiting for me to say something, except it's not my responsibility to break the silence since he showed up to my apartment. He's motionless, a life-size Brooks replica—either he has something important to say, or I'm just that hot. But I can't possibly be turning him on with this rag. Can I? Maybe if I pitifully attempt to reach my back, he'll offer to help, and we'll end up fucking on the kitchen floor. No, he'd never. He's a good guy, and that's part of why I love him. But I'm going to have to take matters into my own hands—going to have to give him a gentle shove. If I'm going to kill Eliza, I need to be sure he's ready for me first. No more guessing, because once she's dead there will be no chance to keep up the seduction unless he's already hooked. Of course, there's also the fact that I could end up behind bars. Obviously that's not something I'm planning on, but I'm not too stupid to rule out the possibility. I'd be an idiot to risk going to prison if he's not ready yet. In that case, I'd just run the heifer over, and it would be a terrible accident. I'd tell her I'm so sorry, I didn't mean to hit her, just like she didn't mean to hit me, except sorry won't make her legs work again. Then the wedding would be postponed while she recovered, and then I'd have more time to work on him before I got rid of her for real.
I toss the rag onto the counter after I'm done with it, and I take a seat at the table. I cross my arms and blow a hair from my face that has worked its way out of my hair tie. "Why are you here?"
"How are you?" His voice, cracked with authentic trepidation, rattles me. Scares me. What the hell is going on?
I say nothing. His bottom lip slides under his teeth, his eyes needy as they seem to flit down to my chest and back to my face. My stupid makeup-free face. Here I am with this gorgeous man—the first time I really get him alone while conscious—and I'm sweaty, smelly, and sporting a camel toe in spandex. I let my hair down out of my ponytail and lock my fingers together, anxiously waiting to learn the reason behind his visit.
Our eyes connect again. Sweat seeps from his forehead. His eyes are blue saucers of nervousness and conflict, beckoning and pleading with me to make a move—to lead him. Given his silence and the ridiculously sexy smolder he's giving me, it's almost as if … as if he came here for me. Not because of me, but for me.
Maybe I don't have to kill Eliza. Nah. She deserves it for what she did to me. It's not just a means to get to Brooks.
"Emily, I—the whole thing with Deacon…" he starts, but he doesn't finish.
Poor Brooks. He's clearly coming to terms with the fact that he has fallen for his best friend's pretend ex. It does tarnish his good-guy persona a little. You know the saying, "What they'll do with you, they'll do to you." But I'm pretty awesome. And we are soul mates, so naturally he'll weaken faster with me than some random. He just needs the green light, and everything will fall into place. And he needs to know Deacon is nothing to me. "I don't want to talk about him," I say as I get up from the table.
He nods, stands up, and approaches the door. Where is he going?
DAMMIT! SHIT! FUCK! Is Deacon seriously the reason he came here? Maybe he doesn't need a gentle shove. Maybe he needs a fucking hard push. Do all the moments we've shared mean nothing to him? Every look, every touch of our skin. And he saved my life! From the moment we "met," he's looked at me like there's something tugging at him on the inside, so why is he denying what's in his own heart? Am I crazy? Am I only imagining it all? Misinterpreting?
"Emily," he starts. And I see it then. There is a mixture of something that flashes across his face. Sex. Desire. Need. "Before I go … please. It's important that you know—"
Yes, yes, yes!
My opportunity, plated in gold. I grab his face, pull him down to mine, my fingertips reveling in the roughness of his stubble. Our lips connect, his own quivering ever so slightly, and his cologne invading my breath. My body trembles from the ecstasy of his mouth—the fullness of his lips and their soft yet somehow rough texture pressed against my own. My lips part, ready to taste him and let him taste me, petrified that he may pull away and that I may never explore the piece of heaven existing before me. But he doesn't push me away. Instead, he surrenders. He does want me. We are soul mates. His tongue finds mine, and it's the silkiest tongue imaginable, and it tastes like cinnamon. I stupidly wonder if he had oatmeal for breakfast, and then hate myself for wasting a millisecond on what may have been in his mouth versus where his mouth could be on my body. I'm becoming dizzy and light. Wonder if this is what a person means when they say they're on cloud nine. I feel even if we knew we were facing death that we wouldn't fear it, because we'd have reached our peak happiness in life in this very moment—so very in love and finally able to express it.
His hands grab my shoulders, ready to yank off my sports bra and rip off my clothes. But I'm shoved away from him … hard. Hard enough that I almost have to brace myself. I wait, poised for another shove, but he doesn't move. He must like it rough. It's not uncommon. I step toward him, prepared for him to push me again, but a scowl lines his face, and oh…
He stares at me, perplexed. "Emily—what?" He's gasping as if he's just finished an Olympic race.
Oh no. I fucked up. But he opened his mouth. I didn't make him do that. He could have pushed me away immediately, but he didn't. Oh God, he wasn't ready. I moved too quickly. He's too good, too much of a stand-up guy. I knew this.
"I'm sorry," I say, because it's all I can say.
He shakes his head. "I don't … what was—" Holds his hands up questioningly. "What was that?"
Shit. Shit, shit, shit, shit, shit. This is bad. I should never have let him into my apartment. I'm too impulsive, too careless without my pills, and haven't taken them in two days because I've been so focused on Eliza.
"I don't know. I'm sorry. I—"
He backs up closer to the door, his feet slow and eyes narrowed as if he's disgusted. "I came here to tell you that Deacon has been miserable without you."
"What?"
A mixture of emotions well in my eyes. Tears of elation, because I've just experienced the best seconds of my life. Tears of sorrow because I'm now experiencing the worst seconds, too. He did only come here to talk about Deacon, and I managed to fuck up everything up in a matter of seconds.
"Yeah, he—he wanted me to talk to you, to tell you he's sorry because you never responded to his texts."
I didn't answer his texts because I didn't need him anymore. I thought I was just going to kill the bitch and figure out the rest later. "Oh, I … I haven't checked my phone in a while."
"Well, talk to him if you want." He shrugs. "Or don't. I have to go." His jaw is tight, face red, and tone stern. Never have I been more self-loathing than I am in this moment. I may never have him again now. Brooks could waltz right over to Eliza's and tell her that I kissed him, though it's doubtful since I'm betting she doesn't even know he came here—no way would she let him come alone. He must think I'm a terrible friend and an even more terrible slut. I should have let him lead the conversation and explain why he showed up first, because love is patient. But damn! It's been over ten years! How patient do I have to fucking be? How long do I have to sit back and watch while he's with the wrong person? How long am I supposed to suffer?
"Brooks, I— "
"Don't," he interrupts. If words could kill, I'd already be dead. He pulls the door open. "Just don't tell him about this—Deacon." Steps into the hall and looks back at me. "Or Eliza."
The door slams shut, the air from the force of it blowing against my skin, sending a chill down my back. He's gone. I've ruined everything.
I'm broken.

*Giveaway now over – congrats to Latifa, Dee Swan, and Heather G*
Enter to win: an ebook of this book (3 WINNERS!)
All you have to do is (any of the following):
➡ share this post and giveaway on your social media account(s) (Facebook, Twitter, Instagram, etc). Sample message below:
The Evolution of Ivy: Poison is #Live #AMustRead #ExcerptAndGiveaway @shhmomsreading @lcampbellbooks
➡ Add The Evolution of Ivy: Poison on GR: https://www.goodreads.com/book/show/33552787-the-evolution-of-ivy
➡ Comment on Lauren Campbell's Author Page with how much you are looking forward to reading The Evolution of Ivy: Poison – Tell her Shh Moms Reading sent you! https://www.facebook.com/laurencampbellbooks/
➡ Tell us a favorite book you have read that made you feel crazy insane! Christine loves those types of reads!!
 Please make sure to post a link to your shares below (the more you do the more chances to win!). Three winners will be chosen Friday February 24th. Thank you for sharing!