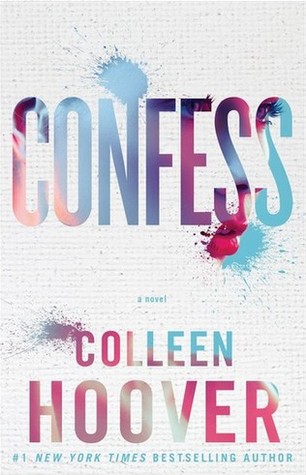 Confess

by Colleen Hoover
on March 10, 2015
Pages: 320
Buy on Amazon
Goodreads

From #1 New York Times bestselling author Colleen Hoover, a new novel about risking everything for love—and finding your heart somewhere between the truth and lies.

Auburn Reed has her entire life mapped out. Her goals are in sight and there's no room for mistakes. But when she walks into a Dallas art studio in search of a job, she doesn't expect to find a deep attraction to the enigmatic artist who works there, Owen Gentry.

For once, Auburn takes a risk and puts her heart in control, only to discover Owen is keeping major secrets from coming out. The magnitude of his past threatens to destroy everything important to Auburn, and the only way to get her life back on track is to cut Owen out of it.

The last thing Owen wants is to lose Auburn, but he can't seem to convince her that truth is sometimes as subjective as art. All he would have to do to save their relationship is confess. But in this case, the confession could be much more destructive than the actual sin…
Christine is reading this book now and LOVING IT! Ms. Hoover is a true genius and a gifted storyteller. She proves again and again why she is a must click author for us. We are privileged to be a part of this excerpt chain to give you a sneak peek into the book. Follow along the schedule below to read the excerpt in its entirety. Enjoy! Make sure to also enter the giveaway below for a chance to win a paperback copy of this book. (US/Canada applicants only). Good luck!

Chapter One
Auburn
I squirm in my chair as soon as he tells me his hourly rate.
There's no way I can afford this with my income.
"Do you work on a sliding-scale basis?" I ask him.
The wrinkles around his mouth become more prominent as he attempts to keep from frowning. He folds his arms over the mahogany desk and clasps his hands together, pressing the pads of his thumbs against one another.
"Auburn, what you're asking me to do is going to cost money."
No shit.
He leans back in his chair, pulling his hands to his chest and resting them on his stomach. "Lawyers are like weddings. You get what you pay for."
I fail to tell him what a horrible analogy that is. Instead, I glance down at the business card in my hand. He came highly recommended and I knew it was going to be expensive, but I had no idea it would be this expensive. I'll need a second job. Maybe even a third one. Actually, I'm going to have to rob a damn bank.
"And there's no guarantee the judge will rule in my favor?"
"The only promise I can make is that I'll do everything I can to ensure the judge does rule in your favor. According to the paperwork that was filed back in Portland, you've put yourself in a tough spot. This will take time."
"All I have is time," I mumble. "I'll be back as soon as I get my first paycheck."
He has me set up an appointment through his secretary and then sends me on my way, back out into the Texas heat.
I've been living here all of three weeks and so far it's everything I thought it would: hot, humid, and lonely.
I grew up in Portland, Oregon, and I assumed I would spend the rest of my life there. I visited Texas once when I was fifteen and although that trip wasn't a pleasant one, I wouldn't take back a single second of it.  Unlike now, when I'd do anything to get back to Portland.
I pull my sunglasses down over my eyes and begin heading in the direction of my apartment. Living in downtown Dallas is nothing like living in downtown Portland. At least in Portland, I had access to almost everything the city had to offer, all within a decent walk. Dallas is spread out and expansive, and did I mention the heat? It's so hot. And I had to sell my car in order to afford the move, so I have the choice between public transportation and my feet, considering I'm not penny-pinching in order to be able to afford the lawyer I just met with.
Don't forget to check out Give Me Books Blog tomorrow for the next episode in the CONFESS excerpt chain, and follow along with all the other stops on the 10 Days of Confess chain!
10 Days of CONFESS Excerpt Chain Stops
Day 1 – 2/23: Maryse's Book Blog
Day 2 – 2/24: Vilma's Book Blog
Day 3 – 2/25: Aestas Book Blog
Day 4 – 2/26: Rock Stars of Romance
Day 5 – 2/27: Shh Mom's Reading
Day 6 – 2/28: Give Me Books Blog
Day 7 – 3/1: Once Upon a Twilight
Day 8 – 3/2: Me, My Shelf & I
Day 9 – 3/3: Schmexy Girl Book Blog
Day 10 – 3/4: Shameless  Book Club
 ♥PRE-ORDER NOW♥
Amazon: http://amzn.to/1vC2Ii6

Barnes & Noble: http://bit.ly/1ByXO2t

Blio: http://bit.ly/1poLcFa

Books-a-Million: http://bit.ly/1v1oPJu

Google eBookstore: http://bit.ly/1uziFDT

iBooks: http://bit.ly/1poL8W3

IndieBound: http://bit.ly/ZoQqes

Enter to win YOUR OWN COPY of Confess! (US/Canada applicants only)
All you have to do is share this excerpt chain post on your social media account(s) (Facebook, Tsu, Twitter, Instagram, etc). Sample message below:
@colleenhoover #Confess releases March 10th #ExcerptChain #Giveaway #RiskEverythingForLove @ShhMomsReading
Please make sure to post a link to your shares below. ONE winner will be chosen on Friday March 6th at 10am EST! Good luck! And thank you for sharing!