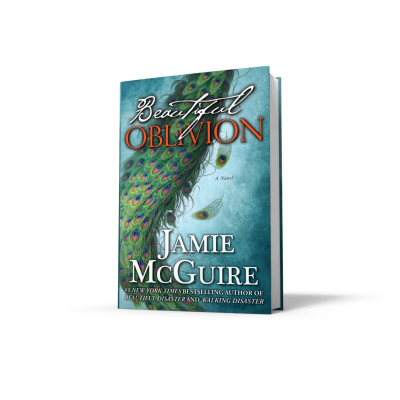 We're less than a month away from the publication of the first book in the Maddox Brothers Series, BEAUTIFUL OBLIVION, and we are over the moon to read more of Trent and share our love of him with you!!
Many of you have probably read a first chapter excerpt in HAPPENSTANCE, but if you want even more Beautiful Oblivion, this week is going to be super fun for you because Atria Books is sponsoring an excerpt chain and giveaway JUST so you can get an extra sneak peek at Trent and Cami's story, and I have part of that excerpt right here.
ARE YOU READY?

Trenton wasn't fazed. "Then he's not much of one. I've never seen him around."
"He doesn't live here. He's . . . he goes to school in California."
"He never comes home to visit?"
"Not yet. He's busy."
"Is he from here?"
"None of your business."
"Who is it?"
"Also none of your business."
"Fine," he said, picking up our trash and tossing it into the garbage can in the kitchen. He grabbed my plate and then his, and rinsed them off in the sink. "You have an imaginary boy­friend. I understand."
I opened my mouth to argue, but he motioned to the dish­washer. "These dirty?"
I nodded.
"Are you working tonight?" he asked, loading the dishwasher, and then looking for soap. When he found it, he poured some in the small container and then shut the door, pressing the start button. The room was filled with a low, soothing purring sound.
"No, I have the weekend off."
"Awesome, me too. I'll swing by later to get you."
"What? No, I—"
"See you at seven!" The door closed, and once again the apart­ment was quiet.
---
Follow along in the excerpt chain by checking out The Autumn Review  later today or use this handy dandy schedule. You can also follow along by checking out www.facebook.com/JamieMcGuireAuthor.
June 2nd – 9:30 AM Maryse's Book Blog
June 2nd – 4:00 PM Rock Stars of Romance
June 3rd – 9:30 AM Once Upon a Twilight
June 3rd – 4:00 PM Aestas Book Blog
June 4th – 9:30 AM Vilma's Book Blog
June 4th – 4:00 PM Me My Shelf & I
June 5th – 9:30 AM Natasha is a Book Junkie
June 5th – 4:00 PM The Bookish Babes
June 6th – 9:30 AM Shh Mom's Reading
June 6th – 4:00 PM Autumn Review
Don't forget you can pre-order BEAUTIFUL OBLIVION at your favorite bookstore (links below) and we will have our dual review of BEAUTIFUL OBLIVION up soon!  Be on the lookout for it!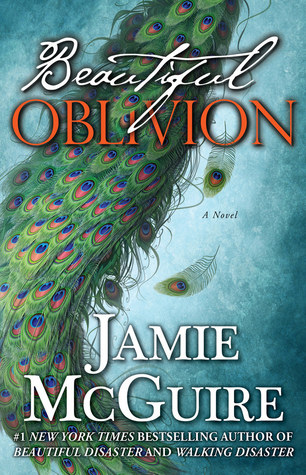 Atria Books | 336 pages | Paperback ISBN 9781476759586 | eBook ISBN: ISBN 9781476759593 |
On Sale: July 1, 2014
The Beautiful Disaster and Walking Disaster phenomenon continues in the first heart-pounding new adult romance in The Maddox Brothers series.
Fiercely independent Camille "Cami" Camlin gladly moved on from her childhood before it was over. She has held down a job since before she could drive, and moved into her own apartment after her freshman year of college. Now tending bar at The Red Door, Cami doesn't have time for much else besides work and classes, until a trip to see her boyfriend is cancelled, leaving her with a first weekend off in almost a year.
Trenton Maddox was the king of Eastern State University, dating co-eds before he even graduated high school. His friends wanted to be him, and women wanted to tame him, but after a tragic accident turned his world upside down, Trenton leaves campus to come to grips with the crushing guilt.
Eighteen months later, Trenton is living at home with his widower father, and works full-time at a local tattoo parlor to help with the bills. Just when he thinks his life is returning to normal, he notices Cami sitting alone at a table at The Red.
As the baby sister of four rowdy brothers, Cami believes she'll have no problem keeping her new friendship with Trenton Maddox strictly platonic. But when a Maddox boy falls in love, he loves forever—even if she is the only reason their already broken family could fall apart.
In the first installment of the Maddox Brothers books, readers can experience the rush of reading Beautiful Disaster for the first time, all over again.
PAPERBACK ORDER LINKS
eBook ORDER LINKS

Website: www.jamiemcguire.com
Facebook: www.Facebook.com/Jamie.McGuire.Author
Twitter: @JamieMcGuire
Instagram:  @JamieMcGuire_
More information is available at: http://books.simonandschuster.com/Beautiful-Oblivion/Jamie-McGuire/9781476759586