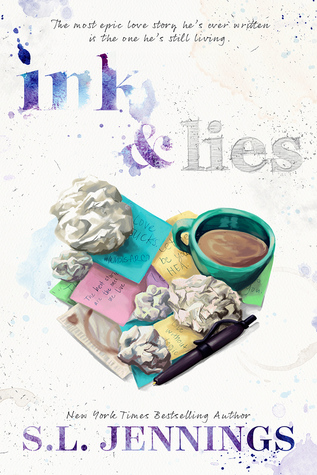 Ink & Lies

by S.L. Jennings
on February 9, 2016
Buy on Amazon, Buy on iTunes
Goodreads

From International Best Selling Romance Novelist, Hope Hughes, comes a gripping, heartfelt tale of two lovers, fighting for the freedom to…

No. Scratch that. Too cheesy.

…two people, torn apart by the tumultuous tides of life, only to discover refuge in…

WTF? What does that even mean? DELETE.

…two people, confused as shit as to where they should be and who they should love and none of this means a damn thing because it's all lies!

Lies.

I'm not Hope Hughes. I'm not some fierce woman romance machine. Hell, I'm not even a woman.

I'm a liar.

And while I refuse to believe my own BS, deceit masked in heartfelt phrases of love and devotion, I want to make her believe them. Because maybe—just maybe—if she can find the soul within my words, she'll also be able to find the truth scribbled on my heart.

You see, I once lived for the perfect plot twist.

I just never expected to actually live it.

This is my story. Well, maybe her story. I just wish I could make it our story.

The one I'm still writing.
Enjoy a sneak peek into S.L. Jennings new book releasing on February 9th – INK & LIES. I DEVOURED this book the other day in one sitting and OMG my heart is bursting with all of the FEELS! Syreeta blew me away with this friends to lovers story and ARC stole my heart <3 <3 
Enter the giveaway below for a chance to win a signed paperback of this book. Good luck!

I try to compile a mental list of people that would be potential candidates, but come up short. All my suggestions are women I've slept with, and none of them would be the type to sit through hours of Fi's tear-filled singing. Which leads me to my next revelation: I don't have any friends. All my empty relationships, all the Hope readers and fans around the world…and I can count the people that truly know me on one hand, with fingers to spare. If that's not a sad state of affairs, I don't know what is. It's my own doing, of course, and I'm not one to dwell on popularity or lack thereof, but shit…when did I trade a life for loneliness? When did I say I do to a lifetime of late nights and paper cuts? When did words become my only love and misguided fame my mistress?
I'm getting older. The biological yearning for companionship echoes within those long, cold nights spent pouring over wrinkled Post Its and ripped notebook pages. Maybe that's why I'm here, boarding an elevator that'll lead me to a beautiful girl with an enigmatic smile. Maybe that's why I want to tell her all my secrets.
Maybe that's why I know I can't.
"Ready to hit the town, handsome?" Michelle smiles at me when I step from the suspended steel. She's lovely in a flannel shirt that's fashioned as a dress and ankle boots. I laugh inwardly. Flannel is like the city-wide uniform for the lumbersexual population in Spokane. The guys in their collared plaid, manbuns and beards. The girls in oversize checked tops that they've stolen from boyfriends, and boots. Fiona had been into that style long before it became popular. And once it caught on, she vowed to steer clear of flannel until her dying day.
"I have to go," I say, not really meaning it, but knowing I have to. I don't want to disappoint her, but if I don't do this, I could be losing more than her interest. I could be losing the thing that matters most to me.
"What?"
"I have to go. I'm sorry. Something came up, and I have to get back to Spokane."
She's confused, hurt even, but she nods. "Oh, ok. Everything alright?"
"It will be if I get there in time."
I'm coming, Fi. I'm coming back to you.

**GIVEAWAY NOW OVER – CONGRATS TO KRISTY PETREE**
Enter to win a signed paperback of Ink & Lies (US ONLY)
All you have to do is share this exclusive excerpt post on your social media account(s) (Facebook, Twitter, Instagram, etc). Sample message below:
#ARCisComing #InkAndLies #EpicLove #BookLover @MrsSLJ @shhmomsreading
Please make sure to post a link to your shares below. ONE winner will be chosen on Friday February 12th at 10am EST! Good luck! And thank you for sharing!
♥ Preorder for $.99 ♥