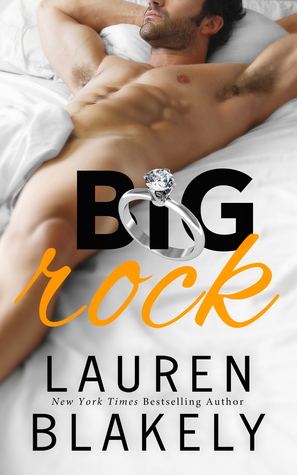 Big Rock

by Lauren Blakely
on January 6, 2016
Pages: 250
Goodreads

It's not just the motion of the ocean, ladies. It's definitely the SIZE of the boat too.

And I've got both firing on all cylinders. In fact, I have ALL the right assets. Looks, brains, my own money, and a big cock.

You might think I'm an asshole. I sound like one, don't I? I'm hot as sin, rich as heaven, smart as hell and hung like a horse.

Guess what? You haven't heard my story before. Sure, I might be a playboy, like the NY gossip rags call me. But I'm the playboy who's actually a great guy. Which makes me one of a kind.

The only trouble is, my dad needs me to cool it for a bit. With conservative investors in town wanting to buy his flagship Fifth Avenue jewelry store, he needs me not only to zip it up, but to look the part of the committed guy. Fine. I can do this for Dad. After all, I've got him to thank for the family jewels. So I ask my best friend and business partner to be my fiancée for the next week. Charlotte's up for it. She has her own reasons for saying yes to wearing this big rock.

And pretty soon all this playing pretend in public leads to no pretending whatsoever in the bedroom, because she just can't fake the kind of toe-curling, window-shattering orgasmic cries she makes as I take her to new heights between the sheets.

But I can't seem to fake that I might be feeling something real for her.

What the fuck have I gotten myself into with this…big rock?

BIG ROCK is a standalone, dirty romance novel written from the guy's POV by NYT Bestselling author Lauren Blakely…
We are thrilled to be bringing you all of the latest from Lauren Blakely's upcoming title, BIG ROCK. Plus, we have a surprise announcement from Lauren!
A standalone sexy romantic comedy, BIG ROCK takes everything you love about a Lauren Blakely novel –witty dialogue, smoking hot sex scenes, and heartfelt moments –and puts them into one fantastic book! BIG ROCK is set to release Thursday, January 6th! Readers can start their new year off right with Spencer! BIG ROCK is a standalone, dirty romance novel written from the guy's POV. Come join us as we meet Spencer-parts, heart and all!

PROLOGUE
My dick is fucking awesome.
But don't just take my word for it. Consider all its accomplishments.
First, let's start with the obvious one.
Size.
Sure, some people will tell you that size does not matter. You know what I'll tell you? They lie.
You don't want a tiny diamond on your finger when you can have three carats. You don't want a one-dollar bill when you can have a Benjamin. And you don't want to ride a miniature pony when you can saddle up on a rock-star cock at the rodeo of your pleasure.
Why? Because bigger is better. It's more fun. Ask any woman who's had to utter the dreaded words, "Is it in yet?"
No woman has ever had to ask me that.
You're probably wondering by now—just how big is it? C'mon. A gentleman doesn't tell. I may fuck like a god, but I'm still a gentleman. I'll open your door before I open your legs. I'll hold your coat for you, I'll pay for dinner, and I'll treat you like a queen in and out of bed.
But I get it. You want an image in your mind. A measurement in inches to make your mouth water. Fine. Imagine this. Picture your fantasy-sized cock; mine's fucking bigger.
Moving on to looks. Let's be honest. Some dicks are just motherfucking ugly. I won't get into all the reasons why. You know what they are, and for now, when it comes to my best asset, all I want you thinking about are these words: long, thick, smooth, hard. If the Renaissance masters were carving sculptures of cocks, mine would be the model for all of them.
But honestly, none of this would matter if my dick didn't possess the most important attribute of all.
Performance.
Ultimately, a man's dick should be measured by the number of orgasms it delivers. I'm not talking about the solo flights. That's cheating. I'm talking about the Os that can make a woman's back arch, her toes curl, her windows shatter, her world rock.
How much pleasure has my dick wrought? I don't kiss and tell, but I'll leave you with this. My dick has a perfect track record.
That's why it fucking sucks that he has to go on hiatus.
Pre-Order BIG ROCK Today!
AMAZON: Preorder will go live on January 1st
And that's not all! Lauren Blakely has a surprise for you!
✮✮✮ MISTER ORGASM is coming soon! ✮✮✮
That's right! Lauren has a second standalone romantic comedy headed your way in Summer 2016!
About MISTER ORGASM:
Just call me Mr. Orgasm. No, really. I insist.
Orgasms are my specialty. Delivering them. Administering them. Giving them in multiples. Then doing it again for an encore. I'm like the superhero of pleasure.
But before anyone gets all up in a lather about my "manwhore ways," remember this. You probably didn't even look at me years ago. You likely didn't give me the time of day when I was the quiet geek bent over his notebook drawing cartoons about a caped crusader bestowing orgasmic pleasure to womankind.
Now, that I'm creator of the hottest animated TV show in the world — The Adventures of Mr. Orgasm — everything has changed. The women have lined up. The checks roll in. And the life I'm living is gooooooood — looks, talent, and a masterful dong have gotten me far.
There's only one thing in my way — the woman I took home last night has turned out to be my new boss.
Oops.
Looks like the Adventures of Mr. Orgasm have only just begun…
Pre-Order MISTER ORGASM Today!
https://www.goodreads.com/book/show/27856826-mister-orgasm
✮✮✮ Enter to win this amazing giveaway for a Kindle Fire preloaded with an Advanced Reading Copy of BIG ROCK! ✮✮✮