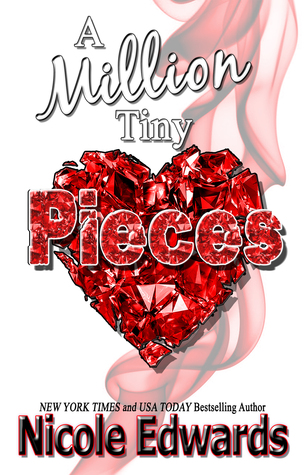 A Million Tiny Pieces

by Nicole Edwards
on January 20, 2015
Pages: 550
Buy on Amazon
Goodreads

Mia Cantrell is happy to be rid of her lying, cheating, ex-husband. With her divorce final, Mia is moving on, grasping the reins of life once more. She's learning to deal with the shattered remains while putting one foot in front of the other, taking control of her own decisions, and ultimately living one day at a time. Too bad the universe has put a hiccup (or two) in her well thought out plan.

Phoenix Pierce is putting the pieces back together after the death of his father. Between his multi-million dollar company, the NHL team he now owns, and the endless supply of women willing to share a bed for one night of uninhibited sex, he finds himself going through the motions. Until he meets Mia. Although he's on a mission to win her, that doesn't solve his problem of the other person he wants… the man he has denied himself for years.

Tarik Marx doesn't think anyone could ever fill the void in his life the way Phoenix unknowingly has. That is until he meets Mia. Thanks to a fractured childhood, Tarik has to face a bigger problem: he doesn't know how it feels to be loved. His past adds additional complexity when Tarik finds himself trying to figure out how he can have them both.

Is it possible for a million tiny pieces to come together again? And if they do, will that make the bond even stronger than before?

Erotic Ménage Romance
Mature Audiences
A Personal Note from Nicole Edwards: It is an honor to be participating in the 3rd Annual Mental Health Awareness Month Book Fundraiser, benefiting The Keith Milano Memorial Fund. I haven't kept it a secret that I suffer from depression, but it wasn't until a few years ago that I actually went public with the information. Why, you ask. Well, it's simple really. I want others to know – those who also suffer from mental illness and those who know someone who does – that they are not alone. Which is why, by supporting mental health awareness, we are all helping to draw attention to an illness that so desperately needs just that … attention. And for all of you who have reached out to me and shared your story, I am truly humbled and eternally grateful. And I hope that by coming forward, it is helping in some small way to get others to open up, to seek help if needed, and to know that there are people out there who understand. Not only have I participated in the past three Mental Health Awareness Book Fundraisers, but I also give a portion of proceeds from selected books to the Keith Milano Memorial Fund, benefiting the American Foundation for Suicide Prevention, every month. And this year, when Denise mentioned the fundraiser, I told her that I definitely wanted to participate. So, along with giving a portion of the proceeds from four of my books this month, I also wrote something just for you, the reader. It's an extension of A Million Tiny Pieces – what happened after the end. I hope you enjoy!

From the epilogue of A Million Tiny Pieces…
As Tarik made his way into the room, Phoenix hit the button on the remote to turn off the television. Looking up, he smiled. "Is it bad luck to see the groom before the wedding?" Phoenix asked.
"Maybe," Tarik said, handing him a beer. "I figure as long as we don't see Mia, we're doing good."
"Between my mother and her mother, there's not a chance of that happening." They'd both been warned within an inch of their lives to stay away. Now, as they sat waiting in Johnathan Henry's man cave to be told when and where they were needed, Phoenix couldn't keep the smile from his face.
"Don't forget Alex. She's a bulldog when she wants to be."
"I wouldn't let her hear you say that," Phoenix said with a smirk.
"Trust me, I won't."
Phoenix nodded as Tarik dropped down onto the arm of the sofa. Tarik turned slightly and lifted his beer bottle up. "This is it. The first day of the rest of our lives."
"That it is," Phoenix said, clanking his bottle against Tarik's. "And what an amazing fucking way to kick it off."
Do you want to know how the three of them kicked it off? Well…
First, the vows.
Tarik and Mia, you are my best friends, the ones I want to spend the rest of my life with. Today, I take you both to be my life partners. I promise you that I will be worthy of your love and deserving of your trust. Tarik, I vow to honor you, to love you with my whole heart, and to pretend not to ogle you when you're not looking. Mia, I vow to honor you, to love you with my whole heart, and to pretend not to notice when you kick the thermostat up a few notches because you're cold. I vow my unwavering love to you both, for richer, for poorer, in sickness and in health, for as long as we all shall live.
Mia and Phoenix, you are my best friends, the ones I want to spend the rest of my life with. You are my heart, the very reason I learned what it meant to be loved. Today, I take you both to be my life partners. I promise you that I will be worthy of your love and deserving of your trust.  Phoenix, I vow to honor you, to love you with my whole heart, and to console you when the Arrows lose and to celebrate with you when they win. Mia, I vow to honor you, to love you with my whole heart, and to pretend that your driving doesn't scare the living hell out of me. I vow my unwavering love to you both, for richer, for poorer, in sickness and in health, for as long as we all shall live.
Tarik and Phoenix, you are my best friends, the ones I want to spend the rest of my life with. I feel truly blessed because not only have I found love with one amazing, wonderful man, I've been given two. And I promise to be worthy of your love and deserving of your trust. Phoenix, I vow to honor you, to love you with my whole heart, and to snuggle up to Tarik when you hog the other half of the bed. Tarik, I vow to honor you, to love you with my whole heart, and to grab your butt in public because I know it makes you blush. I vow my unwavering love to you both, for richer, for poorer, in sickness and in health, for as long as we all shall live.
And then… later that night.
"Why do I have to be blindfolded?" Mia asked, not too worried that she couldn't see, merely curious as to what her men were up to.
"Patience, love," Tarik murmured against her ear, his deep voice like a sensual caress over her skin.
"You know I'm not good with patience," she told him as he trailed his mouth over her neck. Tilting her head to the side, she silently urged him to continue. To her dismay, his mouth left her. "Hey!"
Nothing.
"Are you still here?" she asked, listening for any sound that they were still there in the hot tub with her. The only sound she could hear was the faint crashing of the waves along the shore.
Mia had been beyond surprised when they'd brought her to the beautiful beach front home in the Florida Keys. After they'd awed her with the architecture and the view, Phoenix had informed her that it was a prime vacation home. Their vacation home.
He'd bought it for them.
Of course, Mia had been speechless, informing him that she didn't need fancy houses on the beach. Truth was, she was content with their downtown Austin penthouse, but, she couldn't deny that it was nice. Okay, nice wasn't a suitable adjective. Stunning worked better.
"Phoenix? Tarik?" Mia waved her arms in the water, trying to see if they were near.
Nothing.
"Okay, boys. This isn't funny anymore."
Mia's breath caught in her chest when a large palm slid up her thigh. Another settled on her other thigh and she sighed, the pleasure of their touch enough to soothe her.
She knew that one hand belonged to Phoenix and the other to Tarik. She could tell them apart even blindfolded. Tarik was more rugged, his fingers callused, while Phoenix was … well, he wasn't soft, but he wasn't quite as rough as Tarik.
As far as preference, well, Mia didn't have one. She enjoyed them both equally.
"Oh," she said on a sharp inhale when Tarik's finger slid beneath the band of her bikini bottoms.
The next thing she knew, Mia was being lifted right onto Tarik's lap, his rigid erection rubbing against her butt as she got settled.
They'd been teasing her for hours, and Mia was on the brink of imploding, but she knew better than to let them know that. Knowing Phoenix, he would continue to tease her until she couldn't breathe.
Phoenix's hands flattened against her rib cage, which meant he was in front of her while Tarik was behind her. He slowly moved upward, forcing her bikini top higher, revealing her breasts. The warm water of the hot tub lapped at her nipples, adding to the glorious sensations coursing through her.
"Why do I have this blindfold on again?" she whispered. "I know who you are."
"Relax, Mia," Phoenix muttered, his warm breath sliding over her breast. "Just enjoy."
Leaning back against Tarik, she did as Phoenix suggested. Relaxing into him, she closed her eyes behind the blindfold while Phoenix teased her nipples with his lips and tongue, and Tarik used his exquisitely skilled fingers to torment her clit.
Thankfully they hadn't decided to restrain her in any way, which allowed Mia to slide her hand behind her, dipping between her body and Tarik's until she found his cock.
"You're naked," she said with a chuckle.
"Isn't that the way it's supposed to be?" Tarik asked, his voice low.
He pushed his finger inside her, causing her to cry out, desperate for more.
"Yeah," Tarik growled. "Stroke me, Mia. Fuck yeah. So good, love."
"I'll continue if you do," she told him.
Tarik thrust another finger inside her, filling her, stretching her.
"Like that?" he asked.
"Yes," she hissed. "Like that."
Tarik's delicious ministrations lasted for a few minutes while Mia continued to stroke his smooth, thick length. Phoenix proceeded to remove her bikini top, his hands and lips never leaving her for long.
"I want one of you inside me," she said.
"Which one?" Phoenix asked, his mouth moving up over her chest, his lips gliding over her wet skin as he sucked gently until he was hovering over her mouth.
Due to their positions, she went with what made sense. "Tarik," she said. "But I want you in my mouth."
Neither man moved quickly. Tarik continued to fuck her with his fingers, his pace deliriously slow while Phoenix slid his tongue over her lips.
"I like that idea," Phoenix said.
She did too. So much.
"But I don't think you're ready yet."
Unable to hold back, she huffed her disappointment.
Mia fought the urge to beg. She knew how this game went. Phoenix loved tormenting her, forcing her to be patient. And like she'd told Tarik, she really wasn't a patient woman. Not when it came to them.
But, she kept her mouth closed.
When Tarik's fingers slid out of her, she bit her bottom lip, earning a chuckle from Phoenix.
Then she was being moved back where she'd originally been, sitting on the concrete bench in the hot tub, wearing only her bikini bottoms.
"Open your mouth, love," Tarik urged.
Mia smiled as the broad head of his cock brushed her lips. Opening her mouth, she allowed him to slide in, her tongue circling the tip.
Tarik growled.
Leaning forward, Mia took him as far as she could and that was when she realized that Phoenix had a firm grip on Tarik's cock, stroking the base while Mia sucked him.
Pulling back, Mia kissed the head of Tarik's cock. "Please let me remove the blindfold. I want to watch."
She didn't make a move to remove it herself, knowing they'd only refuse her if they thought she was trying to take control. Her men preferred to be in control, she knew that much.
Without making another request, Mia focused on sucking Tarik, wanting to make him as desperate as she was.
Surprisingly, it didn't take long before the blindfold fell from her eyes. With Tarik still filling her mouth, she peered up his body, over his chiseled abs and the hard planes of his chest. And that was when she saw that he was kissing Phoenix, their mouths fused together, Tarik's hand in Phoenix's hair as he held on to him.
Yes, Mia loved to watch them, as much as she enjoyed being pleasured by them.
Tarik's other hand cupped the back of her head, pulling her forward as he pushed back into her mouth. He released Phoenix and turned his full attention on her. And then Phoenix came to stand beside Tarik, his rigid cock in his hand.
"My turn," Phoenix declared.
Mia smiled, releasing Tarik and allowing Phoenix to guide his cock into her mouth. She sucked him in deep, hollowing her cheeks, applying the pressure she knew he enjoyed.
"Aww, baby," Phoenix moaned. "Your mouth is so sweet."
For the next few minutes, Mia alternated between the two of them, using her hands as well as her mouth until they pulled away. They didn't leave her for long.
And for that, she was grateful.
»»»»»♥«««««
Tarik could've spent the better part of the night buried in Mia's sexy mouth, but he knew she needed more. As did he.
Considering they'd been doing this for the better part of the evening, sensually torturing one another but never giving in, Tarik knew it was going to come to a head in the very near future.
But he wasn't ready yet.
"Stand up," Tarik instructed Mia.
When she got to her feet, he forced her bikni bottoms down her legs, allowing her to step out of them. Once she was naked, he lifted her, placing her on the towel that covered the concrete edge, only her legs dangling into the water. Kneeling on the bench in the hot tub, Tarik leaned in and brought his mouth to her pussy, sliding his tongue along her slit. He alternated between suckling her clit and fucking her with his tongue until her cries of pleasure echoed in the still night air.
He was content to pleasure her, but when Phoenix moved up behind him, his hands separating his ass cheeks, something cool—most definitely lubrication—sliding over his hole, Tarik's muscles tightened, anticipation rocking him.
"How do you want this to work?" Phoenix asked, pressing one finger inside Tarik's ass, gently fucking him before inserting a second finger.
"I don't care," Mia cried out, "but I better be a part of this."
Tarik chuckled and stood to his full height on the bench, finding her mouth with his. He kissed her, effectively forcing her onto her back while he practically climbed on top of her, his feet firmly planted in the water.
Phoenix wasted no time, stepping up onto the bench behind him and pressing against Tarik's back.
"This works," Tarik said, guiding himself into Mia, thrusting into her hot, wet pussy. "This so fucking works."
Mia's hands clawed at his back as she pulled him closer, their mouths once again melding together. He fucked her thoroughly for a few moments, thrusting hard and deep until her knees locked onto his hips. And when Phoenix entered him, stretching his ass completely, Tarik sucked in a breath and stilled.
He loved being buried in Mia while Phoenix fucked his ass. Granted, he had to relinquish all control because he was practically crushed beneath Phoenix, but it was so worth it.
Allowing Phoenix to control the pace, and using the momentum of Phoenix's punishing thrusts to impale Mia on him, Tarik continued to kiss her. Her lips, her cheek, her chin.
"So good," Mia said.
Tarik couldn't speak. All of the air had been forced from him as the pleasure overwhelmed him. Phoenix continued to fuck him, filling him, hitting that perfect spot that made sparks ignite in his veins. He never wanted it to end.
Mia began rocking beneath him, taking him deeper while Phoenix pounded into him, driving him into her over and over, harder, faster.
"I'm gonna come," Mia cried out. "Please. Don't stop!"
If Tarik had a say in the matter, they'd make her come a hundred times before they were finished, but his body had other plans. And Phoenix was controlling all of their pleasure at the moment.
Not that Tarik was complaining.
»»»»»♥«««««
Phoenix held on to Tarik's slim hips while he impaled him, burying himself deep into Tarik's tight, warm ass. He watched as Mia's nails scraped along Tarik's back, her knees bracing Tarik's thighs while her feet cradled Phoenix's legs. She was always touching them both when they made love and he'd come to crave that.
When the three of them together, it was all of them. Even though Phoenix couldn't physically take them both at the same time, the way Mia made sure she was touching both of them in some way seemed almost as though he were.
"Make me come," Mia pleaded.
Phoenix picked up the pace, driving his hips forward, forcing Tarik into Mia until the only sound he heard was the thunderous beat of his own heart and the sensual sounds of their combined moans.
"Oh! Tarik! Phoenix!" Mia cried out, her body stilling, her nails digging into Tarik's back. "I'm … coming!"
God, she was so beautiful when she came. Phoenix stilled, giving her a moment, but when Tarik pulled out of her, Phoenix changed their position, forcing Tarik to bend over farther, pulling his ass up and his hips back so that he had better traction. And while Tarik hovered over Mia, frantically kissing her while Tarik stroked his own cock, Phoenix fucked him harder, the way he knew Tarik liked it.
It didn't take long before Phoenix was sweating, his body desperate for release.
"Tarik … Come for me," Phoenix pleaded. "Fuck. I'm … gonna …"
Tarik's body stilled, his ass driving back against Phoenix as a roar erupted from him, splitting the otherwise silent night air. Phoenix didn't hold back, he couldn't. His release detonated, flooding him as he came hard and fast, his fingertips digging into Tarik's hips as he held onto him. Mia's foot slid over his calf, her way of assuring him she was there with them.
Trying to catch his breath, Phoenix collapsed on the concrete beside Mia and Tarik, his chest heaving.
"That was a good start," Mia said softly.
"Yeah?" Tarik asked.
"It's what? Day one? And we've got ten more days?"
"Sounds about right," Phoenix replied, still breathless.
No one spoke for several minutes and then, as Phoenix finally came back to himself, Mia spoke up.
"I love you. Both of you. I still can't believe we're…"
"Married?" Tarik asked.
"Well, technically, three people can't be—"
"Technically doesn't apply to us," Phoenix interrupted. "And we damn sure don't need a piece of paper confirming our love."
"True," Tarik and Mia agreed at the same time.
"This is all I need," Tarik said. "Right here."
Phoenix felt the same way. As long as he had the two of them beside him, nothing else mattered.
Nothing.
Thank you again to Nicole Edwards for all of your support and for writing this amazing bonus scene for A Million Tiny Pieces. Remember in May 2015, your purchase of A Million Tiny Pieces along with any of the other books contained in the widget below benefit the Keith Milano Memorial Fund at AFSP.