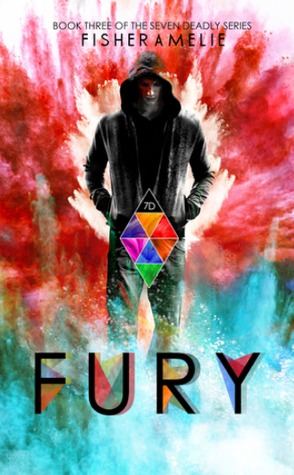 Fury

by Fisher Amelie
on May 4, 2015
Buy on Amazon
Goodreads

Can be read as a standalone.

Revenge is an euphoric thing. Trust me on this. Nothing compares to the release you get when you ruin someone's life. When they've stolen important things. Things that didn't belong to them. Things I revel in making them pay for.

What? Have I offended you? I'm not here to appeal to your delicate senses. I have no intention of placating your wishes or living within your personal belief system nor do I care if you hate me. And you will hate me. Because I'm a brutal, savage, cold-blooded murderer and I'm here for my revenge.

I'm Ethan Moonsong…And this is the story about how I went from the world's most sacrificing man to the most feared and why I wouldn't trade it for anything in the world.
We are excited to be participating in this exclusive content tour for Fisher Amelie's new book FURY! Make sure to stop by the other blogs to get a look into this book!
FURY Tour Schedule
May 11-Vilma's Book Blog-Guest Post
May 11-Natasha is a Book Junkie-Excerpt
May 12-TSK TSK What to Read-Author Interview
May 13-Stuck in Books-Interview with Ethan
May 14-A Bookish Escape-Excerpt
May 15-Reviews by Tammy & Kim-Guest Post
May 16-Shh Mom's Reading-Dream Cast
May 17-Nose Stuck in a Book-Excerpt
May 18-Kimberlyfaye Reads-Author Interview
May 19-True Story Book Blog-Playlist
May 20-Romance Addict-Interview with Finley
May 20-Love Between the Sheets-Excerpt

Enjoy a look at the Dream Cast for this book! Aren't they all just gorgeous!!!
A message from Fisher Amelie: Hello, and thank you so much for having me! I have to be honest, I dread dream casts. lol! Not because I don't enjoy doing them but because I have such a hard time finding people who even remotely represent the people in my head, you know? But that didn't stop me from trying, though. So here it goes. I've started with the supporting cast and built my way up to the big kahunas.

Vietnamese actress Nguyễn Thùy Lâm as An from the tea shop.

Nguyễn Thùy Lâm is an unknown to me but appears to possess that innocent, hopeful, sweet personality that An has. I liked her picture from the moment I came across it.

Actor Yoshua Sudarso as Phong.

Yoshua Sudarso or "Yoshi" is an Indonesian born actor who came to America at an early age. He's the perfect Phong. Young and quietly hot, innocent yet could be dangerous if he had to be.

Jonathan Ke Quan as Detective Tran.

Jonathan Ke Quan is a Vietnamese-born actor best known for his childhood role as Data in The Goonies. He's got a perfect look about him that reminds me of Tran.

Richard Harris (before he passed) as Father Connolly.

Richard Harris was ironically an Irishman. He is the closet to the role of Father Connolly because he has slim facial features and the potential for the wild white hair I imagined when creating Father's character.

Leslie Caron as Sister Marguerite.

French actress, ballerina, and dancer, Leslie Caron is literally the most perfect Sister Margeurite. She is equal parts innocence, stunning beauty, and happy charm. She is Sister Marguerite.

Model Gemma Ward as Finley.

I love this image of Gemma because it reminds me so much of a stripped down Finley. If Gemma had a little bit darker red hair, she would literally be Finley with her unique and devastating looks.

Model and painter Miles McMillan as Ethan Moonsong.

The problem with this picture is it misses so much about Ethan to me but it was still the closest I could find that fit him best. Several things, Miles, although gorgeous, does not look like Ethan in stature or even looks, really. In fact this image alone is the only one of Miles that captures something of Ethan to me. That being said, this specific image conveys something to me that screams Ethan. I think it's the way he looks disenchanted. With everything. The world, really. That's Ethan to me. He's disenchanted

Well, thank you so much for having me! I hope you enjoyed the Dream Cast!

♥READ THE SERIES♥
Book 1 – Vain 
Book 2 – Greed
Book 3 – Fury | Barnes and Noble | iBooks | Kobo