We are SOOOOO excited to share with you the exclusive reveal of Take What You Want, book 2 in the The Rock Gods series by Ann Lister. Can you say HOT HOT HOT!!!! Add it to your TBR list below. Take What You Want is scheduled for release on November 2013.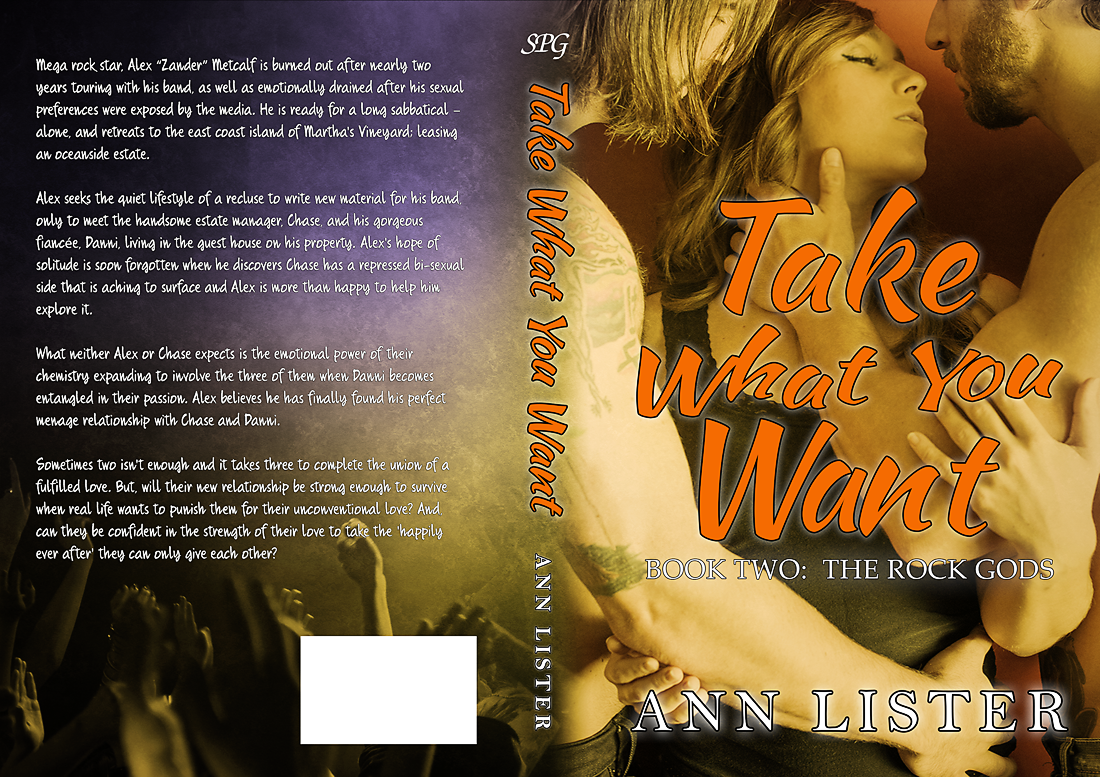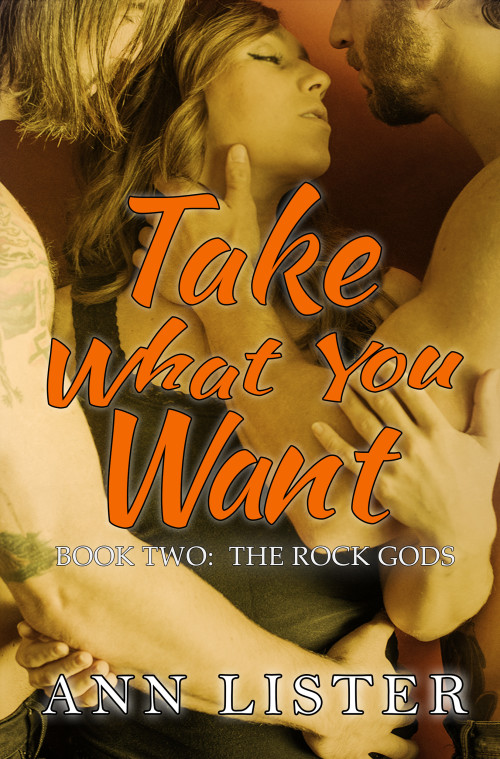 Synopsis
Mega rock star, Alex "Zander" Metcalf is burned out after nearly two years touring with his band, as well as emotionally drained after his sexual preferences were exposed by the media. He is ready for a long sabbatical – alone, and retreats to the east coast island of Martha's Vineyard; leasing an oceanside estate.
Alex seeks the quiet lifestyle of a recluse to write new material for his band, only to meet the handsome estate manager, Chase, and his gorgeous fiancée, Danni, living in the guest house on his property. Alex's hope of solitude is soon forgotten when he discovers Chase has a repressed bi-sexual side that is aching to surface and Alex is more than happy to help him explore it.
What neither Alex or Chase expects is the emotional power of their chemistry expanding to involve the three of them when Danni becomes entangled in their passion. Alex believes he has finally found his perfect ménage relationship with Chase and Danni.
Sometimes two isn't enough and it takes three to complete the union of a fulfilled love.
But, will their new relationship be strong enough to survive when real life wants to punish them for their unconventional love? And, can they be confident in the strength of their love to take the 'happily ever after' they can only give each other?
Teaser
Alex stood up and held out his hand to her. She looked at it, then at his face, and rolled her eyes. "Come on, Danni. Take a walk with me," Alex said.
Danni pushed herself out of the chair and spun away from Alex, walking in the opposite direction. "Go away, Alex, and leave me alone."
Alex glanced over his shoulder at Chase. "She's a mouthy girl, isn't she?" Alex asked.
A slow smile curled Chase's lips. "Maybe she needs to cool off in the water?"
Danni heard Chase's comment and turned around in time for Alex to hoist her over his shoulder. Her beer bottle went flying and landed in the sand.
"Put me down!" Danni screamed.
"I don't think so," Alex said. He gripped her hips tighter and started running toward the ocean, splashed through the waves and pulled them both beneath the cool water. Danni twisted in his arms and surfaced for air, wiping the water from her face and pushing her long hair off her forehead. Alex came up behind her and wrapped his arms around her in a loose hug. She fought his touch and Alex laughed. He crossed his arms over her chest and dipped his mouth to the nape of her neck, planting a soft kiss.
"Same spot as Chase, so you're even," he said. "But, your skin is softer than his."
Danni spun in Alex's arms and faced him. She tried to slap his face, but Alex caught her hand before it made contact. She struggled again, but the teasing grin on her face told him she wasn't as angry as she pretended to be. She pressed on both his shoulders and he let her submerge him, but then he tugged her under the water with him. They surfaced together again, with Danni restraining a giggle. Alex scooped up her slender frame in his arms and tossed her back into the water a few feet from where he stood, like he was throwing a toy, then dove under the water to pull her up. He kept her firmly pressed to his slippery chest; his hands fanned on her lower back. This new embrace was more intimate and he knew she felt it. He let her squirm for a bit until fatigue stilled her. She was laughing, trying to catch her breath, with her cheek pressed to his pectoral and her fingers digging into each of his biceps. Jesus, her laugh was magical. He set his face to the side of her head.
"Had enough?" he asked. "Or do you need to be dunked again?"
"Fuck yo …"
Danni didn't get a chance to finish her statement before she was flying through the air again and crashing into the crest of another wave. A moment later, strong arms were pulling her to the surface and green eyes were staring down at her. One sharp tug and she was against Alex's chest again.
"Is that a promise or a threat?" Alex asked.
"What the hell do you think you're doing?" Danni asked.
"Adjusting your attitude," Alex said. His fingers ran over the slippery flesh on her back and stopped short of drifting below the waistband of her jean shorts.
"Stop it," Danni said. "You're getting hard."
"And that pisses you off, too?"
Danni's hands pressed firmly on Alex's chest, trying to create more space between them. "I suppose I should be flattered it isn't just my fiancé that gets you hard." She gave him another shove and Alex released his grip on her.
Alex watched her walk back to shore. The gentle sway of her hips had his complete attention. His cock was now fulling straining against his swim-shorts. He closed his eyes and flopped back into the water, like a tree falling in the woods. There was no way in hell he'd be walking out of the water in this condition.
Danni jogged up the beach toward Chase and stood beside the truck. She pulled the wet tank top over her head and draped it over the bed of the truck to dry, then she adjusted the bikini top covering her breasts.
"Your boyfriend has a hard-on," she said, looking at Chase. She unzipped her cut-off shorts and shimmied out of them. "You should go join him in the water."
About the Author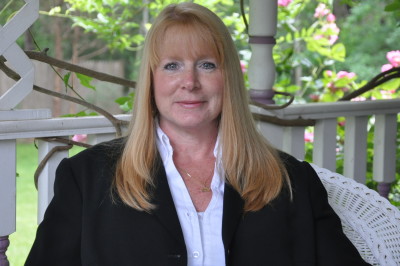 Ann Lister is a native New Englander currently living on the island of Martha's Vineyard with her husband. She has pulled details from her years living in the New England area and uses many local settings and landmarks in her novels.
After graduating art school, marrying, and raising two daughters, she established her own video production company. Her nearly two decades working in video production included work within the music industry and won her a coveted Telly Award. Her 'behind-the-scenes' exposure to the music world and her love of rock music is the inspiration for her erotic rock star romances.
Her recent rock star romance, "Fall For Me", Book One in the Rock Gods series, is a Finalist in the 2013 Rainbow Award.