Goodreads
We are so excited to share the cover for Night Shift – Dirty Things Happen in the Dark! #loveislove
All proceeds will be donated to:
Pancreatic Cancer Action Network
Suicide Prevention – Keith Milano Memorial Fund
Nashville Predators Foundation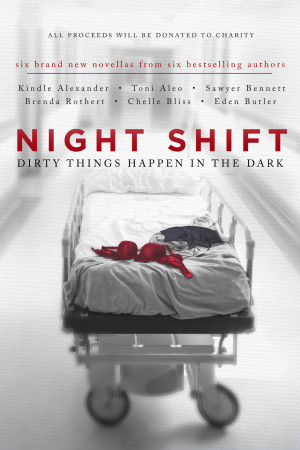 Summer in the Big Easy is hot. Inside Tulane Medical Center the temperature is on the rise.
A doctor nursing a broken heart. A wounded warrior with no interest in love. A single father finding the girl who got away. A combat nurse trying to adjust to civilian life. Two lost souls looking for love. A former detective looking for answers and an FBI agent who finds more than he bargains for.
Desire. Lust. Excess. New Orleans will never be the same.
Six never before released stories that will leave you breathless.
Dirty things happen in the dark.
Featuring Authors:
Kindle Alexander
Best Selling, and newly award winning (whooo hooo!) Author Kindle Alexander is an innovative writer, and a genre-crosser who writes classic fantasy, romance, suspense, and erotica. It's always a surprise to see what's coming next! Happily married with too many children, and dogs, living in the suburbs of Dallas.
Usually, I try for funny. Humor is a major part of my life – I love to laugh, and it seems to be the thing I do in most situations – regardless of the situation, but jokes are a tricky deal… I don't want to offend anyone and jokes tend to offend. So instead I'm going to tell you about Kindle.
I tragically lost my sixteen year old daughter to a drunk driver. She had just been at home, it was early in the night and I heard the accident happen. I'll never forget that moment. The sirens were immediate and something inside me just knew. I left my house, drove straight to the accident on nothing more than instinct. I got to be there when my little girl died – weirdly, I consider that a true gift from above. She didn't have to be alone.
That time in my life was terrible. It's everything you think it would be times about a billion. I love that kid. I loved being her mother and I loved watching her grow into this incredibly beautiful person, both inside and out. She was such a gift to me. To have it all ripped away so suddenly broke me.
Her name was Kindle. Honest to goodness – it was her name and she died a few weeks before Amazon released their brand new Kindle ereader. She had no idea it was coming out and she would have finally gotten her name on something! Try finding a ruler with the name Kindle on it.. it never happened.
Through the course of that crippling event I was lucky enough to meet my writing partner. I would have never gotten through those dark days without her unwavering support and guidance. There wasn't a time she wasn't there for me. For the first time I used the hand offered. I know without question I wouldn't be here today without her. It takes a special person to come stand beside someone at a time like that. I will love her forever. I could go on and on about both of them, but I won't and now you know a little more About Me.
Chelle Bliss
Chelle's an USA Today Best Selling author of the Men of Inked series & Love at Last Series. She's an avid reader; consuming contemporary romance, dark reads, young adult, and all things erotica.
Chelle loves to travel and her favorite cities are New Orleans and Paris. She currently lives in Florida with her amazing boyfriend.
Sawyer Bennett
USA Today Best-Selling author, Sawyer Bennett, is a snarky southern woman and reformed trial lawyer who decided to finally start putting on paper all of the stories that were floating in her head. She is married to a mobster (well, a market researcher) and they have two big, furry dogs who hog the bed. Sawyer would like to report she doesn't have many weaknesses but can be bribed with a nominal amount of milk chocolate.
Toni Aleo
Toni Aleo is the New York Times and USA Today Bestselling author of the Assassins series, Bellevue Bullies series, Spring Grove Novels & stand alones.
Brenda Rothert
Brenda Rothert started her writing career as a print journalist. She now writes Romances, some Contemporary and others with a twist of dystopian society and adventure. Rothert lives in Central Illinois with her husband and three boys.
Eden Butler
Eden Butler is an editor and writer of Romance and SciFi and Fantasy novels and the nine-times great-granddaughter of an honest-to-God English pirate. This could explain her affinity for rule breaking and rum. Her debut novel, a New Adult, Contemporary Romance, "Chasing Serenity" launched in October 2013 and quickly became an Amazon bestseller. In 2014, Eden published "Thin Love" which became her most successful novel to date.
When she's not writing or wondering about her possibly Jack Sparrowesque ancestor, Eden edits, reads and spends way too much time watching rugby, Doctor Who and New Orleans Saints football.
She is currently imprisoned under teenage rule alongside her husband in southeast Louisiana.
Please send help.

*GIVEAWAY NOW OVER – Sonya McAlister IS OUR WINNER AND HAS BEEN EMAILED! THANK YOU SO MUCH FOR SHARING THIS COVER ADN FOR PARTICIPATING!!!*
There is a $50 Amazon Gift Card up for grabs! All you have to do is share this post with the cover on your social media sites (Facebook, Twitter, Tsu, Instagram etc). Please post reply to this post and provide a link to your share to be entered for a chance to win this prize. The more shares you have, the more chances you have to win. Winner to be picked on Fri morning EST. Please make sure to use the hashtag #loveislove in your posts. Thank you and GOOD LUCK!