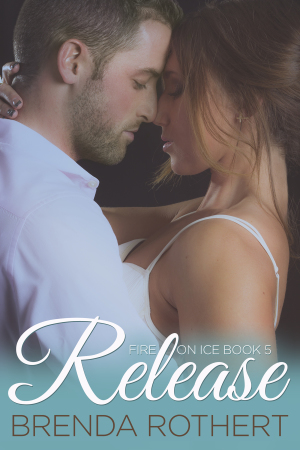 Release

by Brenda Rothert
on December 16, 2014
Goodreads

NHL player Orion Caldwell protects his own. He's an enforcer to his core, but he was the one left defenseless when his longtime girlfriend broke his heart. Now he's all about his game, but spending the offseason in his hometown forces him to confront painful issues –both old and new.

Samara Cross just wants to be invisible. After living a nightmare, she came back to her hometown seeking solace. But her quiet new life is upturned by the hot, charismatic hockey player who's taken a sudden interest in her.

Orion and Samara find something unexpected in each other, but when the hockey offseason ends, so does their time together. They struggle with their separation, confronted by ghosts of the past and an uncertain future, discovering that sometimes the only way to hold on to something precious is to let go.
We are SO EXCITED to share the cover for the next book in the Fire on Ice Series – RELEASE!!! Check out an excerpt from the book and make sure to enter the giveaway below. Good luck!!!

Chapter 1
Orion
My gloves hadn't even hit the ice before I started swinging. Of all the fucking guys to have to start a fight with, it had to be Theo St. James. He was a monster of a man who made me see stars the last time we traded punches on the ice.
The one thing I had on him was speed, and I used it to my advantage. The muscles in my hands burned from the strain of gripping a fistful of his sweater with one hand while I swung with the other. I got in the first hit, and the second.
I dodged back as his massive fist flew toward my face, but he still made contact. The pain radiated from my eye socket outward. Fucking hell, it hurt.
"You dumb shit," Theo muttered. "You wanted it, now you've got it."
His next blow landed on my head when I moved my face away. I pulled on his sweater and delivered several into his stomach.
This wasn't a fight I could lose. I'd started it, chirping at Theo though it wasn't even my style. But I'd had no choice. This was it. Our season was on the line, and I was fighting with everything I had to keep it alive.
My teammates were dragging ass, and I was the closest thing we had to an enforcer. It was my job to shake things up right now, and return some momentum to our side.
And if my face got fucked up in the process … well, it wouldn't be the first time. It always healed anyway.
I tasted blood by the time the ref pulled us apart, but I'd held my own. I shook my head, trying to regain clarity. Theo was a beast. Strictly an enforcer. Our team didn't have one of those anymore. I was expected to be equal parts forward and enforcer.
We were down 4-2, and now my line needed to make a resurgence. I switched my mind back into game mode, suppressing the fire in my veins from the fight.
The rest of the game flew by in a blur. I passed and held my breath as my teammate Rance shot the puck, which slid past the side of the net, missing it by just a couple inches. The intensity of the crowd grew stronger as the clock ticked down to its final seconds. Their team was about to win it all.
I never gave up. Not until the clock was out. Nothing pissed me off like flat play from teammates who'd given up. But when the crowd exploded, my breath left me in a rush. It was over.
Our team trainer, Dell, approached me with a white cloth in her hand. I let her swipe it across my brow to clean the blood off before heading for the locker room.
The locker room was full, but silent. Several of us were battling injuries and we were all worn down. Making the playoffs had boosted us into dragging our asses out there though, injured or not. I'd wanted this win, with these guys by my side. Our captain, Ryke, had led us here and I was crushed we'd let him down.
My niece and nephew were watching on TV, and they were probably heartbroken. Those two were my biggest fans.
The longer I sat on the wood bench, the deeper reality set in. The season was over. This was my fifth one in the NHL, and I'd never made it this far. One of my teammates was retiring, and this was his last game. Hell of a note. I was only 27 – I'd have more chances.
I got up and undressed, letting my pads fall to the ground. Time for an ice bath. I took at least one a day anymore. My muscle strains and bruises were bearable at the start of a game, but I was broken down by the end.
My mind shifted from hockey to my family. I was driving home to Henley, Indiana as soon as we landed in Chicago tomorrow. It was going to be a low-key offseason with my mom, sister, niece and nephew.
As I sank into the ice-filled tub, I shuddered. Whether it was from the chill of the ice or the thought of running into my ex-girlfriend again, I wasn't sure.
♥READ THE SERIES♥
Book 1 – Bound
Book 2 – Captive
Book 3 – Edge
Book 4 – Drive