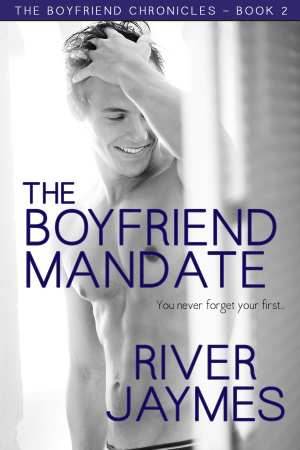 The Boyfriend Mandate

by River Jaymes
on September 23, 2014
Goodreads

Stuntman and two-time cancer survivor Memphis Haines excels at beating the odds. When he's presented with the opportunity to help his ex-boyfriend with a charity event, he jumps at the chance to make up for the devastating way he left Tyler ten years ago. Memphis might have taken the college geek's virginity, but the former mathelete is now a hell of a head turner. And Dr. Tyler Hall's cool reserve is a challenge Memphis can't resist. A self-confessed rule breaker and line crosser, he keeps turning up the heat with one goal in mind: to melt the man's composure.

Tyler Hall sticks to one simple mandate: no more dating ex-boyfriends. Ever. He certainly isn't interested in hooking up with Memphis Haines, the ex who jumps off of buildings, dodges explosions, and poses for designer underwear ads.  Ten years ago, falling for Memphis changed Tyler's life. The man's abrupt departure turned his world inside out. But he moved on long ago. Besides, he has a clinic for the homeless to run, patients to take care of, and no time to deal with the trouble his ex brings. Memphis, however, seems determined to rehash the past. And his boxer-dropping grin, hard body, and confident charm are resurrecting ultra-hot memories best not remembered, making Tyler's rule harder and harder to keep…

Instantly, a grin spread across Memphis's face, and Tyler quietly sucked in a breath as if punched. In the ten years since the man had walked out on him, Tyler never imagined his ex would greet him with his signature smile.
Stay strong. Stay strong.
"Tyler Hall." Dimples firmly in place, Memphis resumed his approach with the characteristic athletic grace and tightly coiled energy that Tyler remembered well. "It's good to see you again."
"You too," he said, surprising himself with the casualness he managed to fake while telling a polite lie.
He also managed to maintain a neutral expression until he realized Memphis wasn't slowing down. Shouldn't he be slowing down? Panic swelled in Tyler's chest as the stuntman came closer and—Jesus-haploid-Christ—instead of coming to a stop, he pulled him into a bear hug.
Holy shit.
The tug of memory in his heart hurt, leaving Tyler speechless. He stood, his back stiff as he tried to block the sensory input. His nervous system, however, happily supplied the information he didn't want to know: hard chest, warm skin, and strong arms holding him tight. One whiff of the citrus scent and among all the racing thoughts and self-directed swearing going on in his head, Tyler noted with wry amusement that a) after achieving celebrity status, Memphis still used the same shampoo and b) Tyler remembered the scent, as if it had been branded into his brain.
Memphis let go and stepped back, eyes crinkled in humor. "Where is the mathlete who used to live in sweat pants?" He gave Tyler's tie a playful tug. "You clean up nice."
Hiding the slight shake in his fingers, Tyler smoothed a nonexistent wrinkle from the sleeve of his button-down and nodded in the photographer's direction, lifting a meaningful brow at his ex. "I see your ability to get your way hasn't changed."
Another grin flashed across Memphis's face, bigger and sexier than the one before. A smile destined to sell the shit out of an expensive brand of designer underwear.
"I always managed to get my way with you," Memphis said.
The visceral hit hurt, but Tyler shot the man an overly bland expression. "I'm sure our relationship is long gone from your memory."
"You know what they say."
Muscles tensed, he tipped his head. "What do they say?"
"You never forget your first."
Tyler barely managed to suppress an amused scoff. "I wasn't your first."
"I was your first," he said, his hazel eyes growing dark.
Heat flushed up the back of Tyler's neck. Were they talking about his heart or his virginity here? Although it hardly mattered; this man had taken both.
"And, yeah, I popped my het cherry at fourteen." Memphis's lips crooked up on one side as he went on. "But you were my first taste of man-on-man action."
Christ, how was he supposed to respond to that?
♥READ THE SERIES♥
Book 1 – The Backup Boyfriend