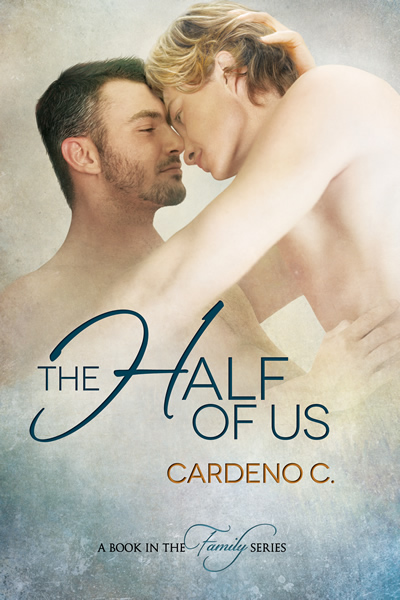 The Half of Us

by Cardeno C.
on October 10, 2014
Goodreads

Short-tempered, arrogant heart surgeon Jason Garcia grew up wanting a close-knit family, but believes he ruined those dreams when he broke up his marriage. The benefit of divorce is having as much random sex as he wants, and it's a benefit Jason is exploiting when he meets a sweet, shy man at a bar and convinces him to go home for a no-strings-attached night of fun.

Eight years living in Las Vegas hasn't dimmed Abe Green's optimism, earnestness, or desire to find the one. When a sexy man with lonely eyes propositions him, Abe decides to give himself a birthday present — one night of spontaneous fun with no thoughts of the future. But one night turns into two and then three, and Abe realizes his heart is involved.

For the first time, Abe feels safe enough with someone he respects and adores to let go of his inhibitions in the bedroom. If Jason can get past his own inhibitions and open his heart and his life to Abe, he might finally find the family he craves.
Enjoy a first look at the cover for book 4 in the Family Series by Cardeno C – The Half of Us! Read an excerpt below and make sure to enter the giveaway for an ebook copy of this book to be given on release day! ENJOY!!!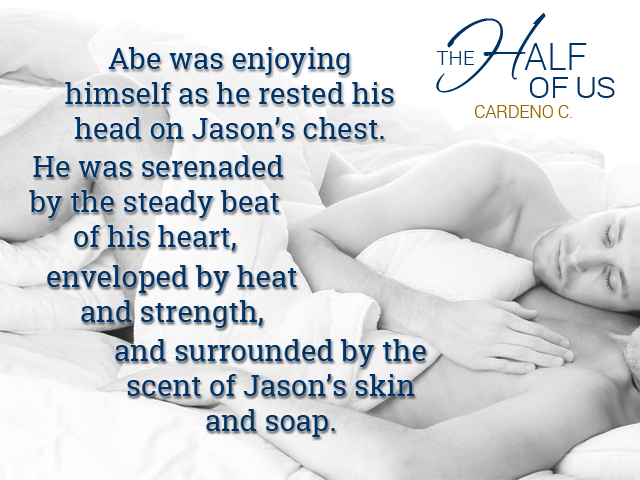 "This is kind of weird, isn't it?" Abe asked as they sat in the quiet car.
"No," Jason assured Abe and himself. It was sex. That was a basic bodily need. In, out, done. That was his motto and he followed it religiously. There was nothing weird about it that couldn't be attributed to his current state of sobriety. He made a mental note to never again pick up a guy until after he'd had a couple of drinks. With that decision made, Jason grabbed the door handle. "Ready?"
Abe looked at him again, one of his quiet stares. Jason tried not to wriggle under that scrutiny.
"You're really attractive," Abe said.
Not sure how he was supposed to respond, Jason went with the simple approach. "Thanks." When Abe didn't say anything or make a move to leave the car or stop staring at him, Jason added, "That's a good thing, right?"
"Yes." Abe nodded. "But it's not why I agreed to bring you home." Before Jason could decide if he should probe for an answer, Abe grinned at him and said, "But it sure helped. Come on." He opened his door and stepped out of the car.
It wasn't too late to leave. Jason could put the car in reverse, drive away, and either hit another bar or find someone online who wanted to fuck without talking or laughing or smiling. He had three apps on his phone for just that purpose. But he didn't back away or reach for his phone. Instead, he got out of the car, locked it, and followed Abe into his apartment.
"Nice place," Jason said as soon as he walked inside.
"I haven't turned the lights on yet," Abe answered with a laugh. "You can't see anything. The walls could be fuchsia and mint-green polka dots for all you know."
Jason didn't care about the walls. He cared about getting Abe naked. The comment was something he said just to have something to say. But when Abe turned around and gave him a half hug to take the sting out of his teasing response, Jason found himself grinning and hugging Abe in return.
"What if I like fuchsia and mint green?" he asked. "Those could be my favorite colors."
Crinkling his nose, Abe shifted until he was right in front of Jason, their chests touching. "Hmm. Those are your favorite colors?" He wrapped his arms around Jason's neck, stretched up, and kissed the base of Jason's throat. "I never would have guessed. You seem more like the tan-walls, blue-shirts type."
His walls were in fact tan and the majority of his shirts were in fact blue. Slowly, Jason curled his arms around Abe's waist, and then he goosed him hard.
"Ah!" Abe shouted and tried to move away.
Holding on tight, Jason said, "Not so smug now, are you?"
"I didn't know it was such a sensitive topic." Abe's breath came out faster as he kept trying to escape.
Jason squeezed his ass again for fun and then again because he liked doing it.
"I'll never tell," Abe said. "I promise. Your secret is safe with me." "Are you making fun of me?" Jason asked, enjoying the interaction more than he would have expected. "Because that seems like an incredibly bad idea." He dug his fingers into Abe's sides. "Tell you what. Just to show you I'm a good guy, I'll let go and give you a sixty-second head start to get to your bedroom. If you manage to get naked in that time, I'll let you off the hook."
"What a gentleman," Abe said breathlessly.
"I'm pretty sure you won't say that after you see what I plan to do to you once I catch you." Jason winked and stepped away. "Time starts now. Go!"

♥READ THE SERIES♥
Book 1 – Something in the Way He Needs
Book 2 – Strong Enough
Book 3 – More Than Everything