by Tara Sivec
Goodreads


Denise and I rarely get to read the same book BUT we both read Fisher's Light by Tara Sivec and absolutely fell in love with this story. You can read our 5 STAR review HERE. We are SOOOOOO excited to be revealing a little secret that Tara hasn't shared yet…..Here is an exclusive first look at the GORGEOUS cover for WORTH THE TRIP – this is a  Fisher's Light Companion Novella releasing on Monday, May 4th!!!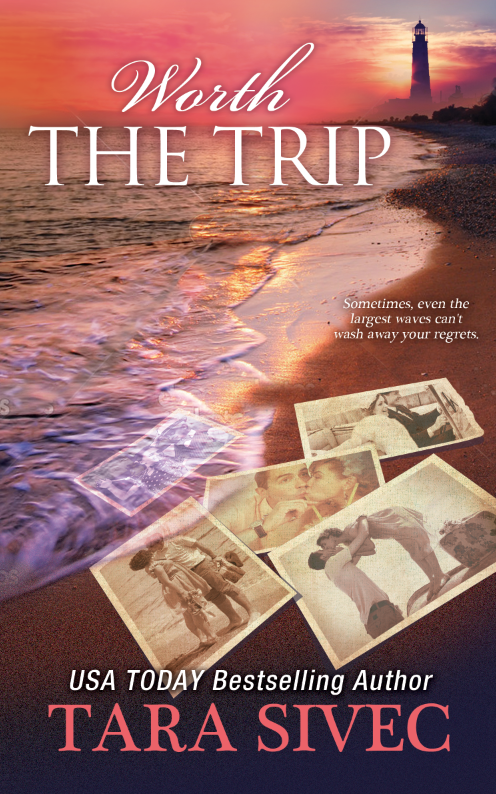 It's time for me to tell my story.
I know I'm a coward for waiting this long to explain my side of things. I know I should have tried long before now to make amends. There's nothing like staring right at death's door to put a fire under your ass. I'm going to die with enough regrets to fill ten notebooks and that's a tough pill to swallow, but when I meet my maker, I want to be able to hold my head high with the knowledge that at least I confronted all of those regrets.
The Life and Times of Trip Fisher
I'm sorry, I love you, please forgive me.


Enjoy a sneak peek into the WORTH THE TRIP. Disclaimer: May be edited or deleted prior to publication.
            Age is just a number.
            That's what people say at least. As I sit here on my old, worn-out couch, flip through a photo album and listen to the wind hollowing outside with the approaching storm, I think those people are full of shit. I have two hundred Canadian coins in a tin on my bookshelf. There are sixty-one pictures in this photo album. I have one hundred and four old 45's that I still listen to on my 1953 RCA record player. THOSE are just numbers; numbers of items and things that I've collected over the years.
            I am eighty-three years old. As I turn the page in the photo album resting on my lap, I see the age spots and wrinkles on the top of my hand. I feel the arthritis in my right hip and knee flaring up because I've been sitting on this couch for too long. When I look in the mirror, I don't see a good-looking, cocky son-of-a-bitch who had life by the balls, I see an old man with too many regrets.
           Age isn't just a number. It's days, weeks, months, years of disappointments and memories and watching your life pass right in front of your eyes, knowing you can't go back and do things differently. You had one shot to get it right and if you screwed it up…well, that's just too damn bad.

♥ BUY FISHER'S LIGHT ♥