We are so excited to reveal the cover for Rock Bottom by Jade C Jamison.
This is her follow up to Bullet, her amazing story of Valerie's journey.
Rock Bottom is Ethan's story…. We are so looking forward to his story and we hope he find his happy!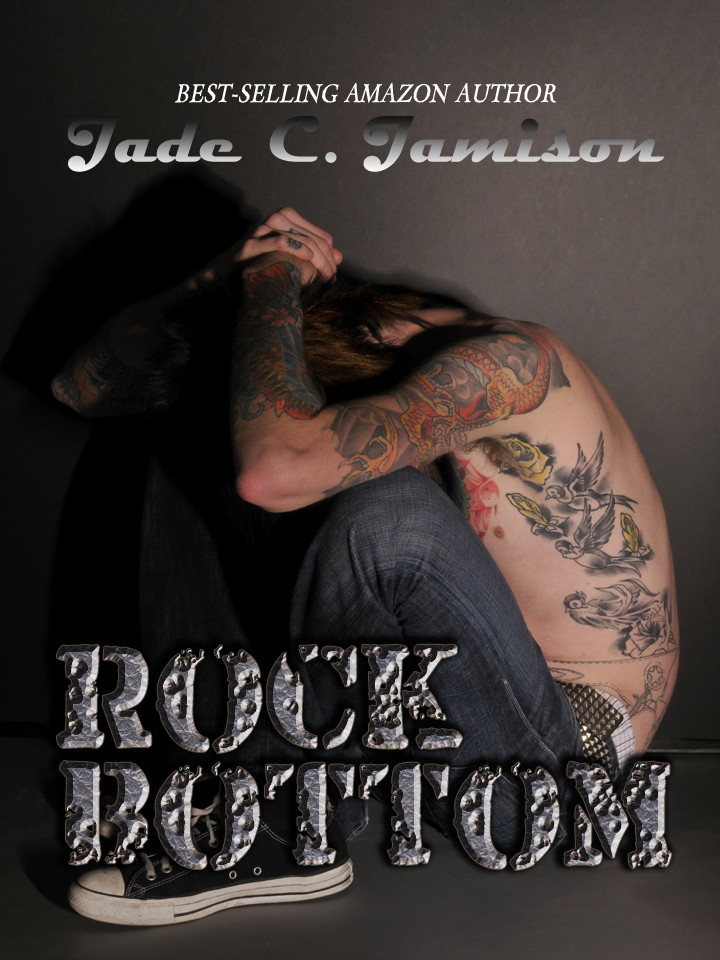 Synopsis
The much-anticipated sequel to Bullet
Ethan Richards has fought depression and a host of other demons all his adult life, and it's caused him to lose everything—his wife, his son, his friends, and he almost loses the one thing that means the most to him—his band. He hits rock bottom and believes there is no way out.
Enter Jenna McCormick, a feisty drug and alcohol counselor, a woman with her own share of troubles. She finds Ethan intriguing but keeps him at a distance while trying to help him face life without crutches. She feels a spark but denies it, knowing that a relationship with unstable Ethan could be dangerous for both of them.
Ethan knows what he wants, though, and isn't used to being told no. Jenna isn't willing to risk Ethan losing his tenuous grip on sobriety, however, and is prepared to deny her deeper feelings to help Ethan climb out of his hole, but he learns how to let go of his pain when he finds that someone is prepared to walk with him through the shadows. Can he convince Jenna that they should take a chance on love or will they forever deny their feelings in an effort to keep Ethan on the straight and narrow?
Teaser
"Can I ask you a question?"

Jenna got closer to him. "Sure."

"Would it be so bad to go out with me?"

He thought he could see a flicker of a smile on her face but that was all it was. She asked, "Do you think that would help your recovery?"

Ethan smiled then. "I don't think it would hurt it."

She drew in a deep breath. "I have to disagree with you. Something you need to understand, Ethan, is that you're vulnerable right now…whether you want to admit it or not. It's very easy for people in your position to look to those who are helping and feel a connection, often a connection that's not there. People like me are a lifeline between your past, the past you want to rid yourself of, and a future full of hope. But we're not saviors. We can only guide you. You have to do the hard part."

"I know that."

"But sometimes it will feel to you like we care about you personally. Don't get me wrong—we do and will—but it won't be what you think."

Time to turn up the charm. Ethan had learned from a very young age to use what he had. He hadn't had the advantage of being able to shrink into a little ball of nothing that people ignored or disregarded, so when the shit started to hit the fan at home, he was a target for people's attention, whether good or bad. People had often commented on his looks, though, even as a child, and he'd learned to use them to his advantage. Soon, people were drawn to him, and before he started having bouts with the dark cloud that would make him lose his way, he realized that, along with his looks, he could charm people. Because they were naturally drawn to him, he figured out early on how to win people over. He'd passed more than one class in high school thanks to that ability. Surely, Jenna was no different. Yeah, she could see through him—she knew he was a junkie who really needed help, but maybe she would also understand that he was a man with needs…and, goddamn, he wanted her. So he smiled that cocky smile that he knew melted panties and said, "I'm not talking about love, sweetheart. I get the whole emotional bullshit stuff you're talking about. I just want to know if you've ever just seen someone and wondered what they were like in bed?" Her eyes narrowed a little, but otherwise she was giving nothing away. Ethan figured that was part of the training for her job—maintaining as neutral an expression as possible. But he thought he might be on the right track. So he lowered his voice and got just a little closer, enough that he was in her personal space. He wanted her to feel him, even if she never actually touched him. "You can't tell me you've never just looked at someone and needed to taste them, be with them." Oh, yes, there was a definite change in her eyes. "There has to have been at least one time when you looked at someone and knew you had to fuck them…or die trying."
About the Author

Jade C. Jamison was born and raised in Colorado, moved from one city/town to the next, and she's decided she likes it so much she wants to stay…although travel is not out of the question. She lives in a big town in Colorado (not unlike Winchester!) with her husband and four children. She is working on becoming a crazy cat lady. Okay, so maybe not.
Still want more? Jade has a bachelor's degree in English Literature and Theater, a master's degree in English, and a master of fine arts in Creative Writing. Obviously, she loves school and the student loan folks love her. She works in human services by day, teaches English and creative writing at night, and—in between playing soccer mom and community leader—writes like a fiend. Someday soon, she'll narrow it down to just writing, but let's get all those kids off to college first.