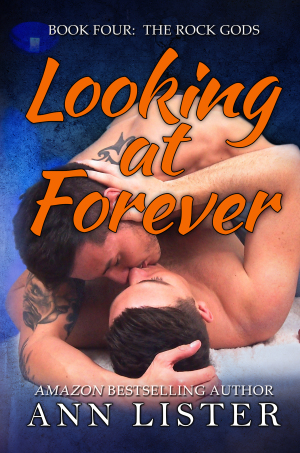 Looking At Forever

by Ann Lister
on December 2014
Goodreads

Mick Wheland, Ivory Tower's bad-boy guitarist, has recently realized two important things about himself. He prefers sex with men over women, and the idea of a committed relationship doesn't scare him as much as it once did. He's seen the positive effects of love from watching his band-mates find life partners, and now he's thinking he might be ready for the same himself. The problem is knowing where to look for Mr. Right, and living out of a suitcase while touring with a band is not exactly conducive to finding real love.

 

Sonny (Rooster) Roostarelli leaves the seclusion of his Vancouver cabin, where he went to lick his wounds after a contentious divorce, and moves back to Los Angeles. He claims relocating to L.A. is for business purposes, but now that the dust has settled on his failed marriage, Rooster feels he might finally be ready to settle down – with a man.

 

A chance encounter for Wheland and Rooster on a busy L.A. street rekindles an old friendship between the two professional musicians. Rooster needs a short-term place to stay and Wheland has plenty of extra space at his hillside estate and that lands Rooster in Wheland's guest room. What starts out as a music collaboration opportunity quickly turns personal when the chemistry they have becomes too strong to ignore and soon the music they're making spills from the studio and into the bedroom.

 

The road is a grueling bitch musicians love to hate. Being on stage under the hot lights can sometimes be the only place they feel comfortable and alive. Can two high-profile rock stars make a life together in such an artificial world – on and off the stage... or will past mistakes and family secrets keep them from finding their forever?

      Wheland glanced over his shoulder at Rooster. "See the chest in the corner?" Wheland asked.
      Rooster nodded, looking across the small room at the weathered, wooden crate with what looked like hand-forged brackets, no doubt created by a blacksmith. The container looked seriously old… as in ancient.
      "That's my toy box," Wheland said. "Would you like to see what's inside?"
      Rooster's cock jerked and rubbed against Wheland's ass and Wheland chuckled. "I see you like the idea," Wheland said. "Come on. Help me carry it out to the bed."
      Rooster grabbed an end of the wooden chest and lifted it with Wheland. It was heavier than he expected and he could hear things shifting inside as they walked. They lugged it out to the bedroom and set it on the end of the bed. Rooster put his hands on his hips and studied the box.
      "This looks like a pirate's treasure chest," Rooster said.
      "You're not too far off the mark," Wheland said. "It's a chest from the shipwreck of the Atocha that sunk off the coast of Key West back in 1622. I bought it while on vacation there a few years ago. I was using it as a coffee table for a while, then decided to make it my toy chest."
      "You were using something this old as a coffee table?" Rooster asked. "This thing is probably worth a lot of money."
      "It is," Wheland said and laughed. "You don't want to know how much I paid for it."
      Rooster watched Wheland unhook the old padlock and flip open the top. Rooster stepped closer and eyed the variety of colorful toys, ropes, and other restraining devices.
      "Is this stuff from the Atocha, too?" Rooster teased.
      "Nope. This is all from various sex shops around the world," Wheland said. "I guess you could say I'm a connoisseur of the adult toy market."
      "Some people collect expensive wine," Rooster said with a devilish grin. "It appears you've amassed a variety of sex toys. I see no problem with that."
      "I'm not much for wine," Wheland said and winked at Rooster.
♥READ THE BOOKS♥
Book 1 – Fall for Me
Book 2 – Take What You Want
Book 3 – Make You Mine