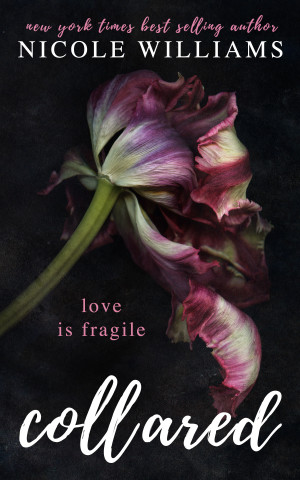 Collared

by Nicole Williams
on March 22, 2016
Buy on iTunes
Goodreads

When a seventeen-year-old girl vanishes,
A community is shaken.
Parents turn desperate.
Friends hold vigils.
And the boy who loves her searches.

When a year goes by,
The community is recovering.
Parents feel hopeless.
Friends feel helpless.
And the boy who loves her continues his search.

When ten years go by,
The community has forgotten.
Parents cling to the past.
Friends move toward the future.
And the boy who loves her . . .
Brings her home.

Jade Childs spent ten years in captivity, but now that she's back, the real battle for survival begins. The media shadows her. Flashbacks haunt her. Her old life evades her. Her so-called new life rejects her. She spent too many years in the dark to recognize the light. She spent too long repressing her feelings to remember how to express them. She spent a decade abandoning hope and cannot dare letting it back into her life. Jade's not just defined by what happened to her—she's collared to it.

When the twenty-seven-year-old woman is found,
A community wants to know the story,
Parents want to forget the story,
Friends want to be a part of the story,
And the man who still loves her faces the greatest challenge yet: letting her go.
OMG! I finished this book yesterday and it is a 5 "Omg my heart is bursting from all the feels and emotions" stars!!! Such a beautiful story and another top fave of 2016!  Enjoy a sneak peek into the book AND make sure to enter for a chance to win an ARC copy of Collared before it releases on March 22nd!!! This is a book you don't to miss – Nicole Williams at her finest!
Preorder on iTunes

"You got your own place." Torrin carries the box over to a side table and sets it down. "I like it."
I grab the box cutter to rip it open, and Torrin doesn't jump back when I pop out the blade. "I thought it was time to get my own place and figure out whoever this new Jade is and let go of the one I was clinging to." I slice through the tape and open the box. It's a few vases Mom wrapped up for me to use for decoration or for flowers.
"I get it." Torrin unwraps the first vase from its pile of newspaper. "Dumping the dead weight, right? Getting rid of the baggage?"
I feel something else inside the box that isn't a vase but is wrapped up with the rest. I pull it out and unfold the paper. Then I hold it up for him. "Not all of it."
His hands stop working the newspaper free when he sees the picture. It's one of the photos of the two of us I found stuffed in my parents' attic. I "unstuffed" them and packed them all to bring here with me.
In this one, Torrin and I are at Westport Beach. He's up to his knees in the ocean, and I'm on his shoulders. I'm looking down at him, and he's staring up at me, and we're both somewhere between a grin and a laugh. Our hair's messy from the salt and wind, and our skin's showing the faintest of pink from a sunscreen-less day at the beach.
"Why are you showing me this?" He sits on the arm of the couch, staring at the photo.
I pull out another one and unwrap it. I hold this one out for him to see. It's an old dance picture of us—cheesy pose, background, and everything. "To show you I'm hanging on to some things from that life. Some of it I'm bringing with me."
I set down the cheesy dance photo and reach into the box to unwrap the next one. When I pull it out, Torrin's hand reaches for my wrist, and he pulls me to him.
He doesn't stop tugging me closer until my leg bumps against his. He takes the photo from me and sets it down. "What part of us are you bringing with you? Just the memories? Or is there room for anything else?"
"Torrin, don't." I close my eyes and imagine that armor again.
His hand around my wrist tightens. "Why not?"
Why? The question that I'd give just about anything to have answered.
When I feel his other hand start to move around my side, my eyes snap open. "This? I can't bring this with me." I break away and wave a finger between us. "That part's over between us. It has to be."
Torrin rises from the couch arm and moves toward me. His light eyes watch me like he knows I'm lying, and in them, I see him calling my bluff. "It's not over, and you know it."
"No, I don't." I back around the side of the coffee table.
He matches my every step. I step back; he steps forward. I move away; he moves in.
"Yes, you do because you know it will never be over." When I trip over the chair leg, he grabs my arm to keep me from falling. He lets me keep moving though. He doesn't stop following. "Time, circumstance, tragedy—nothing can change that. You and me, there isn't an over for us."
"There has to be." This time I catch myself when I trip over a table leg. "This, it's killing me, Torrin. I can't keep doing it."
I don't notice the picture rocking on the end of the table. I don't see it teeter to the edge after I knock into it. I don't miss it crash to the ground and shatter.
It's the one of us at the beach. My favorite one.
I stare at the broken pieces and feel like I'm looking at myself if I were made of glass. A hundred sharp, broken pieces that will never be right again even if I could glue them back together. It'll never reflect what's hiding below the way it used to.
"What do you want from me, Jade?" Torrin kneels beside the broken picture and reaches for the frame. A piece of glass snags his skin, and his thumb starts to bleed. He doesn't even notice—he just keeps putting the pieces back in place, one at a time. Patiently. Methodically. "One minute I think I know, and the next I don't have a damn clue. So what exactly do you want from me?"
I keep backing out of the living room. "I don't know."
"Well, do you think you can figure it out? It would sure make my life easier."
When he looks up, he notices how far I've gotten from him. He stands and puts the frame and its shattered pieces back on the table.
"Do you think this is easy for me?" I cry, motioning at him because doesn't he get it? He's everything—everything—and I've just got nothing left to give. "Any of it? Having these feelings, knowing I'm not supposed to?"
"Will you stop with the supposed to?" He powers across the room and stops in front of me when I'm bracing for him to crash into me. His eyes are burning. "What do you want? Not what you think you're supposed to want. Not what everyone's trying to tell you you should want. What do you want?"
I look at him and think about that question. What do I want? I keep looking at him. I don't think of the person I am or the one he is. I don't think about what happened to me or what's happened to him. I don't think about the possibility of it or the practicality of it or consequences and repercussions.
I think about his question—what do I want?
It's a simple question and an easy answer but a complicated reality. I don't focus on the reality part though because everyone is owed one moment of fantasy every decade or so. This is mine.
"You," I say, followed by a shrug. "Just you."

Enter to win an ARC Copy of COLLARED (ARC will be sent direct to Kindle)
One (1) winner will receive an ebook copy before release
All you have to do is share this excerpt on your social media account(s) (Facebook, Twitter, Instagram, etc). Sample message below:
 #Collared releases March 22nd #LoveIsFragile #ExcerptAndGiveaway @nwilliamsbooks @shhmomsreading
 Please make sure to post a link to your shares below. ONE winner will be chosen on Sunday March 13th at 10am EST! Good luck! And thank you for sharing!