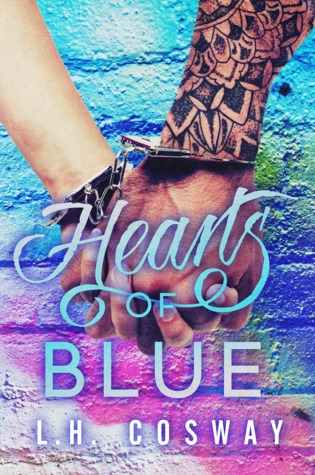 Hearts of Blue

by L.H. Cosway
on November 19, 2015
Goodreads

She upholds the law. He breaks it.

Two blue hearts, both alike in bravery
In not-so-fair London, where we lay our scene
From gun crime to petty theft
Where family is blood and survival makes hands unclean
In this place, we find two hearts who should be foes
And yet, amidst the turmoil their love still grows
Misadventure abounds and the divide will bring them strife
But with luck, death doesn't always mean an end to life.

Hearts of Blue is a standalone contemporary romance that tells the story of star-crossed lovers Karla Sheehan and Lee Cross, a police constable and the thief who steals her heart.

Looking up I saw Lee, but I was too busy trying to regain my composure to pay him much attention. A second later he was in front of me, his hands on my face. "Karla, are you okay?"
"I'm…I'm fine," I said as he settled an arm around my waist and pulled me forward.
"No, you're not. Come on, let me get you out of here. It's not safe."
The urge to protest almost bubbled out, but my head hurt too much to speak. Lee's body heat sank into me, warming my bones. He kept glancing at me in concern as he led me away from the rioting. Seconds later I was standing in a narrow doorway as he crowded me in. I allowed my weight to rest against the wall while he pulled a napkin from his pocket and began dabbing at the cut on my forehead.
He muttered angrily to himself, but I was too out of it to properly listen to what he was saying.
"Where's Tony?" I finally managed to ask in an unsteady voice.
Lee's hand paused. "Lanky bastard? Didn't see him."
I tried to push him out of the way. "I need to go back and help."
He stood firm, his hands bracing my shoulders. "You're hurt. You won't be any use. Now hold still and let me clean you up."
I took a deep breath and went quiet. This was probably the closest we'd ever been, and I found myself studying his face. He was concentrating on dobbing the blood from my forehead, so I had a chance to properly take him in. God, he was handsome. There was a hardness to his features, and I felt a strange urge to smooth my fingers over the crease between his eyebrows. It seemed like he worried for me, which made those butterflies begin to flutter once again.
My eyes traced the lines of his strong jaw, angled cheekbones and masculine lips. Then I looked up and found him watching me study him. Those lips I'd just been staring at now curved into a smile. His body moved forward, his heat surrounding me, and against my own will I trembled.
"Oh, Snap, what are we gonna do?" he whispered right into my ear and I flushed the second his breath hit my skin. The way his weight pressed on me wasn't unpleasant.
The noise of people shouting and glass shattering rang out, but somehow Lee's presence seemed to mute everything. All I could hear were his breaths and mine. All I could smell was his soap and cologne. His fingers came to my neck, but my collar was too high for him to be able to access much skin. Still, the parts of me that he was touching were on fire.
"Do you feel dizzy or sick?" he asked and I shook my head. I'd had a concussion enough times in the past to know I didn't have one then. Our gazes locked and I wasn't quite sure how much time had passed when he asked another question.
"How did you know where I lived?"
"What?"
"The other week you came by my house. How did you know where I lived?"
I tried to think of the least embarrassing answer, because the truth was that I'd gone snooping. "All of your brothers have a record, Lee. Not to mention Stu served six months in Feltham as a young offender. Your address is in the system."
"Yeah, but you went looking, didn't you?" His smile returned.
"That's correct. I went looking right after I caught your brother trying to steal someone's car," I told him pointedly.
He quirked an eyebrow like he didn't believe me. "You're that quick, huh?"
My throat grew dry. "All it takes is a call to dispatch."
His chest rubbed off mine, and even through my stab vest I could feel it. "And how did you recognise Trevor? You'd never met him before."
Christ, was this an interrogation? "He has your eyes," I blurted without thinking.
This gave Lee pause, and a long silence fell between us, his gaze searching mine. "That's a whole lot of attention to pay to someone you don't want to know," he said finally, throwing my own words back at me, the ones I'd spoken the first time we met.
"Lee," I pleaded, desperately needing him to back off. "You're too young for me."
"Karla, I'm perfect for you," he countered right before his mouth dipped in and his lips brushed lightly across mine. It was hardly anything, and yet, every nerve-ending in my body came alive. Just as his mouth was about to descend on mine again, I dug my heel into his ankle. He grunted and reared away, leaving me just enough space to get by. Unfortunately, I didn't get very far. I'd barely taken three steps when Lee caught hold of my arm and pulled me to him, my back to his front.
"What you just did, not advisable," he breathed harshly.
There was no mistaking the threat in his voice and a shiver ran through me. Gone was the playful flirtation, and I was reminded once more that this man was bad news.


Enter to win an ARC copy of HEARTS OF BLUE or a $20 Amazon Gift Card (2 WINNERS)
All you have to do is:
follow LH Cosway on Instagram at https://instagram.com/l.h.cosway/
share this exclusive promo post on your social media account(s) (Facebook, Twitter, Instagram, etc). Sample message below:
#HeartsOfBlue is coming #Nov19th #StarCrossedLovers #love @lhcosway @ShhMomsReading
Please make sure to post a link to your shares below. ONE winner will be chosen on Tuesday November 17th at 10am EST! Good luck! And thank you for sharing!
♥ READ THE BOOKS ♥
Six of Hearts
Amazon US | Amazon UK | B&N | Kobo | Smashwords | iTunes
Hearts of Fire
Amazon | Smashwords | B&N | Kobo | iTunes
King of Hearts
Amazon US | Amazon UK | B&N | iTunes | Smashwords
Preorder Hearts of Blue