Hunter

by Blaire Drake
on March 28, 2016
Buy on Amazon
Goodreads

Born into blood, I was a mafia princess. Raised in hiding, I was a Californian sweetheart.
The day my father sold my thirteen year old body to pay off a five year old debt was the day my mother stole me in the dead of night. She protected me as she was supposed to.
My father may have been the king, but my mother was the queen.
The mafia blood was hers.
That was ten years ago. Now… the devil was on the loose.
Carlo 'Hunter' Rosso was my father's right hand man and the boy I'd loved since I could tie my own shoelaces. He was always the most ruthless and the most deadly of all the children.
He'd thought I was dead until the day his assignment was given: Kill Adriana and Alexandria Romano. Kill the princess, and definitely kill the queen.
What he didn't know was that the queen was dead, and the princess had taken her throne.
Blood didn't lie. It smeared, distorted, stained. But it didn't lie.
My father was going to learn the hard way that the empire he'd stolen belonged to me.
And so did Carlo 'Hunter' Rosso.
Christine is SO excited to read this book!!! Make sure to enter for a chance to win an ARC of this book below!!!
You're invited to join Blaire's reader group at: https://www.facebook.com/groups/1660452467533550/
Amazon US | Amazon UK | Amazon CA

"Here." He held out the pool cue. "Wanna play?"
Well that was strange. "Uh, I'm good. Do you want some dry clothes? You're probably the same size as Darien, right?"
"Probably." He bent down again and hit a striped ball. It bounced out of the mouth of the pocket, coming to rest in the center of the table. "Crap."
"Let me go see what I can find."
"No underwear." He looked up and smirked as he got in position behind the white ball.
"Got it." I grimaced and walked through the house to the laundry room.
There was nothing weirder than going to find him clothes while he played pool. How did he even know where that room was? Or that it existed? Maybe he just needed something to do before he left and killed Gaige.
I found a t-shirt and a pair of jeans in Darien's clean laundry pile. For the first time ever, I wasn't mad about his failure to put away his clean clothes. I smiled to myself as I took them back to the man cave and handed them to Hunter.
I didn't know what I expected, but it wasn't for him to put down the pool cue and whip his shirt over his head. I blinked several times before turning away. His laughter echoed through the room, but I bit down on the inside of my lower lip and kept my eyes on the floor.
It wasn't like I'd never seen a guy without clothes on, and I wasn't afraid to see a guy without clothes on.
He was just… different.
He was Hunter.
"You can turn around now," he said in a low voice, laughter hinting at each word.
I let out a sigh of relief and turned. "Thank y—" I sucked in a sharp breath as my breasts brushed against his chest.
His. Bare. Chest.
"Where's your shirt?" I breathed out.
"On the floor. Wet." He smirked.
"I meant Darien's. That shirt. Not yours. I know yours is wet."
Oh God, he was hot.
This was wrong.
"On the chair. I need to dry off before I put it on."
Sure you do. I swallowed hard and took a step back. That didn't help, because all it did was put his whole body in my line of view, and Jesus fucking Christ, it was one hell of a body.
All perfectly chiseled muscle, from the sharply defined abs that ran down the center of his stomach, to the teasing lines that swept above his hips beneath the waistband of the jeans. And right between those lines of sex god muscle, just peeking over the button of his pants, was a black tattoo. I couldn't make it out fully, but it looked like some kind of mythical creature.
I forced myself to look up at his face. I failed. Miserably. My eyes fell on his right arm and the ink tattooed onto his bicep. I'd never been able to see it fully before, but it was an angel, kneeling, her wings spread out behind her. My fingers itched to reach forward and trace the feathers that made up her wings.
It seemed out of character for him, but yet… fittingly perfect. Killer, assassin… Angel of death.
Was that what it signified? That he was the angelo della morte?
"Are you done staring at me yet?"
My eyes snapped upwards and locked onto his. "Screw you." Mature, Adriana. Nice.
He chuckled quietly. "The option is there, Principessa."
That pissed me off. "Listen here, stronzo." I jabbed my finger against his solid chest. Asshole. "We're not kids anymore. We're not goddamn soulmates. We're not even friends. We're strangers, Hunter, and you're a prize fucking prick." I took a step closer to him and tilted my head back to hold out gaze. "I don't give a fuck if you're here on my father's orders. Remember who has the Romano blood. Remember who you belong to."
The amusement disappeared from his eyes, and they went cold. Chills cascaded across my skin from the iciness of his gaze, but inside, a fire roared. His flip-flopping attitude from killer to friend to suggestive piece of shit pissed me the hell off. I wasn't going to take it, no matter how attracted to him I was.
"Who I belong to?" he said in a deathly low voice that was almost threatening. "Is that you, Adriana?"
"Funny, isn't it?" I responded in the same tone. "I'm Princess when you're cocky, but Adriana when I call you out. Your respect needs some goddamn work, Rosso."
No sooner had I turned away than he'd grabbed my upper arm and had me pinned against the wall. His body was hot despite his cold, steel gaze, and he held me in place. I couldn't move, and it wasn't for a lack of trying. He was simply too strong with his hands wrapped around my arms and one of his legs between mine.
"My respect?" He dipped his head down so his warm breath skated over my lips. "My respect? How about your own, Adriana? You're pretty fucking short on it yourself. Just because I won't kill you doesn't mean I can't. I could put my hands around your neck right now and you'd be dead in five minutes."
Defiance flared through my veins. "So fucking do it."
He laughed, each sound as cold as the soul I was sure he didn't have. "I already told you won't." He let go of my arms and moved backward. "You might be princess, but you're not fucking queen yet."
I wanted to laugh in his face, but I couldn't. My mother was dead. The queen was dead. That meant one thing—her crown was mine, whether his punk ass liked it or not. Instead of reacting, I acted.
My arm shot out, my hand connecting with his cheek. The sharp slap rung out through the room, echoing off the walls and the ceiling, bouncing back and forth until all it rang in my ears.
Hunter clenched his jaw and a raised a fist to his cheek. His knuckles brushed across it, and for the first time, the tiniest pinch of fear flickered in the pit of my belly. But I didn't move. I stood my ground.
He deserved it. He deserved more.
Then, like a predator waiting to strike, he pounced on me.
His solid body collided with mine against the wall. He grabbed my thighs and lifted me, sliding one leg between mine, and his mouth found mine. I wound my fingers in his hair as he kissed me harshly. His tongue slid across my lips, forcing me to part my lips, and when I did, he kissed me so deeply my head started to spin.
His fingers dug into my ass as I wrapped my legs around his waist, pulling him into me. His hard cock pressed against my pussy through my cotton shorts, and my hips involuntarily flexed against him. A groan rumbled low in his throat, but the move only spurred him on.
He held me tighter, kissed me deeper, drove me wilder.
He was everywhere. All over my skin, under it, around it. I knew this was wrong but I couldn't make it stop. I couldn't stop my heart pounding against my ribs or my stomach fluttering or my pussy clenching. It was all anticipation, all revered wonder, waiting to see if one of us would stop this craziness.
"Don't let me do this," Hunter rasped against my mouth, gently biting my lower lip. "Fuck, bella. Don't let me ruin you."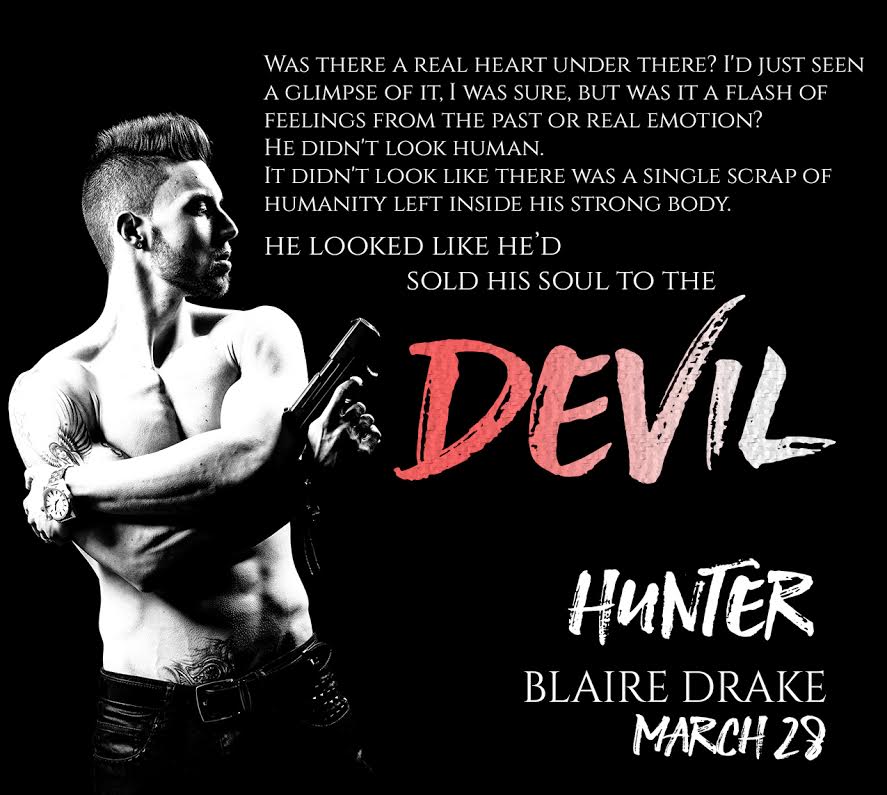 Enter to win an ARC Copy of Hunter (ARC will be sent direct to Kindle)
One (1) winner will receive an ebook copy before release
All you have to do is share this excerpt on your social media account(s) (Facebook, Twitter, Instagram, etc). Sample message below:
 #Hunter releases March 28th #MafiaPrincessAndHerHunter #ExcerptAndGiveaway @blairedrake @shhmomsreading
 Please make sure to post a link to your shares below. ONE winner will be chosen on Sunday March 13th at 10am EST! Good luck! And thank you for sharing!