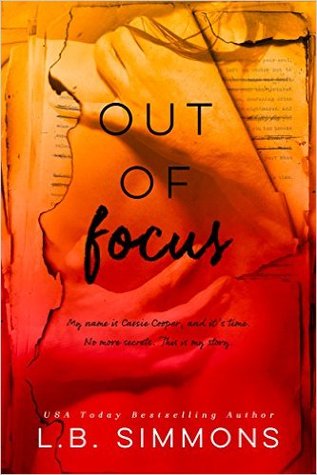 Out of Focus

by L.B. Simmons
on February 19, 2016
Buy on Amazon
Goodreads

*** Upper New Adult Spinoff Standalone to the USA Today Bestselling Novel, Under the Influence***

"Shhhh, Cassandra, it's our little secret."
Secrets are stubborn things when they refuse to remain hidden. They tear through your soul, clawing and lashing until the pain becomes so unbearable, you're left no choice but to silently scream your agony. No one hears you, of course. You smile on the outside and drift through life as though your mind is at peace, but all the while, you remain your own tortured prisoner. Sealed inside the darkened, soundproof room of your conscience, deafening cries echo as you plead for someone to unlock the door and release you from your nightmares. And eventually, when no one comes, you find ways to cope. To dull the suffering the only way you know how.
But what happens when you've become so numb, when everything around you has become so blurred, that you begin to lose focus on the saving grace standing directly in front of you? When you've anesthetized yourself to the point of losing consciousness, forced to watch as his once solid image fades away, lost to your reach in the haze as it smothers you?
What do you do then?
You fight. You heal. Then you bring him back.
Well, my name is Cassie Cooper, and it's time.
No more secrets.
This is my story.

***WARNING - The subject matter of this novel centers around the psychological effects due to sexual abuse experienced during childhood. For this reason, as well as sexual situations, language, and adult themes, suggested reading age is 17+.***
Enjoy a sneak peek into OUT OF FOCUS which releases on February 19th. Make sure to enter the giveaway below for a chance to win an ARC of this book (sent direct to kindle). Good luck!

Exactly like before, I round the corner and just as I open my mouth to wish Grady a good morning, I stop dead in my tracks. All the air whooshes from my lungs, and I stand there, gawking.
Because in the kitchen is a shirtless Grady Bennett. In. All. His. Glory.
Holy unfair-to-the-rest-of-the-male-population hotness.
Seriously.
I'm struck silent as I observe him without his knowing, fascinated by his every movement.
I can't not watch the muscles of his back tighten and flex as he flips the bacon in the skillet. I can't not admire the "V" cut of his waistline when he turns to the side, removing a cookie sheet full of toast from the oven. I can't not notice how silky soft the strands of his hair appear to be, falling in messy waves as he bends, finally released and grazing his chin. Completely hypnotized, my eyes fall, and I can't not remain under his spell as I ogle the definition of the muscles lining the tops of his forearms, swelling to capacity when he places the toast on the counter.  
And I sure as hell cannot seemingly break my stare, or close my mouth even, when he turns to face me with—I kid you not—a fucking eight-pack on full display.
My entire body heats and begins to thrum wildly with the need to feel his perfection, the weight of all of those glorious, well-defined muscles, hovering over me.
Our eyes lock as my mouth clamps shut.
I swallow.
He grins.
I die.
Then I come to my senses.
My hands fly up to shield his body from my eyes, and my face pinches in mock disgust. "Ack. Cover up, would ya? You're hideous. I'm not even sure I can eat now."
Grady waggles his eyebrows, and I'm pretty sure he flexes his pecs, not that I'm looking.
His smile widens, then he winks.
I die all over again.
He does an about-face, taking a couple of plates from the cabinet, and my eyes drift to the dented skin just above the magnificent ass sadly hidden behind his grey sweats.
I'm onto his little game. Sexy man, mussed hair, cooking, ripped and bare-chested . . . all of which are hot as fuck.
He's baiting me.
Before I begin to drool all over myself like a loon, I decide to up the ante. A little, tit-for-tat, so to speak.
I grin at the brilliance of my little joke, and clear my suddenly parched throat.
"Sooooo," I drawl, "shirtless breakfast. Another memo I did not receive."
Grady pivots around just in time to see my fingers to curl under the hem of my shirt. My brows lift in challenge. He remains collected, shrugging his shoulders in nonchalance. Then he whips the spatula in his hand around in the air, and the slightest of grins hits his lips as he offers, "Feel free to make yourself more comfortable."
The flare of Grady's eyes is the last thing I see before I whip the T-shirt over my head. The cool air around me rushes over my naked skin upon its removal. I glance down, mentally applauding my choice in undergarment. The strapless black peek-a-boo lace was a perfect pick, seeing as how it demonstrates just how chilly the air really is.
Calmly, I fold the shirt and lay it on the counter before lifting my stare to meet Grady's. His blue eyes no longer wide but filled with amusement as he chuckles to himself. "I cannot believe you just did that."
I lift my shoulders innocently and walk to where he stands, reaching for a plate. "I was hot." I fan myself for emphasis. "Uncomfortable."
"Sweetheart," Grady moves to stand behind me, gliding his fingers under my hair and sweeping it over my left shoulder. Heat from his bare chest seeps into the skin of my back and his voice is low as it hits my ear. "Your tits are telling me a different story."
I suck in a sharp breath when his parted lips touch the sensitive area behind my ear, and right on cue, my nipples harden as a rash of goosebumps rise along every inch of my skin. His laughter strikes my neck, and my eyes roll into the back of my head as I refute, "I said I was hot. Clearly that is no longer the case."
"Clearly." Another lingering touch from his lips, then his warmth is gone.
♥Preorder the Book♥

Enter to win an ARC of this book (sent direct to kindle)
All you have to do is share this exclusive excerpt on your social media account(s) (Facebook, Twitter, Instagram, etc). Sample message below:
#OutOfFocus is #ComingFeb19th #ARCGiveaway #Secrets #GradyAndCassie @lbsimmons33 @shhmomsreading
Please make sure to post a link to your shares below. ONE winner will be chosen on Sunday February 21st at 10am EST! Good luck! And thank you for sharing!