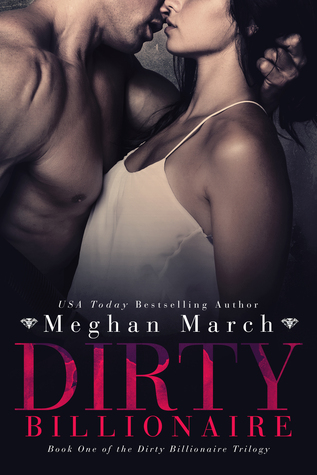 Dirty Billionaire

by Meghan March
on December 8, 2015
Buy on Amazon, Buy on B&N, Buy on iTunes
Goodreads

I've got a big dick and an even bigger bank account. That's pretty much where my bio ends. Honestly, I don't need to say anything else. I've just sold 99% of women on going home with me.

Do I sound like an asshole to you?

That's because I am.

And guess what? It works for me just fine.

Or at least it did.

Until I met her.

Books talk about sparks flying. Fuck that shit. With her, it was like emergency flares mixed with jet fuel. Or maybe just straight up napalm.

Only one problem.

She didn't leave her name or number when she disappeared from the hotel room after the hottest fucking night of my life. Now I've had a taste of unicorn pussy—the sweetest, rarest of all pussy—and I need it again.

So what's an asshole to do?

I took this problem to the street. A missed connection gone viral.

And when I find her? I'm keeping her.
We can't wait to read this series! Be on the lookout for a dual review from both of the moms in January! For now, enjoy a sneak peek at Dirty Billionaire releasing tomorrow #hot

Holly
I'm cool. I've got this.
I can make it look like I know what the hell I'm doing.
One-night stand? No problem.
Sexy billionaire in a three-piece suit that's definitely worth more than my car? No big deal.
This is my pep talk as I walk in the direction of the elevator, the heat of his hand burning through my thin top like a brand.
I still can't believe the words that came out of my mouth. My gran would be rolling in her grave if she knew I picked up a man in a bar. Another wave of grief batters me, and I stumble.
He slows his stride and steadies me. "Second thoughts?"
His question isn't mocking; it's sincere. And in that moment, I have some sixth sense that says he's the right man to make me forget all the things that have been plaguing me.
I meet his eyes. "No. No second thoughts."
"Good."
The single word sends shivers of excitement flickering through me. This man calls to me on a very basic level. It makes no sense. I mean, since when did suit-wearing billionaires turn me on? Usually, outside of the odd drunk fan, it's the dorky guys who hit on me, and there are no sparks.
How can I be turned on knowing how absolutely and completely out of my league he is?

Enter to win a an ebook copy of winner's choice of one of the Beneath series books!!!
All you have to do is share this exclusive promo post on your social media account(s) (Facebook, Twitter, Instagram, etc). Sample message below:
#DirtyBillionaireExclusive #ComingDec8th #OneUnlikelyProposition #HOT #DontMissIt @Meghan_March @ShhMomsReading
Please make sure to post a link to your shares below. ONE winner will be chosen on Saturday December 6th at 10am EST! Good luck! And thank you for sharing!
♥ Read the Series ♥
Book 1 – Dirty Billionaire
Preorder Book 2 – Dirty Pleasures releasing 12/29
Preorder Book 3 – Dirty Together releasing 1/12