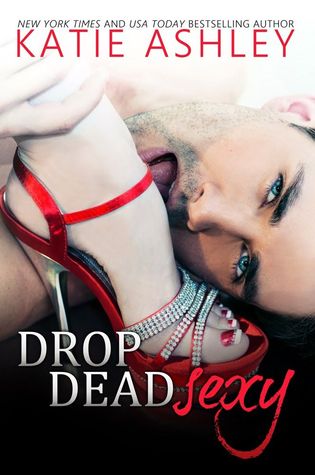 Drop Dead Sexy

by Katie Ashley
on March 15, 2016
Buy on Amazon
Goodreads

For Olivia Sullivan, love is more a four letter curse word than a sentiment. Growing up as the daughter of a small town mortician, guys didn't warm to the fact there were dead people in her house. At thirty, taking over the family business and becoming the town Coroner helped to cement her undateable status. Of course her past sex history didn't help matters either.

Attempt number one with her first love ended barely before it got started with a horrific latex allergy hospitalization. Attempt number two had him coming and then going with an undiagnosed heart condition. For the past three years, Olivia has closed up shop for fear of what might happen next in the bedroom.

After being forced to go single to her mother's lingerie shower, Olivia stumbles into an out of town bar with one intention: find an able bodied stud to go home with to end her losing sex streak. Enter Holden Caulfield Mains aka Catcher, who earned his nickname not just from the book he was named for, but for the fact he was sure to catch the attention any woman who came within a five mile radius. Waking up after a night of the most mind blowing sex she could have ever imagined, a horrified Olivia runs away thinking she's left Catcher behind.

When Olivia's small town is wracked by its first murder, she never could have imagined her one night stand would reappear in the form of the GBI's lead investigator. To her mortification, Catcher isn't ready to let go of their sizzling chemistry, and he doesn't understand the meaning of no. As things start to heat up between them, the body count starts to rise, and they're led on a wild goose chase from back woods mountain Nudist Colonies to altercations with the Dixie Mafia. Can Olivia and Catcher survive to solve the murder while also not succumbing to their explosive passion?
A new RomCom from Katie Ashley that we have heard great (and funny!) things about. Read an exclusive excerpt below and make sure to enter the giveaway for a chance to win a signed Katie Ashley paperback (WINNER'S CHOICE!) Good luck!

I'm pretty sure when Dante penned The Inferno with its nine levels of Hell, he couldn't fathom such horror as I currently found myself in. I'm sure if he could have, he would have deemed it necessary to devote another level just for me—my very own tenth circle of Hell. No, I wasn't frozen in a lake of ice or encapsulated in flaming tombs. Instead, I was being forced to watch my fifty-seven-year-old mother unwrap gifts of heat-activated body oils, edible underwear, and toys of the vibrating nature. No one, and I sure as hell mean no one, should ever have to imagine their mother using such things, least of all see them in her hands while she flushed crimson and giggled like a school girl.
"Won't Harry look sexy in these?" she asked, holding up a pair of bikini briefs in one hand while fanning herself with the other.
At that moment, I literally threw up in my mouth some of the decorative penis cake I had just eaten (Instead of the typical icing flower, I'd ingested part of the balls). The sugary bits of scrotum burned my throat. I realized then that regardless of how much of an asset he was to the funeral home, I was going to have to fire my future stepfather. There was simply no way in hell I could successfully embalm a body across from him while imagining him sporting red bikini briefs under his work apron. Come to think of it, I could never hand off an Anal/Vaginal plug to him without wondering if he had actually used the "Fun Factory Booty" butt plug my mother's oldest friend had given her.
Needing something to drink in more ways than one, I rose out of my seat and started for the kitchen. As much as I wanted to drown my sorrows, I had to pace myself if I was going to be able to go man-hunting after the shower. Not only that, but considering the cabin was out in East Bumblefuck, I needed to be on my game to find my way around.
I was splashing some vodka into my cranberry juice when I was unceremoniously knocked out of the way by my grandmother's cane. "Where the hell is my Fireball?" After she eyed the liquor bottles on the table, she huffed in frustration. "I guaran-damn-tee one of those alleged teetotaler Garrett girls stole it."
Yes, ladies and gentleman, that pint-sized, foul-mouthed, octogenarian with teased silver hair and a chaw of snuff in her jaw was none other than my grandmother, Pease. Her real name was Eloise but very few people actually called her that. She even insisted on her grandchildren calling her Pease, rather than your typical "grandma" or "nana." It was just one of the many aspects of vanity that she possessed. Being called "grandma" meant you were old, and that was the last thing she wanted to be.
You would never know it by looking at Pease, but back in the day, she'd actually been a debutante who had come out at the exclusive Piedmont Driving Club in Atlanta. Of course, considering she liked to do everything to excess, she hadn't really fit into the society circle.
When she set her sights on my grandfather, he never stood a chance. He was everything she wasn't—a quiet, reserved guy from a poor mountain family who was at college on a football scholarship. Of course, it didn't hurt that he looked like Paul Newman. She left her highfaluting family, as she called them, and never looked back, even when my grandfather blew out his knee and decided on becoming a mortician.
"I'm going to need another drink if I make it through the afternoon. I mean, having all this sex bullshit shoved in my face just makes me remember that it's been five years since I've gotten any."
"Granddaddy died fifteen years ago," I corrected.
Pease pursed her lips at me. "I'm well aware of that."
"Then that means…um, ew," I replied.
Pease rolled her eyes. "Honestly, Olivia, if you don't stop being a prude, you're never going to get rid of those cooter cobwebs of yours."

Enter to win a signed Katie Ashley book (winners choice – US ONLY)
All you have to do is share this excerpt on your social media account(s) (Facebook, Twitter, Instagram, etc). Sample message below:
 Happy Release #DropDeadSexy #ExcerptAndGiveaway @katieashleyluv @shhmomsreading
 Please make sure to post a link to your shares below. ONE winner will be chosen on Sunday March 20th at 10am EST! Good luck! And thank you for sharing!