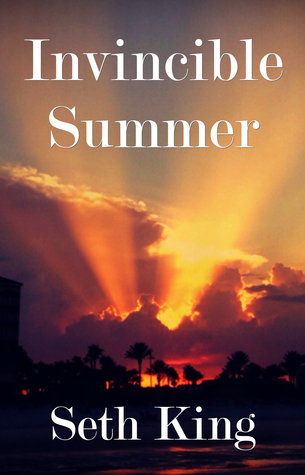 Invincible Summer

by Seth King
on November 17, 2015
Buy on Amazon
Goodreads

We all remember our first love, that one affair that took custody of your heart and never really let it go. Readers around the world were touched by The Summer Remains, a heartbreaking and inspiring novel about one of these romances – but Cooper Nichols, the enigmatic young man at the center of the novel, was largely silent on the matter. Until now.

"I just can't believe it's over between you guys," my best friend said as we walked down the pier. "You two were supposed to last forever."

I stared out at the blue sea. "Oh, trust me, it's not over. I am going to see that girl's face in every crowd I look into, forever. And maybe a few forevers after that…"

And so begins the tale of young writer Cooper Nichols. Left in ruins after a tragic summer romance, Cooper is afraid the sun may have set on him for good – until his mother discovers a copy of Cooper's journal he kept of that summer. As he reluctantly slips back into his own past in the pages of his notebook, Cooper starts to rethink everything he thought he knew about life, death, and all the love that can bloom in between – and what follows is a thrilling and breathtaking journey back to joy that will sink into you and stay there for the long haul.

Illuminating, romantic and soul-stirring, Invincible Summer is a testament to the miraculous power of love, in all its immortal glory and everlasting majesty. If you have ever found yourself drifting back to a long-lost romance during a quiet moment, prepare to be pulled under all over again.

"That one summer. Everyone's got one, that fleeting season that rearranged you and imprinted itself onto your soul forever. You were mine. I swear I'll never forget your hazel eyes. I swear I'll never forget those few months when the winds roared. I'll always think of you that way. And if you can, please come back to me. At the end of the day I'm just a boy who wants to get back to his first love, and I miss you. Just find a way back, please. I'll be waiting.
Until then, I've got nothing…"

We haven't had the official boyfriend/girlfriend talk yet. I don't want to come off like a psycho, but obviously I want to be her fucking boyfriend. She slips away sometimes, drifts off right in front of me, and I want to lock her down before she comes to her senses and realizes what a loser I am. I want her to be mine, and I want to be hers. But then that stupid app kept coming up in my mind. Was that what was bugging her – that we'd met on a hookup app? I knew she was probably talking to other guys on it. Or had been, at least. And the thought made me unspeakably jealous, filled me with a hot rage that licked at my chest and made me want to strap on a pair of my old boxing gloves and fight 'til the literal death. Weren't men supposed to have evolved past all this cavemen shit? Weren't we supposed to be well-dressed dandies sending emoji love poems from hipster coffee shops? I felt like a crazy person. And maybe I was crazy. Maybe I'd drifted through the safe fog of sanity all my life, and finally I was stepping into her torrid waters of beautiful madness. But if this was insanity, I wanted it forever.

Enter to win 1 E-book of Invincible Summer (open Internationally and to be sent on release day 11/17)
All you have to do is share this exclusive promo post on your social media account(s) (Facebook, Twitter, Instagram, etc). Sample message below:
#InvincibleSummer is #ComingNov17th #FirstLove #SummerRomance #EbookGiveaway @sethkingbooks @ShhMomsReading
Please make sure to post a link to your shares below. ONE winner will be chosen on Saturday November 14th at 10am EST! Good luck! And thank you for sharing!
♥READ THE SERIES♥
Book 1 – The Summer Remains
Book 1.5 – Autumn Rising