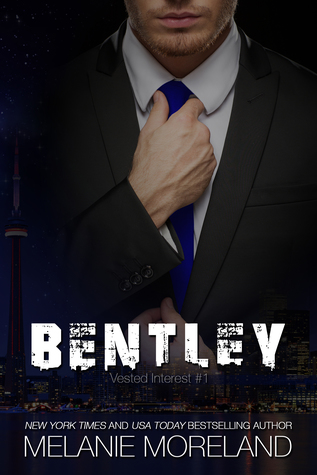 Bentley

by Melanie Moreland
on February 8, 2018
Buy on Amazon, Buy on B&N, Buy on iTunes, Buy on Kobo
Goodreads

Three young men meet in university and form a lifelong friendship.

Their pasts dictate the men they are, but their present shapes their future.

What happens when these men meet the one person they are destined to be with? Can they fight their feelings and walk away? Or will they each succumb and learn the sweet agony of love?

Bentley

The leader of the group. He is uptight, formal, and cold. Rigid and set in his ways, always following the same path. Until the day, he stumbles upon her.
Emmy.
She brings with her spontaneity and light. The world she lives in is so different from his, yet he cannot control the draw to her. Nor can he explain the way she makes him feel.
Happy.
Protective.
Loved.
Enjoy a sneak peek into Melanie Moreland's Bentley, book 1 in her new Vested Interest series. Make sure to enter the giveaway for a signed copy below. Good luck!

Twilight was descending, the room aglow as the sun set. We devoured her delicious pasta, drank the wine, and I had swum my laps as she finished her work. After swimming, I doffed my wet trunks, and wrapped a towel around my hips. I felt Emmy's gaze follow my every move, and knowing she was watching, I moved leisurely, my erection kicking up just thinking about her heated gaze. I poured myself a generous dollop of the brandy Greg had dropped off, and got a smaller one for her, thinking she might enjoy it. I handed her the glass and sat beside her.
"I've never had Courvoisier." She eyed the glass.
"You sip it," I explained. "Swirl the glass in your hand like this." I demonstrated. "The warmth of your skin heats the brandy and brings out its flavor. It's delicious."
She followed my instructions, then sipped at the amber liquid. She wrinkled her nose a bit, making me chuckle.
"Not to your taste, Freddy?"
"Maybe it's not warm enough." She wagged her fingers. "My hands are never very cooperative that way."
I wrapped my hand around hers, not surprised to feel the coolness of her skin. She was rarely warm to the touch, unless we were holding each other.
I offered her my glass. "Take a sip of mine. Roll it around on your tongue. Taste the difference."
She tasted my brandy and swallowed, her eyes closing in pleasure. "Oh, you're right. It's lovely when it's warmer." She ran her hand through her hair, bunching it with her fingers through a sigh. "Decadent."
She was sexy in her artless mannerisms and low voice. I hated the fact her hands were too cold to warm the liquid; although, I had no problem sharing my brandy with her. I glanced down at my glass as an idea sparked. I took her glass and poured the liquid into mine, swirling it around.
"The warmer it is, the better the flavor."
"I can't imagine how you can improve the flavor."
"I have an idea."
I shifted, turning to face her, and tugged her closer. Our eyes locked, hers widening as she felt the intensity of my gaze and the way the air around us shifted. I stared at her as I lifted the glass and filled my mouth with the amber liquid. Leaning over her, I pressed my lips to hers, smiling as she opened for me, allowing the warm liquid to pass into her mouth. She swallowed deeply, a groan low in her throat as I pressed my tongue to hers, savoring the taste of the brandy mixed with her flavor. She slipped her hands up my shoulders, her fingers moving restlessly on the nape of my neck, playing with my hair, making me shiver. Her touch was gentle and light. It always stirred such emotion in me. I deepened the kiss, holding her tight and devouring her mouth. She whimpered, the sound muffled and needy.
In seconds, she was under me on the sofa. I pushed away her sweater and yanked down her yoga pants, covering her with my body. She tore off my towel and our bare skin slid together, warming us both.
She wrapped her legs around my hips, cradling me with her body. I groaned at how ready she was for me, the heat of her enveloping my aching cock. I drew a plump nipple into my mouth, teasing it with my tongue until it was hard and glistening. I ran my lips to her other breast, repeating the action. She arched her back bringing her breasts closer to my mouth and gasped my name. I teased and nipped at her flesh, then buried my hands into her hair and captured her mouth again. Moments passed of only her taste. The feel of her lips, the silkiness of her hair gripped in my hands. The exquisite torture of her pussy as it slid against my cock, coating me with her desire.
"Every time," I moaned against her skin, "every time with you is so amazing."
Her feet pressed into my ass. "Inside me, Bentley. Now."
I sank deep, the sensation of being bare inside her still new and intoxicating. The heat and wet of her surrounding me, pulling me in, milking my cock as I moved was like nothing I had ever experienced. I braced my arms by her head, driving into her as desire took over. My hips pounded into hers, our sweat-soaked skin sliding together. She met my thrusts, crying out in her passion. I buried my face into her neck, breathing in her unique fragrance. My balls began to tighten and I turned my face to her ear, sliding my tongue around the sensitive flesh.
"Come with me, baby. I need to feel you coming around me."
She arched, crying out my name. My release followed as I emptied inside her, groaning out in pleasure. I collapsed, rolling to the side, dragging her with me. I pinned her between the back of the sofa and my body, knowing she would need the heat. I snagged the blanket and draped it over her to be sure.
She sighed in my arms, nestling her head on my chest.
"You were right."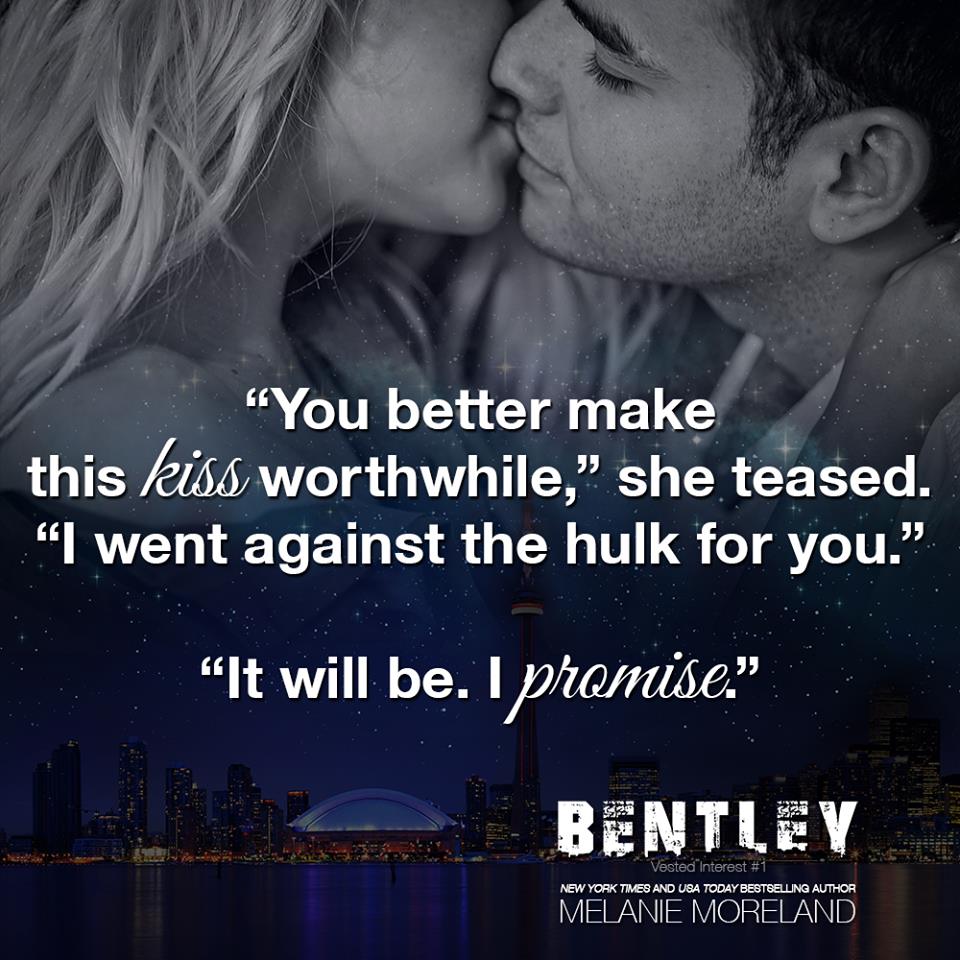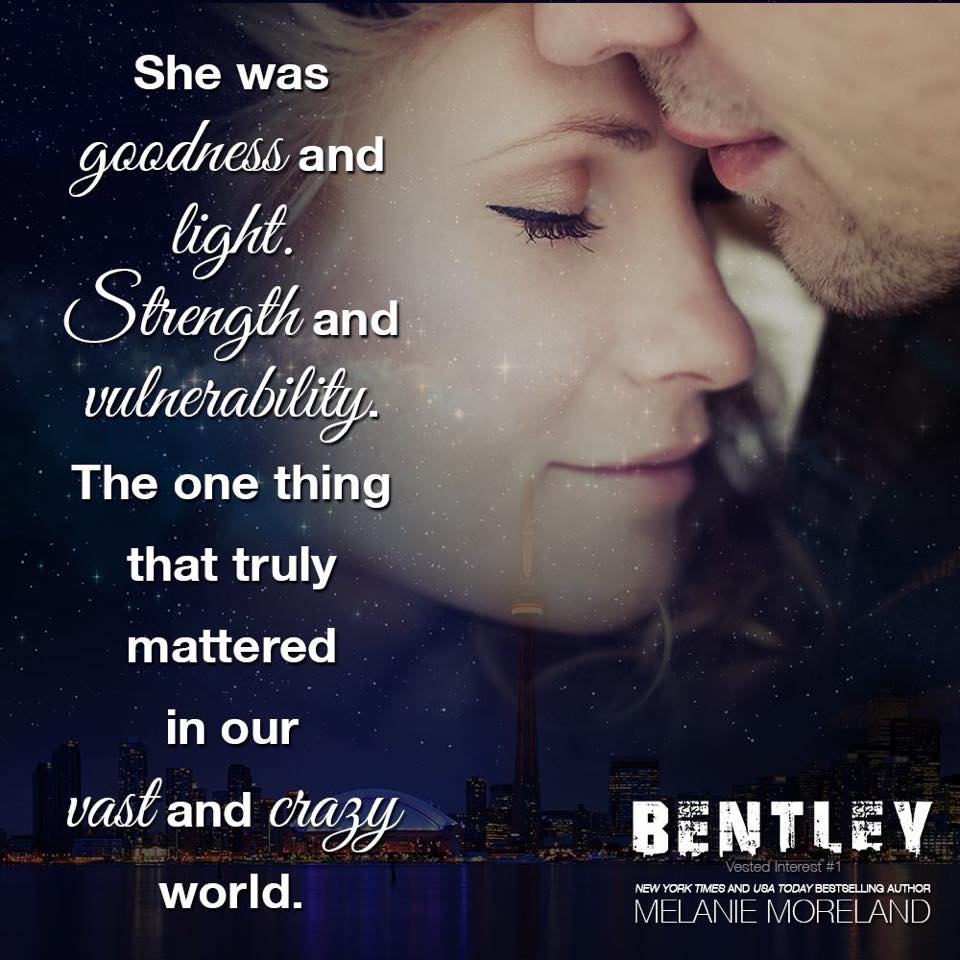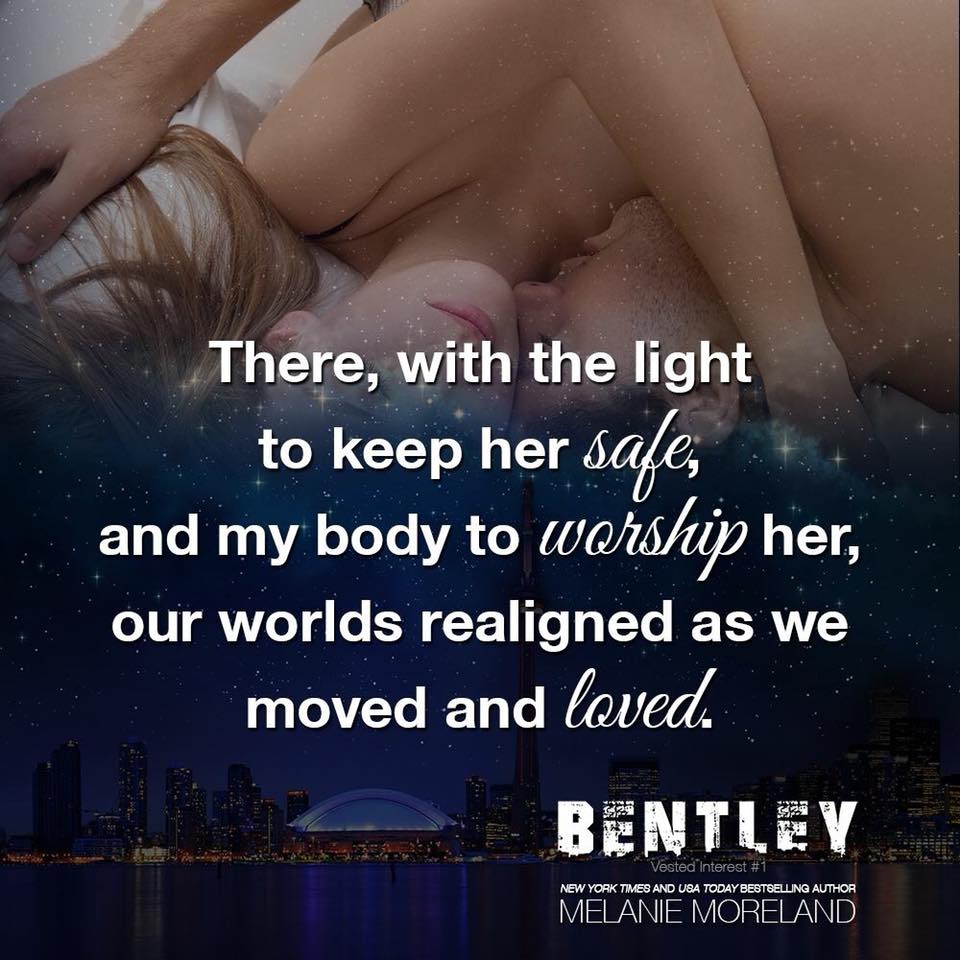 *Giveaway now over – congrats to Kim!*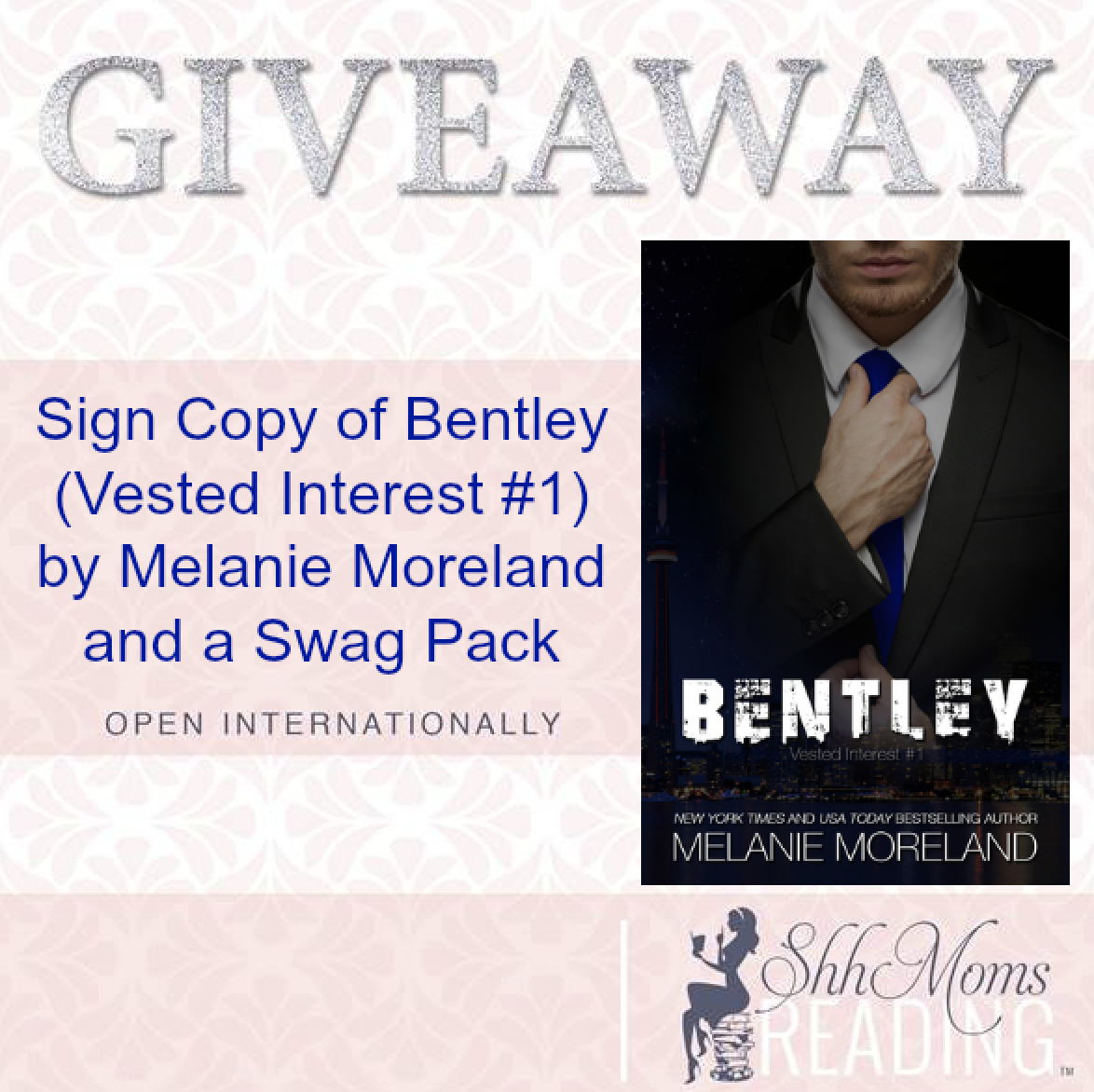 Enter to win a signed paperback of Bentley! (Open International)
All you have to do is share the excerpt and giveaway of Bentley on your social media (Facebook, Twitter, Instagram). Sample message below:
I entered the Bentley #Giveaway @shhmomsreading @MorelandMelanie #ComeUndone #Bentley #VestedInterest #ComingFeb8th
Please make sure to post a link to your shares below (the more you do the more chances to win!). One winner will be chosen Wednesday, February 7th. Thank you for sharing!