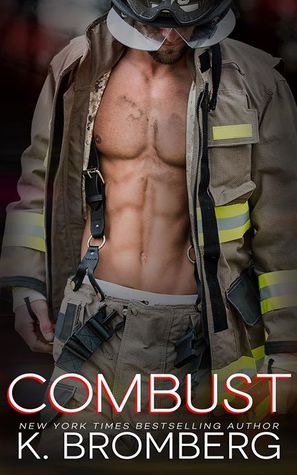 Combust

by K. Bromberg
on January 29, 2018
Buy on Amazon, Buy on B&N, Buy on iTunes, Buy on Kobo
Goodreads

From New York Times Bestselling author, K. Bromberg, comes the second standalone book in the Everyday Heroes series. Just how hot will firefighter Grady Malone turn up the heat?

Songwriter Dylan McCoy has been burned.

By her boyfriend she found in her bed . . . with someone else.

By the contract she signed that obligates her to work with him until the songs for his new album are complete.

By her agent when she asked Dylan to keep their breakup on the down-low.

When she finds herself in Sunnyville, she refuses to let her new roommate burn her too. Still . . . a rebound has never looked so good.

That's her first thought when she sees firefighter Grady Malone.
Sexy. Charismatic. Unapologetic. He's a man who carries his own scars—the ones on his back, the survivor's guilt on his soul, and the fear in his heart.

When an unexpected visitor puts their roommate status to the test, will their undeniable attraction burn out, or will they both take a chance and play with fire?
The Moms are SO EXCITED for K. Bromberg's new book COMBUST! Be on the lookout for our dual review coming soon. Enjoy a sneak peek into the book and make sure to enter the giveaway below!!!

And who knows how much time passes before I look up from my guitar, lyrics on my lips, and find Grady's eyes open and watching me. My words falter, but he shakes his head and tells me to continue. And so I sing and play and keep my gaze locked on his.
"Your tongue on my skin,
My head begins to spin.
Your heart in my hand,
Falling like endless quicksand.
Words are spun and lies are told,
But in the end it's you I hold."
The connection causes that ache in my lower belly to simmer to life. It's sensual. It's intimate. It's as if he's hearing the very inner workings of my mind and heart and soul, and as much as I tell myself I need to look away, I can't.
"That one," he murmurs when I finish. "I like that verse better."
My pulse pounds in my ears. How can he hear anything when my heart is beating so loudly I can't even hear myself?
"Why?"
"Because love is rarely pretty. It's messy. It's complicated. It's often ugly, but that's how you know when it's right. Pretty doesn't always last. It's the things you have to work at that make the reward that much sweeter."
"And you've been in love and know this firsthand?"
He falls silent but never averts his gaze. "I've loved a lot of things in my life. A lot of people. But I can't say that I've ever been so head over heels in love with someone that I'd want to stay with them no matter the cost."
"No matter the cost?" There's that phrase again. "That's your criteria?"
"No matter the cost." He nods, and our eyes hold across the dimly lit room as seconds tick by. "Unfortunately, when it comes to me, the cost is too great to ask someone to pay to be with me."
"What do you mean by that?"
The muscle in his jaw pulses as he chews over the answer I can sense he knows but isn't going to verbalize. Then, without warning, he shifts and sits beside me. "Show me how you do it, will you?"
And once again, he changes the topic.
"Show you how to do what?" I ask to buy time and make my heart settle since it has decided to use my ribs as a bounce house.
"Play. Write. I don't know. Just show me how you work. I'm interested."
I laugh nervously as his arm brushes against mine and he takes my guitar from my hands. "It takes an awful lot more than me telling you were to press the strings to make it work."
"I'm good at manipulating things to make them sing my praises, Dylan."
My breath shutters. I hope he doesn't notice, because I think he just made an innuendo I really don't want to touch given how close we are and how much closer we're about to be.
"So . . . hold it like this," I say as I avoid responding and show him how to hold the guitar. After a few instructions, I realize this is nearly impossible and move behind him so my arms wrap around him from behind and my hands can guide his.
He laughs as he messes the chords up again and again, but I just keep my hands where they are and guide his.
"You need to be patient," I tease.
"Patience is not something I'm good at." He groans in frustration as the notes fall flat again. "You need to sing."
"Is that the problem?" I laugh.
"Yes, if you sing, it will mask my horrible guitar playing skills."
I press my forehead against his back as I laugh some more before I agree. "Okay. Hands in the ready position." I guide him back to them when he doesn't get it right the first time. "Your tongue on my skin . . ."
And we play through the lyrics I have been working on. It isn't pretty but it's the break in concentration I didn't realize I needed. We end with a laugh, and just when I shift to the side of him, he turns to face me.
It's a sudden movement that neither of us expects and leaves us closer than we should have been. So close, I can feel the heat of his breath feather against my lips.
Everything zooms in and out of focus in those first few seconds. The hitch of his breath. The scent of his soap. The zap of his touch where his fingers rest on my forearm. The firestorm of want burning through me, which is nothing at all like I felt with Wes Winters last week.
There can only be distance.
There can only be adjusting to a life without Jett.
There can only be not wanting this.
And yet, he's right here. A whisper away. With piercing eyes and full lips and that body that begs to be touched. Explored. Tasted.
Preorder Combust TODAY!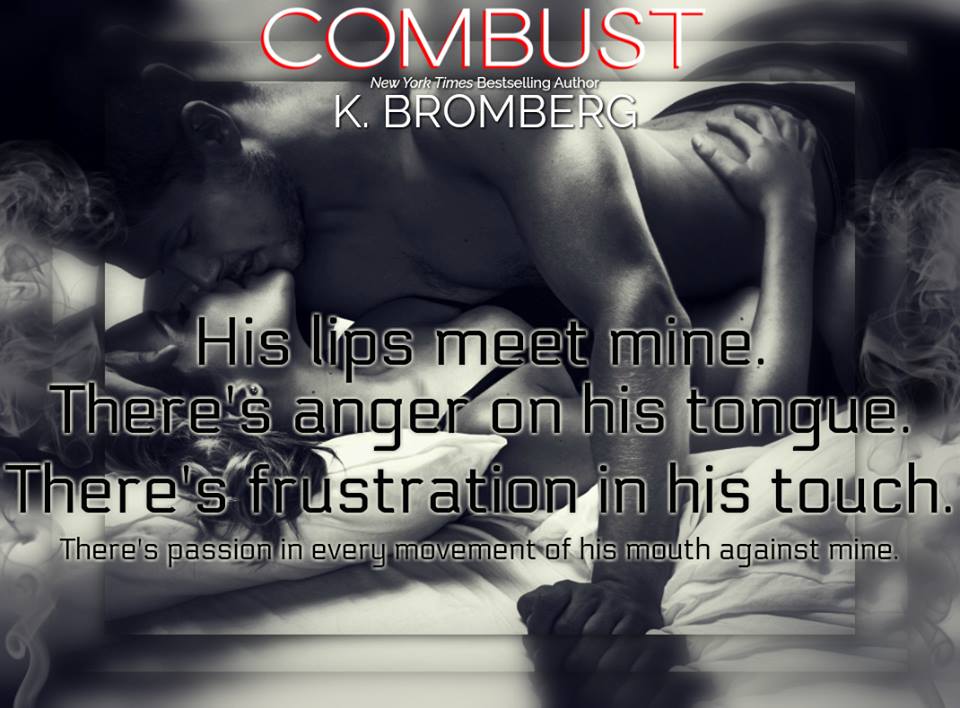 *Giveaway now over – congrats to Karen W*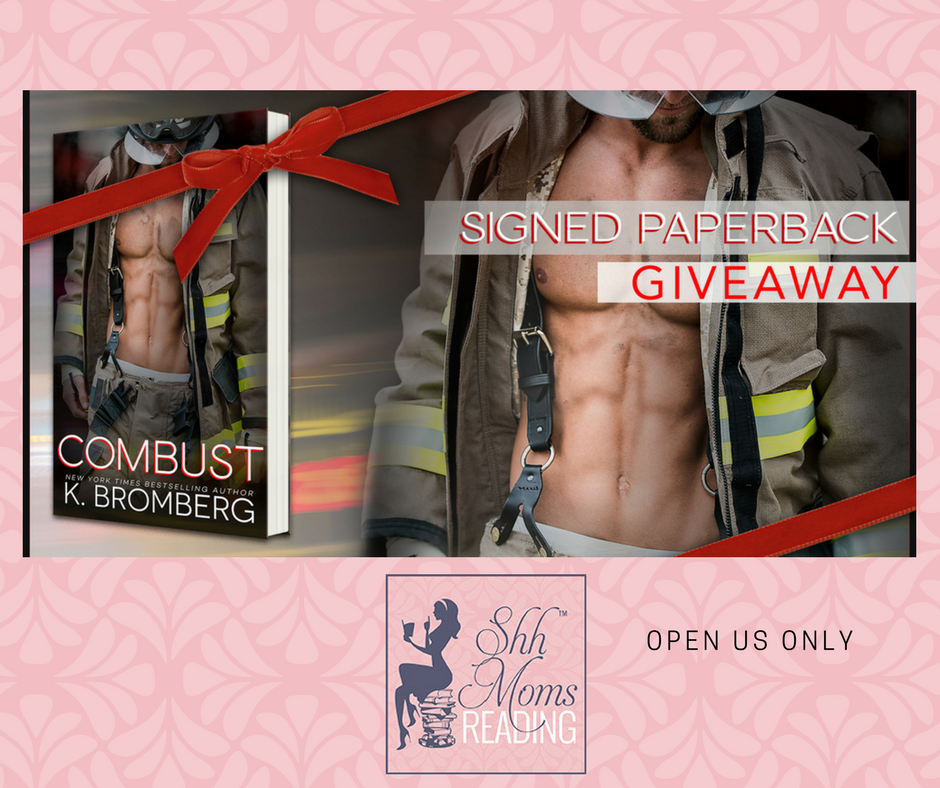 Enter to win a signed paperback of COMBUST! (Open US only)
All you have to do is share the excerpt and giveaway of DEEP INSIDE on your social media (Facebook, Twitter, Instagram). Sample message below:
I entered the Combust #Giveaway @shhmomsreading @KBrombergDriven #PlayWithFire #Combust #EverydayHeroes #ComingJan29th
Please make sure to post a link to your shares below (the more you do the more chances to win!). One winner will be chosen Saturday, January 27th. Thank you for sharing!