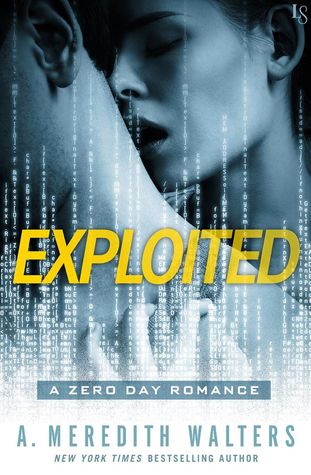 Exploited

by A. Meredith Walters
on July 25, 2017
Pages: 288
Buy on Amazon, Buy on B&N, Buy on iTunes, Buy on Kobo
Goodreads

In this pulse-pounding novel from the bestselling author of Butterfly Dreams, a vigilante hacker plays a seductive game with the agent who's chasing her online—and sharing her bed in real life.

At first glance, I'm nothing out of the ordinary. I am a daughter. A sister. A friend. When you look at me you won't see anything that warrants suspicion. I don't look like a criminal.

My name is Hannah Whalen, but most people know me as freed0mov3rdr1v3, or "Freedom Overdrive"—one of the world's most prolific and notorious hacktivists. My goal—my purpose—is to shed light on the evil that lurks behind the corporate and government lies we have been force-fed for too long.

My story begins with the best possible intention. Devoting my life to exposing the corrupt. The dishonest. The unethical. For that, they label me a cyber-terrorist. Wanted by the FBI, I've always been one step ahead.

Until I fell in love.

Because I'm sleeping with the man who's hunting me. And he has no idea that I am his prey. Now I have to decide what's more important: my freedom or my heart.
Enjoy a sneak peek into A. Meredith Walter's EXPLOITED and make sure to enter the giveaway below for a chance to win an ebook copy of this book! Exploited is #ComingJuly25th


Mason leaned down and kissed me lightly on the lips. My mouth was rigid and unyielding, causing him to frown.
I was uptight. Stressed. I was good at containing my emotions. But they were leaking out all over the place.
I felt awful. Worse than awful. And that didn't sit well with me.
His eyes were piercing. Direct. I began to wonder how much he actually saw.
Was he looking at the illusion I had created?
Or was he digging his way to the truth?
To the real Hannah?
I felt ill. My belly clenched and my hands became clammy.
Could Mason know? Was he playing with me just as I was playing with him?
He was an FBI agent, after all.
His walls had been remarkably easy to scale. Could a man trained to find criminals really not know that the
woman he touched was one?
I stared up at the man whose life I had infiltrated. His expression was concerned, his eyes soft. I couldn't detect any duplicity. He appeared to be someone who cared. A man possibly falling.
It upset me.
Because of the secrets.
They can weigh a heart down.
My heart could have nothing to do with this.
I couldn't afford it.
But it did. I couldn't stop the way it pounded for a man who shouldn't have mattered.
But in spite of this, I had to make sure he didn't suspect me. That his trail was stone cold.
It was his heart or my freedom.
Choosing one over the other shouldn't have been so hard.
I slowly let my shoulders sag. I unclenched my fists.
I had a part to play. Appearances were important.
I was the romantic interest of the unsuspecting FBI agent. That was my role.
Why was I starting to hate the mask so damn much?
He took my hand and gave it a squeeze, regarding me steadily. "You okay?"
Calm. Even. Give away nothing.
Why did I want, if only for a moment, to give him something more?
"It was a long day. I'm fine now that I'm here," I said.
He ran his hand through my hair. "You don't have to pretend. I know we haven't known each other that long, but you can trust me."
Trust.
Why did that sound like such a dirty word?
He wants me to trust him.
His offer was without guile. Without pretext.
I could see that.
The twinge of guilt was back. And it was uncomfortable.
"Thanks, but I'm fine." I gave him a weak smile.
"Why do I feel like you're not being truthful?" Mason asked, his fingers on the nape of my neck.
My throat felt tight.
"I'm being truthful," I protested, sounding defensive.
Chill out! I scolded myself.
"I'm just saying that you can talk to me. I've been told I'm a pretty good listener." He gave me his sexiest grin and I felt my stomach tumble and flip.
I was off balance. The conversation with Rose had unglued the tiny little pieces I was trying to hold in place.
And now, with Mason looking at me, his blue, blue eyes seeing way too much, I was unnerved.
Trust me.
I swallowed thickly, my mouth painfully dry.
This is going to fall apart.