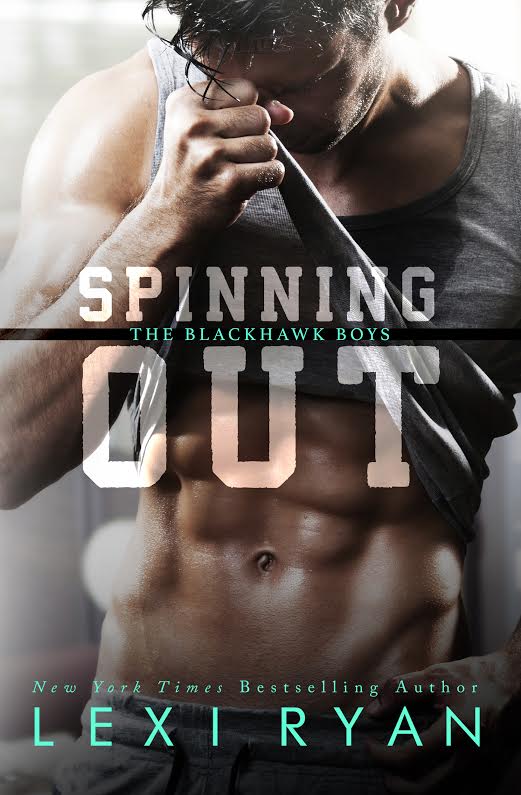 Spinning Out

by Lexi Ryan
on May 3, 2016
Buy on Amazon, Buy on iTunes
Goodreads

Once, the only thing that mattered to me was football—training, playing, and earning my place on the best team at every level. I had it all, and I threw it away with a semester of drugs, alcohol, and pissing off anyone who tried to stop me. Now I'm suspended from the team, on house arrest, and forced to spend six months at home to get my shit together. The cherry on top of my fuckup sundae? Sleeping in the room next to mine is my best friend's girl, Mia Mendez—the only woman I've ever loved and a reminder of everything I regret.

I'm not sure if having Mia so close will be heaven or hell. She's off-limits—and not just because she's working for my dad. Her heart belongs to someone else. But since the accident that killed her brother and changed everything, she walks around like a zombie, shutting out her friends and ignoring her dreams. We're both broken, numb, and stuck in limbo.

Until I break my own rules and touch her.
Until she saves me from my nightmares by climbing into my bed.
Until the only thing I want more than having Mia for myself is to protect her from the truth.

I can't rewrite the past, but I refuse to leave her heart in the hands of fate. For this girl, I'd climb into the sky and rearrange the stars.

THE BLACKHAWK BOYS, an edgy, sexy sports romance series from New York Times bestseller Lexi Ryan. Football. Secrets. Lies. Passion. These boys don't play fair. Which Blackhawk Boy will steal your heart?
Book 1 - SPINNING OUT - Coming May 3rd (Arrow's story)
Book 2 - RUSHING IN - Coming late summer 2016 (Christopher's story)
Book 3 - GOING UNDER - Coming late 2016 (Sebastian's story)
Enjoy an exclusive excerpt from Spinning Out scheduled for release on May 3rd. Make sure to enter the giveaway below for a chance to win a $10 Amazon Gift Card! Good luck!
Christine's early mini review:
A heartbreaking, touching story of grief, pain, love, and healing. Spinning Out is filled with angst and heartwarming moments that gripped me from page one. This book will hold you captive in its pages until the very end and will leave you wanting more from The Blackhawk Boys – Lexi Ryan is amazing!
Preorder

The inside of the house is like a different world. Cold to the hot, quiet to the loud. With the boys here, everything turns chaotic and messy out back, but in here everything is white and sterile. The inside of a tomb.
Mia's sitting at the kitchen table with a book, the wine glasses she just washed air-drying in the dish drain. She's in a short pink sundress that hides her curves but shows all that caramel skin of her long legs, and her bare feet are propped up on the chair beside her.
"Hey," I say softly, but she still jumps and looks up at me with wide eyes.
She puts her book down. "Do you guys need something? I didn't want to be in the way."
"We need you to come outside."
"To cook the food or—"
"To be with your friends."
"No thanks," she says, picking her book back up.
"Mia, Katie's not even here right now. You can take an hour off to talk to other people your age."
"No," she says without looking up.
I tear the book from her hands and want to rip it in half when I realize what it is. I Can Hear You: One Man Wakes From PVS and Shocks the World. "What is this shit?"
"It's called a book." She avoids my gaze and reaches to retrieve it.
I hold it out of her reach and skim the description on the back cover before turning back to her. "Is this what you're waiting for? You're just going to put your life on hold and wait in case he snaps out of it one day? Haven't they told you how it works?" I shake the book. "This isn't what happens. This was a fluke. Brogan isn't coming back."
She keeps her gaze cast on the floor, and even though I know I'm right, I wish she'd argue with me, scream at me for giving up on him, or yell at me for not believing in miracles. Something. Anything to prove to me that she isn't phoning in her life.
"You want this book back?" I ask, tucking it into the back of my pants.
"Yes, please."
"It's yours. All you have to do is stop ignoring the rest of the world and come outside."
She springs from the chair, eyes wide, hands on hips. "You don't own me, Arrow Woodison."
I almost fucking smile. It feels so good to get a rise out of her, to see the anger flicker in her eyes and tinge her cheeks pink. "I never said I did."
"Then leave me alone."
"I'd be happy to if you ever did anything but work and study."
"It's none of your business how I live my life."
I step forward, stalking toward her, but with each step I take, she takes one in reverse. "I don't care how you live your life. I only want you to live it, not hide from it."
Her back hits the wall and she lifts her eyes to mine, her mouth set in a stubborn line. "I'm not hiding from anything."
I take a final step, and her breasts brush my chest. Any closer, and her whole body would be pressed into mine. My mouth goes dry, and my nerve endings seem stretched to their limits as they ache for contact that isn't quite there. "You are. You're hiding from everything. From everyone. Brogan's gone, and you want him back. I get that. But you're here. Live your life, Mia." My voice trembles slightly on the words. Does she notice? Does she care?
"What life?" she whispers.
I want to kiss her, suck her bottom lip into my mouth and bite down until she feels the pain and pleasure of being flesh and blood. I want to take her upstairs and strip her, put my mouth to her most sensitive bits of flesh until she screams with life. "You didn't die that night."
She swallows. "No. Death would have been easier."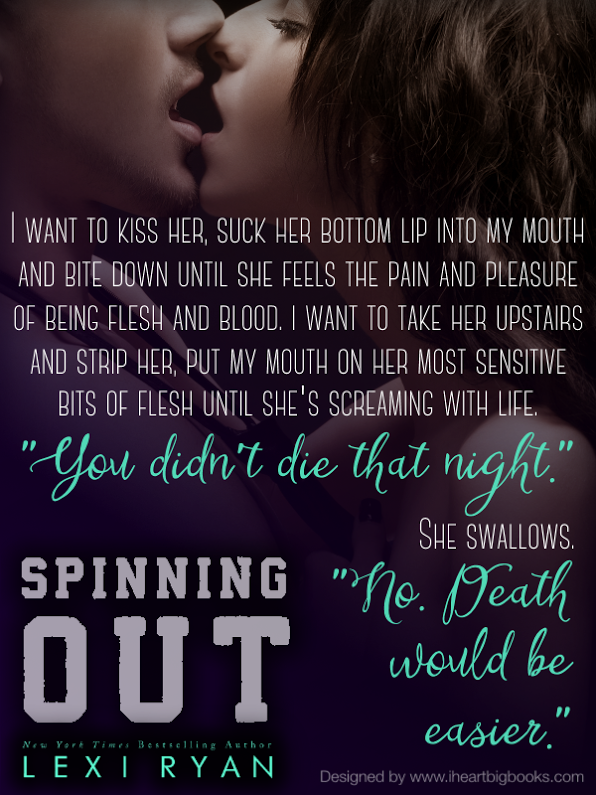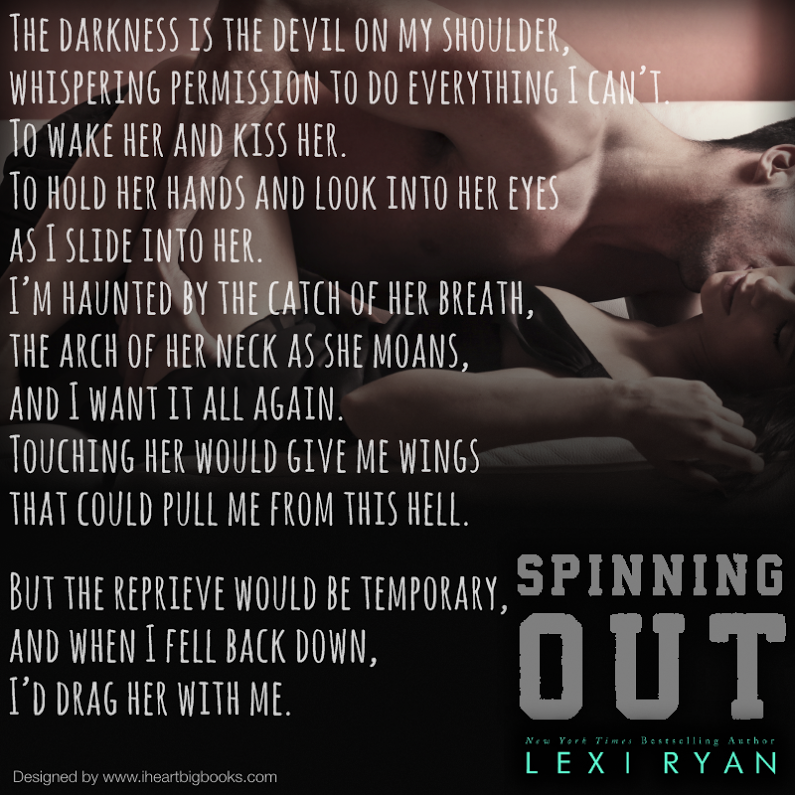 *GIVEAWAY NOW OVER – CONGRATS TO DEE SWAN*
Enter to win a $10 Amazon Gift Card!
All you have to do is share this exclusive on your social media account(s) (Facebook, Twitter, Instagram, etc). Sample message below:
 Spinning Out releases on May 3rd #ExclusiveAndGiveaway #HeartAndFate #BlackhawkBoys @writerlexiryan @shhmomsreading
 Please make sure to post a link to your shares below. ONE winner will be chosen Monday May 2nd. Thank you for sharing!