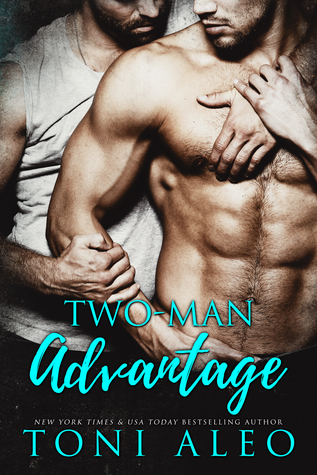 Two Man Advantage

by Toni Aleo
on November 14, 2017
Buy on Amazon, Buy on B&N, Buy on iTunes, Buy on Kobo
Goodreads

Wells Lemiere knew the moment he saw Matty Haverbrooke, he had to have him. Matty was quiet, he was talented, he was beautiful, and Wells couldn't stay away.

As the youngest and most talented son of the NHL Commissioner, Matty had found the burden of family expectations almost too heavy to carry on even his broad shoulders. He had no intention of getting involved in a relationship with Wells. But the heart he'd given up for dead had other ideas.

Their affair was intense and overwhelming, but when Matty couldn't bring himself to come out and admit he wanted a public future with the man he loved, Wells had no choice but to honor his vow to live openly…and leave Matty behind.

But then he learns Wells is marrying another, and Matty knows he can't let that happen. Can he throw down his gloves and embrace his future with both hands? Or will he pull the door to his closet shut once more?
Enjoy a sneak peek into TWO MAN ADVANTAGE by Toni Aleo below and make sure to enter the signed paperback giveaway – GOOD LUCK!

Wren: Always. So how is everything? Still dreamy for Matty? Is Matty his real name? Is it really Matthew? Or Matt?
Wells: lol. It's Matthew.
Wren: I'm gonna call him that. He isn't ten.
Wells chuckled as he lay back in the bed, holding his phone as he rested his elbows on the bed.
Wells: He prefers Matty, but I'm sure he won't care.
Wren: Good. So things are good?
He smiled.
Wells: We're great. I'm really happy.
Wren: Fantastic. Has he come out to his family yet?
Wells: Not yet. His sister is first.
Wren: Should do it all at once. Like a family meeting, and boom, Matthew's gay, and he's in a relationship with a grandpa.
Wells laughed, shaking the bed, at which Matty groaned. "Stop watching YouTube and go to sleep. I wanna get up early to go cave dwelling. You promised."
"Yeah, yeah," Wells said, shaking his head as he went back to his phone.
Wells: I'm only eleven years older than him, hardly a grandpa.
Wren: Eh. He's a baby.
Wells: He is. But I love him.
Wren: I know.
Swallowing hard, he stared at Wren's two words. I. Know. It was obvious that he loved Matty. Hell, everyone knew, but no one on Matty's side of the family knew. How would they react not only to the news, but also to Wells? Insecurities burned deep inside of him as he traced his phone with his thumb.
Wren: They'll love you.
Wren: Once they get past the part where he's gay.
Man, he needed that to happen.
Wells: I hope so.
Wren: They will, how could they not? You're awesome.
Wells: I'm so glad you've finally realized that. Took forever.
Wren: And that's the last time I try to be nice.
Wells: lol. Sorry. Thank you.
Wren: Anyway, so the real reason I was texting you was because I wanted to run something by you.
Wells: Yes, you can name the baby after me.
Wren: Lol. Jensen already said no.
Wells: He's such a buzzkill.
Wren: Haha. But, Jensen surprised me with a trip to Cancun, and I wanted us all to go.
Wells: Us who? And shouldn't this be just you two?
Wren: No, it's a private beach with three huts, so me and Jensen, Matty and you, and then Brie could have the last one.
Wells's brows pulled together. She was forgetting someone.
Wells: Vaughn?
Wren: Just Brie.
Wells: Jesus, what did he do?
Wren: That asshole told Brie she wouldn't get big like me because she wasn't fat before that.
Wells grimaced.
Wells: He said it just like that? Jensen didn't deck him?
Wren: Basically! Vaughn said she didn't have the build like me.
Rolling his eyes, Wells chuckled. Brie was itty bitty. Wren wasn't. It was the truth—not to be mean he was sure—but Wren was emotional.
Wells: I'm sure he didn't mean it hurtfully.
Wren: I hate him.
Wells: So he can come but not talk to you?
Wren: Yes.

*Giveaway now over – congrats to Mags Naylor*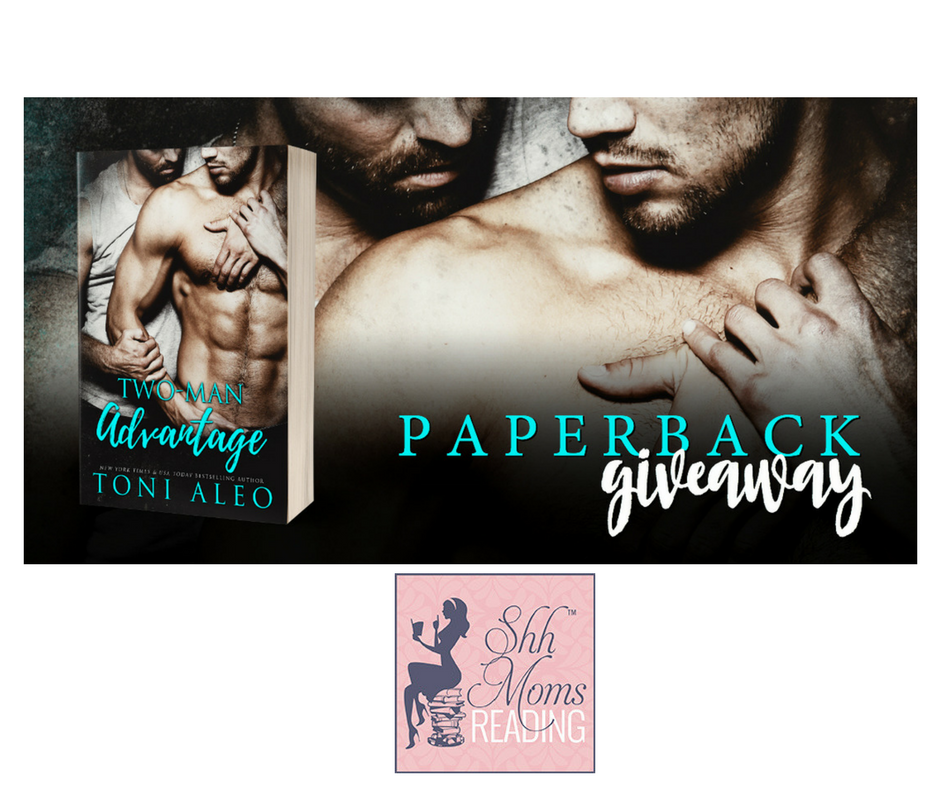 Enter to win a signed paperback of TWO MAN ADVANTAGE!
All you have to do is share the excerpt and giveaway of Two Man Advantage on your social media (Facebook, Twitter, Instagram). Sample message below:
I entered the Two Man Advantage #Giveaway #hockeylove #hot @shhmomsreading @ToniAleo1
Please make sure to post a link to your shares below (the more you do the more chances to win!). One winner will be chosen Wednesday, November 15th. Thank you for sharing!