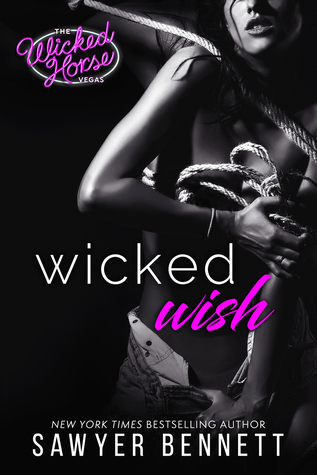 Wicked Wish

by Sawyer Bennett
on August 11, 2017
Buy on Amazon, Buy on B&N, Buy on iTunes, Buy on Kobo
Goodreads

Jorinda Pearce thought she did everything right – graduated from college, married her long-time sweetheart, established a career. But what does she have to show for it now? A degree she doesn't use, a job she hates, and an ex-husband that broke her heart.

Looking for a long overdue adventure, Jorie takes a walk on the wild side and attends a masquerade event at The Wicked Horse Vegas. It's exactly the escape she's looking for, and even better, she can explore anonymously. Drawn to the man masked in black leather with the body of a god, Jorie finds the greatest pleasures of her life at the hands of a stranger.

Walsh Brooks is the most sought after man in The Wicked Horse. Sex is nothing but a game to him and he's the type that will always leave at the end of the night without looking back. Unfortunately for Walsh, there's no way he can walk away from the mysterious green-eyed beauty behind the mask of sapphire feathers, because he knows exactly who she is.

Jorie is his best friend's little sister and there's not another woman in the world that's more off limits.
Enjoy an exclusive sneak peek into WICKED WISH by Sawyer Bennett below and make sure to enter the giveaway for a signed paperback of this book! Good luck!

Before I know what's happening, he's got his huge hand clamped around my upper arm and pulling me to the door. He pauses just long enough to bend over and swipe my panties off the ground, shoving them in his front pocket.
I struggle to keep up with his long legs, which is difficult given the four-inch heels Elena talked me into wearing. My legs are weak, and I'm so confused over the fact I can feel little tremors of pleasure still pulsing between my legs.
It's in vain when I try to jerk my arm free, and fear fills me when he drags me out of the glassed room, out of The Silo, down another hall that says Private, and into a locker room I suspect is for employees.
"Goddamn it, Jorie," the man says as he turns me to face him while still gripping me tightly.
"Ow, you asshole," I grit out as I successfully jerk my arm away from him and rub it. "What the hell?"
He just stares at me with hard, flat eyes.
"Wait," I say as a shiver runs up my spine that has nothing to do with a residual orgasm and everything to do with apprehension. "Did you just call me Jorie?"
His shoulders drop almost in defeat and his head sags so he's looking at the floor. Almost wearily, he loosens a tie at the back and pulls the mask over his head. When he looks back at me, my legs go numb.
I stumble back two feet, my ass coming up hard against a locker that rattles. "No."
Walsh Brooks stares at me without an ounce of contrition for what he just did to me, but he's clearly distressed if the darkness in his eyes is any indication.
"What in the fuck are you doing here?" he growls, and his voice is different from what I'd heard in that glass room. It hits me all at once that the voice I'd heard in there was Walsh Brooks amped up on kink and lust, which was why his words came out all gravely and loaded with desire, changing it so much I hadn't heard anything that resembled the man I knew.
I haven't seen him in almost ten years, and so much has changed about him. Gone is the shaven, clean-cut executive. Before me stands a man who looks like a rock god. But he's not that either. He's very much a businessman who owns a casino here in Vegas. He's a millionaire probably a million times over.
But his hair is just down to his shoulders, dark as sin and slightly wavy as it falls back from a middle part. His fawn-brown eyes are the same, straight nose and cut cheekbones, but he's wearing a trimmed beard that runs just along his jawline and it's so damn sexy.
Then again… Walsh was always the sexiest man I'd ever seen regardless of how he wore his hair. I'd crushed on him hard in my teens, and even after I turned eighteen and headed to Los Angeles, I tended to compare men I'd dated and slept with to him.
Except when I married Vince. When I did that, Vince was it for me, and I didn't think about Walsh in any fashion other than being a family friend.
A dear, devoted friend with whom I have no business doing what I just did.
I just stare into his hard eyes, trying to reconcile that I just had sex with Walsh Brooks, best friend to my brother Micah, and my onetime hero when I needed one the most.
No, not just sex. Fabulous, dirty, kinky, unrestrained, mind-blowing—
"Answer me, damn it."
I jump in fright over the edge in his voice. "I don't know," I say lamely.
This seems to piss Walsh off as in two strides, he's hulking over me, his bulky frame so intimidating I find myself shrinking away from him.
"Don't act scared of me, Jorie," he snaps as he places his palms on the locker beside my head. "I was just balls deep inside of you, and you've known me your entire life. But I want to know… why the fuck was I just balls deep inside of you?"
I'm going to hell. The vivid reminder of what we just did causes a surge of wetness between my legs. It's not quite a moan that escapes my mouth, but it must sound like it because I swear flames leap in Walsh's eyes.
"You want it again, don't you?" he murmurs as he studies me closely.
I shake my head in a bald-faced lie.
"Micah's baby sister, all grown up, and I'm betting drenched for it again," he mutters.

*Giveaway now over – congrats to Kim Perry!*
Enter to win a signed copy of WICKED WISH (open U.S. ONLY)
All you have to do is (any of the following):
➡ share this post and giveaway on your social media account(s) (Facebook, Twitter, Instagram, etc). Sample message below:
Wicked Wish is #ComingAug11th #ExcerptAndGiveaway #WickedHorseClubVegas @shhmomsreading @bennettbooks
➡ Add Wicked Wish onto your GR TBR https://www.goodreads.com/book/show/34537418-wicked-wish
➡ Stop by Sawyer's FB page, give her a like and let her know Shh Moms Reading sent you and how much you are looking forward to reading Wicked Wish https://www.facebook.com/bennettbooks/
➡ If you read book 1 in this series, WICKED FAVOR share your review below!
 Please make sure to post a link to your shares below (the more you do the more chances to win!). One winner will be chosen Wednesday, August 16th. Thank you for sharing!