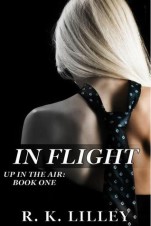 Here is an excerpt from In Flight from James' POV – part 2 will be posted tomorrow at Becca the Bibliophile's blog tour spot here – ENJOY!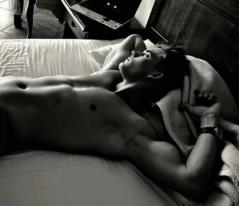 Wake Up Call: Part 1
James
I slid my arm out from under her head, very carefully replacing it with a pillow.  I pulled the thin blanket up to her shoulders, and got dressed swiftly.  It had been a long night, and I hadn't slept, but I wouldn't have done anything differently.  

It was four a.m.  I had just enough time to get home, and get dressed before she woke up. 

I sent Clark a text as I slipped out of her room, snagging her key card. 

He was waiting at the curb, on top of things as always. 

"The apartment," I told him as I slid into the backseat.  "And wait at the curb.  I'll be in and out." 

I saw his brow raise in the rearview as he pulled the car away from the curb.  "Going into work this early?" he asked. 

"No.  Coming back here.  I may be flying to Vegas today." 

"May be?" he asked.  I could hear the smirk in his voice.

"I'm going to get dressed and go back to the hotel.  I'll let you know the plan after that." 

"You want me to get you a commercial airline ticket?" he asked.

"That sounds like a good idea."

"Do I even need to ask what airline?"

"You do not.  Make sure it's the very first flight."

"Am I taking this flight, as well?" 

"No.  You can fly out this afternoon.  Paterson will pick me up.  Get some sleep.  I know you've been up all night waiting for me."

"Yes, sir.  How long will we be in Vegas?"

"I'll let you know when I figure it out."

"I take it you're pretty serious about this girl." 

"You could say that, Clark."

"Should I expect a lot of unexpected trips like this for the foreseeable future?"

"That wouldn't be a bad idea.  My schedule is going to be very…flexible, while I figure this thing out." 

"Good to know."

There was virtually no traffic that early in the morning, so Clark was pulling up outside of my building within five minutes.  I moved briskly through the lobby and to the elevator.  I felt a strange sense of urgency to get back to her, as though she might disappear if I wasn't fast enough.  I felt anxious, and almost panicked, though I knew it was unreasonable.  I'd given myself plenty of time. 

I showered, and got dressed, grabbing the first suit I saw.  I was dressed and striding back out of my apartment within thirty minutes. 

I stopped at the closest coffee shop, my mind on hangover remedies.  I wasn't used to waiting in line, and I found myself tapping a foot impatiently and checking the time.  She'd be awake any minute, and I didn't want to miss her.

I made a last minute stop at a drugstore to grab aspirin, feeling silly but unable to stop myself. 

I felt a very unfamiliar nervousness course through me as I arrived back at the hotel, unsure of my reception. 

I opened her door quietly, but I saw right away that she was already awake. 

The bathroom door was lightly ajar, the light on.  As I closed the door behind, she peeked her head out.  I didn't hesitate to join her inside.  She had to be sober by now.  All bets were off. 

I handed her the coffee and aspirin, setting two bottles of water on the counter for her.  "The pills are for the hangover," I told her.  "And the water will help.  You're dehydrated."  I kept my voice carefully blank, my eyes running over her body. 

Fuck, I thought, growing hard in an instant.  She may as well have been naked in that damp, clingy slip.  She was sober and practically naked.  How the fuck was I supposed to keep my hands off of her? 

She took the pills, drinking most of one of the bottles of water.  She took a long drink of her coffee.  I watched her throat work, my eyes moving irresistibly to her chest.  That obscene slip pulled tight across her breasts.  She had a phenomenal rack, her breasts heavy and round, with small, pale pink nipples. 

"You went back to your place?" she asked.

I didn't answer, my eyes glued to her body.  I could make out just about every delectable inch of her in that joke of a nightgown.  She was surprisingly curvy, even her hips rounded just perfectly.  In clothes, she looked slender with large breasts.  I knew that she was twenty-three, and I couldn't wrap my mind around the idea that a woman who looked like her had made it that long without having sex.  Every inch of her was made for sin.  I wondered if she was just a technical virgin, or a literal one.  Had a man ever gotten her off?  What had she done?  Was she completely inexperienced?  I wanted to know everything.  But more than anything, I wanted to make her come.

I moved close against her back, my eyes on her chest.  With the slightest move she arched her back, her nipples rubbing against the fabric of that fucking awesome little slip, growing into tight little buds.  I was lost.

"I don't want to make you late for work," I murmured to her.  "But I need to do something."

I pressed against her back, wanting to moan as my cock rubbed hard into her.  I palmed her breasts, kneading firmly, and she moaned, arching into my touch.  Her response was perfect, as though her body knew instinctively what I needed from her. 

Her eyes fell closed.  No, I thought.  I need those eyes the most.  It was a shocking realization.  My subs, as a rule, kept their eyes lowered.  It was one of my staunchest rules.  Not anymore, I realized.  All of my fucking rules were about to be broken, and I couldn't bring myself to give a damn.

"Look at me," I snapped. 

She obeyed, meeting my eyes.  I felt such a sense of relief at her compliance that it made me a little weak.  No sub rules for my Bianca.  Oh no.  She would get her own set of rules.  First of all, she would give me those glorious eyes every fucking time she came for me. 

"I like this nightgown," I told her idly, still kneading her perfect breasts.  "Spread your legs more," I ordered. 

She obeyed with no hesitation, and I almost came right then.  I wouldn't be training this one, I thought.  She may be inexperienced, but I thought she just might be training me.  I could only hope to be a good enough Dom for such a perfect sub.

I plucked at a tight little nipple with one hand while the other ran along her ribs, stroking along her flat belly, and between her legs.  She began to squeeze her legs together. 

"Open wider," I told her, and she obeyed me again with no hesitation.  "I want to pleasure every inch of you," I told her, my voice a little hoarse with need, "but for the moment, I'm just going to make you come.  I just need to touch you.  Lay your head back against my shoulder." 

I moved my hand over her sex, my thumb going directly to her clit, my other fingers brushing over her entrance.  My vision blurred a little, and I sucked in a harsh breath as I found her already wet.

"God," I rasped, "a fucking wet virgin.  You are too much, Bianca."

I pushed a finger into her and groaned.  She was so unbelievably tight that I could hardly stand it.  I imagined pushing my cock into that tiny entrance, breaking her hymen, and I came so close to losing it that I forgot where I was for a moment.  Control yourself, I told myself firmly, working my finger in very slowly.  I stroked her walls, watching her, my thumb still busy on her clit.  Her eyes were still glued to mine, glassed over with her passion.  I stroked her slowly and thoroughly, grinding my arousal against her back.  I slipped a second finger inside of her, and she cried out, arching against me.  Her automatic surrender snapped my mind back to my purpose.  "Ask me for it," I ordered, lost in her eyes. 

Perfect fucking Bianca didn't hesitate.  "Please."

"Say, please, Mr. Cavendish, make me come."

"Please, Mr. Cavendish, make me come." 

I pinched her nipple hard, stroking harder.  I knew that she would always need at least a touch of pain to attain her pleasure.  So fucking perfect. 

She came, and I thought that it was the hardest thing I'd ever done to resist taking her right then.  I could have bent her over the counter and pounded into her, but I needed the first time to be in my bed.  I had such a perfect picture in my head of how her first time needed to be that I would have gone through hell to make it happen.  Was going through hell, I thought.

Her eyes glazed over and she shook with her climax.  I was panting with need when her vision finally cleared, and she blinked at me, looking startled.  She watched me steadily as I dragged my fingers out of her.  Her jaw went a little slack as I raised those fingers to my mouth and licked them clean, loving the taste of her.  Mine, I thought, a little savagely.

I grabbed her chin roughly, craning my neck and hers for a deep kiss.