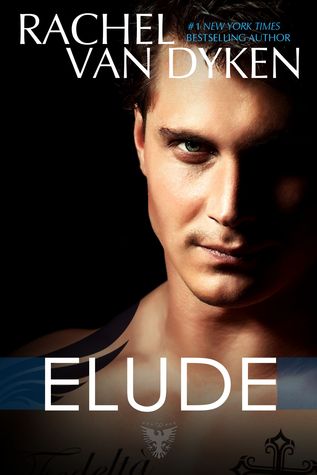 Elude

by Rachel Van Dyken
on July 9, 2015
Buy on Amazon
Goodreads

The sixth book in the internationally bestselling Eagle Elite Series.
*Interconnected Stand Alone*

Twenty-Four hours before we were to be married--I offered to shoot her.
Ten hours before our wedding--I made a mockery of her dying wish.
Five hours before we were going to say our vows--I promised I'd never love her.
One hour before I said I do--I vowed I'd never shed a tear over her death.
But the minute we were pronounced man and wife--I knew.
I'd only use my gun to protect her.
I'd give my life for hers.
I'd cry.
And I would, most definitely, lose my heart, to a dying girl---a girl who by all accounts should have never been mine in the first place.
I always believed the mafia would be my end game--where I'd lose my heart, while it claimed my soul. I could have never imagined. It would be my redemption.
Or the beginning of something beautiful.
The beginning of her.
The end of us.
Christine can't wait to read this book…be on the lookout for her review in August! But for now, in preparation for the release on July 9th – take a sneak peek into the book below! Make sure to enter the AWESOME giveaway of a signed paperback set of the series to include Elite, Elect, Elicit, Entice, Enforce, Ember and Elude. GOOD LUCK!

She tried to kick me. I pulled her leg tighter. "Hey now, let me do my job."
"But it tickles."
"Good." I kissed the inside of her ankle. "Shh… you're going to wake up the animals."
"What?" Andi squealed. "They're stuffed!"
"Shh, they'll hear you!" My lips met the inside of her knee.
The covers bunched up in her hands as her head thrust back. "You're the devil. That really, really tickles."
"Andi, Andi, Andi…" I licked the inside of her thigh. "…you taste so soft."
"Mmm…" Her body arched.
My mouth inched higher.
Every muscle tensed.
"Shh…" I blew across her skin. "Enjoy this. I know I am."
"Sergio," she panted, "hurry up before I kill you."
"Please, I hid all the knives." My mouth licked at her core.
A yelp and then, "You're evil."
"I'm your husband." I sucked until she squirmed. "Your fault."
No more words, just panting and cursing.
Andi fisted my hair into her hands and tugged my head up then slammed her mouth against mine.
I rolled onto my back as she straddled me. "You were going too slow."
"Oh?" I choked out a laugh then stopped when she slowly lowered herself onto my body, inch by aggravating inch.
"Who's laughing now?"
I lifted her up, then slowly down. "Not me."
She gasped. "Me either."
"Faster."
I tsked. "Slower."
"Damn you, Sergio!"
"Let me enjoy this." I rolled my hips.
She cursed again, her nails making permanent marks on my chest as she pushed against me, her way of trying to go faster.
"You feel amazing." Her eyes closed.
I moved faster. She kept my same tempo and then threw her head back, her hair flying across her shoulders, whipping my hands where they were placed against her skin, causing such an erotic sensation and vision I had to grit my teeth to keep from finishing.
"Let go," I said through clenched teeth.
"If I let go…" She blinked open her eyes.
And I knew the truth; it was just another moment passed, another second closer to the end, which is why she wanted fast. Because she wouldn't have to think. With a growl, I pulled out and tossed her onto her stomach and covered her with my body, with my warmth, my strength. I gripped her hands and slowly inched into her then moved.
Seconds went by.
Minutes.
Hours?
Who knew?
It was a moment that didn't need definition, that just was — perfection as I felt her body tense then ease under mine, as I followed and experienced such completion at our joining that I knew I could follow her into heaven and know—
—I'd done good.
I'd done good by her.
By me.
And I'd accomplished what I'd been set on Earth to do.
Love Andi.

Elude by Rachel Van Dyken from Becca the Bibliophile on Vimeo.
♥READ THE SERIES♥
Book .5 – Enchant
Book 1 – Elite
Book 1.5 – Enforce
Book 2 – Elect
Book 3 – Entice
Book 4 – Elicit
Book 5 – Ember
Book 6 – Elude