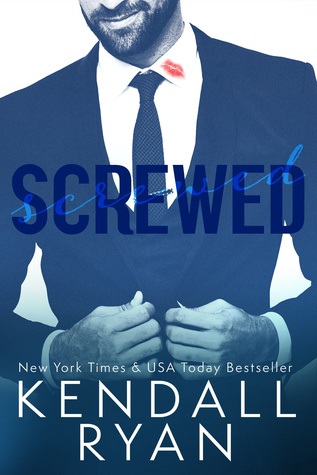 Screwed

by Kendall Ryan
on September 2015
Pages: 296
Buy on iTunes
Goodreads

I have one rule: Don't shit where you eat.

Several of the women in the condo complex I own would love some one-on-one playtime, and why wouldn't they? I'm young, fit, attractive, and loaded. Not to mention I'm packing a sizable bulge below the belt. It's a combination that drops panties on a regular basis.

Yay, me, right?

But my cock, troublemaker that he is, has been confined to my trousers by my business partner. A concession I agreed to, and one that's never been hard to enforce until Emery moves in across the hall. She's smart, young, determined, and sexy as hell. I want a taste. I won't stop until I'm buried deep inside the succulent new-in-town brunette.

After being warned about my past, she does her best to steer clear, but I'm about to show her that underneath it all, I'm a guy with a heart of gold and a cock of steel.

My name is Hayden Oliver, and this is my story.

SCREWED is standalone romantic comedy by New York Times, Wall Street Journal, and USA Today bestselling author Kendall Ryan.
♥ Buy the Book ♥
Pre-Order on iTunes
Enjoy an exclusive sneak peek into the book and a Guest Post from Kendall Ryan!!!
Guest Post from Kendall: While I'm usually known for steamy, sultry stories of forbidden romance, I'm dipping my toe into romantic comedy this fall, releasing SCREWED on September 15. Writing this book has been such a fun process – not only do I get to explore the budding romance of a new couple, but there are moments of holy sh*t did that just happen? Hilarious dialogue and laugh till your belly hurts situations. I'm unleashing my inner sarcasm and dirty humor every chance I get. My husband makes me laugh on a daily basis, and really, isn't that the best part of a romantic relationship, when you feel so free and happy that you can just LAUGH? I think so.

And these characters… I'm in love. Hayden Oliver is a Los Angeles playboy who's taken a vow of celibacy. Poor baby. And Emery Winters is a kickass attorney who knows how to put a man in his place. I adore her. We're besties.

So if you like stories with scorching HOT heat, strong, sassy characters and a little humor, I hope you'll add this one to your TBR!

"Well your virtue is safe. I made a deal with my business partner. No more sleeping with tenants." I'm not sure why I'm telling her this, maybe because it'll be easier to enforce the friends-only rule I've set for myself if she knows that she's off-limits to me.
"So sleeping around in general is still fine?" There's a mocking tone to her voice.
"Absolutely. This will be just friends." I gesture between us. "Unless, you naughty girl, you're trying to tempt me." I give her a flirty wink.
She frowns and shakes her head. "Not a chance in hell. I told you. I'm done with men, and you, Hayden Oliver, by all accounts are a piece of shit."
"Excuse me?" I cock an eyebrow at her.
"I've dated guys like you before. And I classify all men who think with their dicks under S for Shitty."
"I do think with my cock on a regular occurrence, so I can't argue with you there. But he's so much more fun."
This gets a small smile from her, and my heart beats just a little faster.
"Seriously, why would I take a chance on you and have my heart broken again?"
"Because I have a nine-inch cock and I know where the g-spot is?"
Her cheeks flush pink, betraying her cool, confident tone. "Tempting, but not good enough."
I shrug. "Then I guess I'll settle for just being friends."
"Do you even have any women friends?"
I think it over. I have Dottie and Susan, but they're more employees than friends, and of course Beth and Gracie, but they're my sisters, and I doubt blood relatives count. "Of course I do," I lie.
She narrows her eyes, obviously on to me. Nothing gets by Emery. She's going to be a kick ass attorney. Of course I don't tell her that. Her self-esteem is robust enough. She doesn't need me overinflating her ego.