Here is an EXCLUSIVE cover and title reveal for Nicole Edwards special Club Destiny project featuring the characters of Luke, Cole and Sierra!
Denise has nothing but wonderful things to say about this author and this series and we highly recommend it to you too!!
And the title for book 5 in the Club Destiny series is……
…….
DEVOTION
Enjoy the synopsis and teaser below!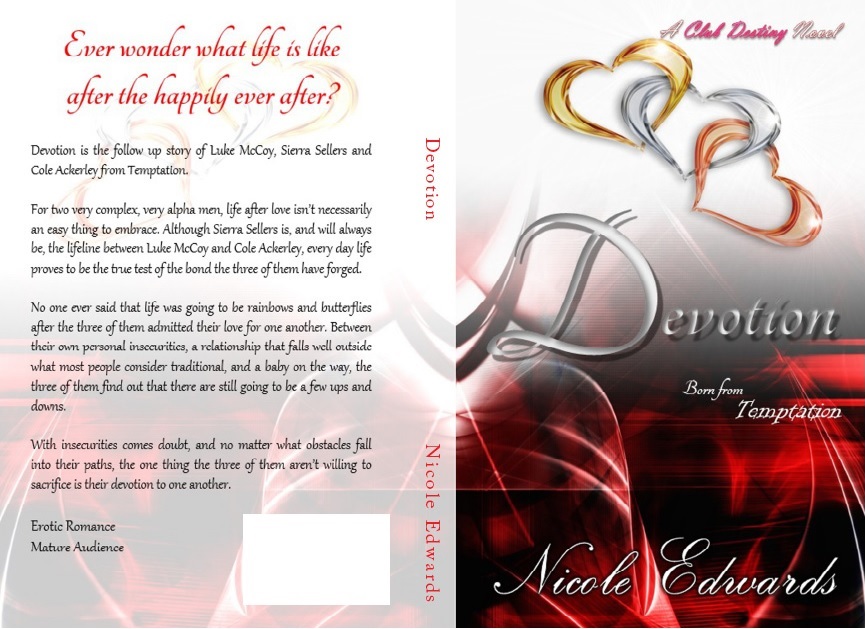 Synopsis
Ever wonder what life is like after the happily ever after?
Devotion is the follow up story of Luke McCoy, Sierra Sellers and Cole Ackerley from Temptation.
For two very complex, very alpha men, life after love isn't necessarily an easy thing to embrace. Although Sierra Sellers is, and will always be, the lifeline between Luke McCoy and Cole Ackerley, everyday life proves to be the true test of the bond the three of them have forged.
No one ever said that life was going to be rainbows and butterflies after the three of them admitted their love for one another. Between their own personal insecurities, a relationship that falls well outside what most people consider traditional, and a baby on the way, the three of them find out that there are still going to be a few ups and downs.
With insecurities comes doubt, and no matter what obstacles fall into their paths, the one thing the three of them aren't willing to sacrifice is their devotion to one another.
Teaser
Disclaimer: May be edited or deleted prior to publication.  This is an unedited excerpt.

Permission is NOT granted to re-post this content anywhere, so please
don't do it. You may link to this page if you want to share it with others.
"Please tell me that you know what you're doing," McKenna's concern was palpable, even though she was trying to cover it up with a strangled laugh.
Cole couldn't help but roll his eyes.
Seriously? It was a baby crib. How hard could it possibly be to put together? And who appointed his stepbrother's fiancé as his watchdog? "Again, why didn't you ask your man to put this together?"
He still wasn't sure how he got nominated for the job, but he'd been told – twice already – that he needed to get it put together quickly because the baby shower was supposed to commence in just a couple of hours and he had to be out of sight by that time. Someone dropped the ball, obviously and if it weren't for the fact that this was for Sierra – well, technically this was for him as well – he'd have said no thanks.
"He was supposed to," McKenna clarified as she paced the floor behind him. "Something came up and he had to go to a meeting. If I remember correctly, it was your lover who called that meeting."
Cole grinned. Yes, it was true. Luke did have Tag jumping these days. Every time he turned around, Luke was coming up with another idea on what he wanted to do with the club, but changing his mind just as quickly. He wasn't sure at the moment what the last one had even been.
"I really wish you'd sit down," he told her, not bothering to look up from what he was doing. "You're going to wear a hole in the damn carpet."
"You don't have carpet," she retorted, laughing.
At least she was smiling again. It was almost funny how out of sorts McKenna, Ashleigh and Sam were as they ran back and forth through the house trying to get everything ready. Somehow they'd managed to score his house as the location for the baby shower, but it'd been a little tricky. Luckily, Sierra's mother was just as much a part of this as the others, only her job was to keep Sierra busy today. Cole had offered to be the one to keep her busy, but he'd been told to stop thinking with his dick.
As soon as McKenna's heels clicked out of the room, Cole busied himself with finishing up. As much as he loved Sierra, and as anxious as he was for the baby to be born, he did not want to be involved in this little estrogen-fest.
For the next fifteen minutes, Cole worked diligently while the women busied themselves in the other room. He was grateful for the reprieve. At least he hadn't had to go up against Sam yet that day. The woman was a nervous wreck. He couldn't imagine how the others were managing to deal with her at the moment. Maybe he'd be lucky and wouldn't have to find out.
"Where does this go?"
The sweet voice from the doorway told him he was not so lucky.
Turning around, Cole saw Ashleigh staring back at him, holding a bolt in one hand and a confused expression on her face.
"It's an extra piece," he assured her.
"Are you sure?"
No. No, he certainly was not. Cole couldn't help but laugh. It was either that or storm out of the house and tell these high maintenance women to put it together themselves. Not that he would really do the latter, but it sounded good.
"I'm sure, Ash. Now, get back in there and help Sam."
Ashleigh nodded her head, but he could tell she still didn't believe him.
Picking up the bolt, Cole turned to stare back at the crib he'd just put together. Scratching his head, he tried to figure out just where he could've possibly gone wrong.
About the Author
Nicole lives in Central Texas with her husband, kids and her two dogs. Although she has been writing since a very young age, she has recently ventured into the full time world of writing and is loving every second of it.
She is the author of the Club Destiny series and working on more projects at this time.