Denise CAN'T WAIT for this one! Enjoy an excerpt and some teaser pictures below!!! Make sure to add to your TBR list! And enter for a chance to win a copy of LICK using Rafflecopter below!
Disclaimer: May be edited or deleted prior to publication. Permission is NOT granted to re-post this content anywhere, so please don't do it. You may link to this page if you want to share it with others. Thank you.
---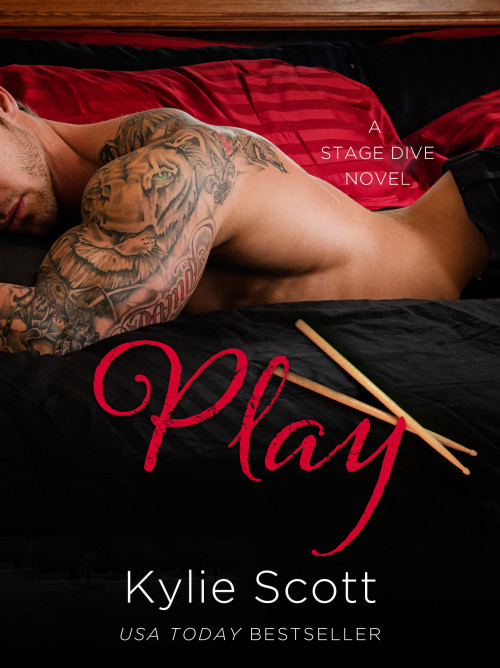 Kylie Scott returns with the highly anticipated follow-up to international bestseller LICK.
Mal Ericson, drummer for the world famous rock band Stage Dive, needs to clean up his image fast—at least for a little while. Having a good girl on his arm should do the job just fine. Mal doesn't plan on this temporary fix becoming permanent, but he didn't count on finding the one right girl.
Anne Rollins never thought she'd ever meet the rock god who plastered her teenage bedroom walls—especially not under these circumstances. Anne has money problems. Big ones. But being paid to play the pretend girlfriend to a wild life-of-the-party drummer couldn't end well. No matter how hot he is. Or could it?

"Malcolm, is that your beer on the floor?" asked Ev, pointing at the mess my fallen bottle had made.
Before I could open my mouth to apologize, Mal was there.
"Yes. Yes, it is. But do not despair. I've got this." He ripped off his T-shirt and knelt, mopping up the spill. There was a whole lot of hard flesh and bronzed skin right there. A truly impressive amount. His back was covered in ink, an intricate scene of a bird taking flight, the opening wings spanning across the breadth of his shoulders. A sigh rippled around the room at the sight of him half naked on his knees. It wasn't just me making the noise, I swear. Though yes, I definitely contributed heartily.
"Christ, Mal," said Lauren. "Put some clothes on before you start a riot."
The man just looked up and grinned.
"And I think that's our cue to leave." Lauren pushed herself off Nate's lap. "It's been fun. But we've got work tomorrow, unlike you musical slackers."
"You're taking my Anne?" Mal asked, lips turned down at the edges. He climbed to his feet, leaving his sodden shirt on the ground. "You can't take my Anne. I need her for stuff . . . private stuff, in my room."
"Another time." Lauren patted him on the back.
"Stay and play with me, Anne."
"No," repeated Ev.
"Night, Mal," I said. I couldn't tell if he was serious or not. But no way, come morning, would I be scraping myself out of his bed and doing the walk of shame down my friend's hallway.
Nuh-uh.
"Anne, pumpkin, don't leave me," he wailed.
"Run. Go." Ev ushered me toward the door. "He's impossible when he gets like this. You'd swear he didn't get enough hugs as a child."
"Good to see you again, Ev," I said.
She pulled me in for a quick kiss on the cheek. "You too."
"I need sexual healing," Mal continued behind us. He then did a new dance. This one consisted of rhythmic pelvic thrusting while his hand swung through the air, mimicking spanking someone's ass. The "Oh yeah" and "harder baby" only made it better. If ever a vagina was going to sit up and take notice, this would surely do it. The man had all the moves.
"You need some fucking impulse control and coffee. That's what you need." David's forehead crinkled. He pushed Mal back with a hand, bringing his porno dance performance to a halt. "Better yet, when was the last time you actually slept?"
"I'll sleep with Anne."
"No, you won't."
"Yes, I will." He raised a hand high. "For I am, Malcolm, Lord of the Sex!"
Check out this AMAZING teaser pictures created by Designs by Hang Le.  Visit her on Facebook HERE.

Kylie is a long time fan of erotic love stories and B-grade horror films. She demands a happy ending and if blood and carnage occur along the way then all the better. Based in Queensland, Australia with her two children and one delightful husband, she reads, writes and never dithers around on the internet.
Series Reading Order
Book 1 – Lick

Pre-Order Book 2 – Play


---